The 3 Strings UnLoCkeD Ensemble
The Southwest High School (Minnesota) 3 Strings UnLoCkeD ensemble will be performing under the direction of NAfME member Ruth LeMay, Director of Guitar Education at Southwest, during the Saturday keynote session of the 2019 NAfME National Conference. This class is designed for the student that benefits from individualized personal instruction. Using rock, folk, and blues this band expands student musical skills throughout the year using a form of music reading that has been created by the instructor. Students choose an instrument (guitar, keyboard, bass guitar, drum set, vocals) to play, with teacher guidance. Music and instruments are color coded to ensure student success.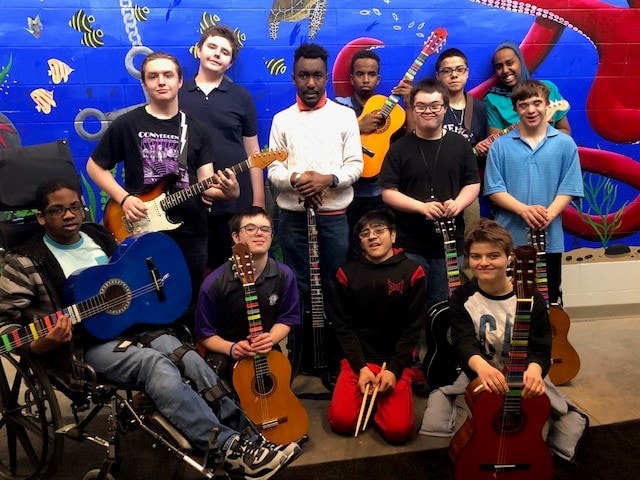 Touch is the University of South Florida's (USF) iPad quintet. The band started in 2010 as a faculty ensemble. Beginning in the Spring of 2011 its membership became exclusively music education faculty and students. The current lineup includes four undergraduate music education students and one music education faculty, who work closely with two undergraduate music education vocalists.
In large part the band serves as a model of a learner-centered pedagogical approach to music learning, where all members are collaboratively responsible for planning, songwriting, and making creative decisions. Touch concerts are normally multimedia shows, including lighting effects and video, and are designed around audience participation and collaboration with other art forms including visual art, dance, theater and poetry. In addition to concerts on the USF campus and in the community, the band has performed at two TEDx events, appeared on ESPN, been invited to audition for "America's Got Talent," played for three state music education associations (Florida, Texas, and Missouri), at the 2016 College Music Society National Meeting in Santa Fe, New Mexico, the 2015 Florida Educational Technology Conference, the 2014 NAfME National Conference in Nashville, and the 2018 Meeting of the National Association of Schools of Music in Washington, DC. Their most recent concerts have also been in association with organizations involved with social causes including human trafficking and disabled military veterans.