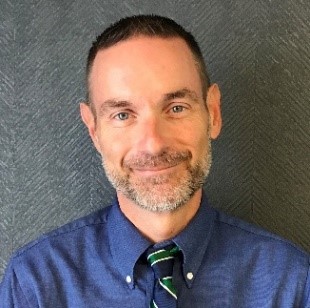 James G. Daugherty
2020-2022 Southern Division President-Elect
Biography
James G. Daugherty currently serves as the Arts Education and Distance Learning Program Specialist for the Davidson County Schools and is Director of Cannon Music Camp at Appalachian State University. Prior to 2015, he served for 21 years as band director at Central Davidson High School, assisting daily with the instruction at Central Davidson Middle School.
With Davidson County Schools, he is responsible for assisting the Assistant Superintendent in developing and implementing all aspects of K-12 arts education. Recently, he has partnered with the Director of Federal Programs with the budgeting, implementation, and assessment of funds applicable to a well-rounded arts education as prescribed by ESSA, specifically funding through Title IV-A.
Daugherty's educational background includes a B.M.E. and M.M.E. from Appalachian State University. He also holds certification in Educational Leadership/Administration from High Point University. Professional memberships include NAfME/NCMEA, ASBDA, the National Band Association, NC Bandmasters Association, NC Association of Educators, Phi Mu Alpha Sinfonia, Pi Kappa Lambda, Kappa Delta Pi, and Phi Eta Sigma.
In 1996 and 2013, Mr. Daugherty was named "Teacher of the Year" at Central Davidson and in 1997 for Davidson County Schools, a top three finalist for DCS "Teacher of the Year" again in 2013. He was featured in the February 2009 edition of Teaching Music ("Accentuate the Positive") and listed in December 2009 as one of "50 Directors Who Make A Difference" in School Band and Orchestra Magazine.
What do you see as the major challenges facing music education during your term as president?
One of the biggest challenges we face in music education is the promotion of the understanding and making of music by all because in cultures today all is varied by a myriad of factors and seen through a multiplicity of lenses that may not be equitably understood.
While the teaching and making of music for music's sake will always be important, we live in a global society (particularly through social media) that is hungry for us to reach and respond to students where they are. Because research confirms today's students learn more visually and experientially, want a facilitator, want to process (not just be told), and make connections to the world, all musical contributions are important to be heard and valued.
Music educators are also called upon to purposefully listen and seek to understand those around us as we strive to make the culturally and socially relevant connections music offers to and from today's students, no matter their age. If we fail to understand how important musical relevance is to our communities, schools, and the world around us, we risk music becoming irrelevant to a world that needs the powerful connection music makes on our social and emotional well-being.
What do you see as the major challenges facing NAfME?
NAfME has completed exceptional advocacy work in recent years by maintaining a proactive rather than reactive posture. The work of navigating politics today is exhaustive, but in order to remain viable, NAfME should be proactive to understand member needs by listening and responding.
In order to understand we must first listen. NAfME is challenged to lead beyond the understanding of politics or policy by positioning ourselves at the decision-making table, thereby shaping our future by learning more of the cultural, social, and emotional experiences that personalize music to each individual. NAfME must not fear being introspective in seeking to understand how and why musical traditions and new experiences are meaningful and fulfilling to members and those we serve.
Maintaining relevance to our members is critical. If NAfME is to continue to be a trusted and enriching part of the culture and social structure of music education, the association must listen and be involved in opportunities to learn and engage members in ways that meet their needs and musical approaches, wherever they are in their career.
How should our Association respond to these challenges?
We are challenged every single day by issues that often seem insurmountable. Facing a challenge is the first step in learning and adopting a growth mindset. NAfME's response to challenge could be framed by the work of Charles Jennings. Jennings articulates "grappling" as one of the most important ways we learn. He also shares that we must have opportunities to practice, be involved in creative conversations, and have time for reflection.
As with advocacy, NAfME can respond to the culturally and socially relevant challenges facing music education by active relationship building and curating models of music education that open a world of possibilities to all.
As a facilitator, NAfME can unify music educators to share, try, and see new approaches to music-making through an open, learner-centered approach allowing everyone to make the relevance of all kinds of music more personal and powerful.