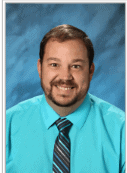 Isaac Robbins
2023-2025 Northwest Division President-Elect Candidate
Biography
Isaac Robbins is in his 11th year of teaching choirs in the Post Falls School District in Post Falls, Idaho, and is currently serving as director of choral activities at Post Falls Middle School. During those eleven years, he has been tasked with building and developing the choral program from elementary to high school. Before teaching in Post Falls, he spent two years teaching K–12 music in Kansas where he was born and raised. Being a member of a very small high school growing up (45 students total) he found his love of music and teaching others by participating in both band and choir. After high school he spent three years at Fort Hays State University in Hays, Kansas, pursuing music education before transferring to the University of Idaho where he earned his music education degree with honors. Outside of the classroom, Isaac continues to pursue music professionally having performed with Opera Coeur d'Alene, Idaho Bach Festival, and Spokane Choral Artists, and he is currently a member of Male Ensemble Northwest for the past seven years.
What do you see as the major challenges facing music education during your term as president?
During my term, I think the biggest challenge will be keeping quality music educators in the field. With so many budget cuts lately due to COVID-19, many schools are faced with the difficult task of addressing budget cuts. With those cuts, music programs are usually the first thing to be cut either by reducing staff or completely cutting the music program altogether. I fear that if we do not remain active in keeping these programs alive, particularly in smaller school districts, students will miss out on a well-rounded education. Sadly, many schools are trying to keep music going, but cannot fully fund a certified teacher and are hiring paraprofessionals to supplement those positions. This leads to how, as an organization and individual educators, can we better serve those paraprofessionals to give all students the highest quality music education possible.
What do you see as the major challenges facing NAfME?
I think the biggest challenge is keeping NAfME memberships going during a difficult time of program and budget cuts. Amongst those challenges—how do we reach out to school districts who are utilizing paraprofessionals to teach in the music classroom to get those particular educators the best tools and resources for not only the students, but the educators as well. Many of the educators in the smaller school districts throughout each state are struggling to stay afloat, and I would love to find a way to reach out to those educators to let them know they are not alone and to keep pushing through because it does get better! My first two years of teaching I taught in a small school district in Kansas where I was the only music teacher for a district of 300 students. I struggled with not knowing what to do and how to get the students to participate in music events in and out of the regular school day. I was very fortunate to know a few of the seasoned educators in the area and was able to be successful during those first two years, but I definitely know that if it weren't for their experience, knowledge, and encouragement, I am not sure I would still be teaching today.
How should our Association respond to these challenges?
I would love to see NAfME provide a platform for educators who are not certified and need to find tips and tools to help in the classroom as well as ways for others to connect for advice. I would also advocate for a mentorship program where experienced certified educators help newbies who might be struggling, thereby building a stronger music education community for all. I would like to explore how to provide free or low-cost professional workshops specifically geared toward educators who are not certified in music education and ways to help get those paraprofessionals and non-certified educators closer to certification. Finally, I would love to find a way to create an application process and program for school districts without a music program to apply for a grant through NAfME to help provide funding for certified music educators to be placed back in their schools. This would be a great way to build and strengthen the relationships between music education and district administration/school board members. In doing this, we can uphold to the NAfME motto of "I am NAfME, You are NAfME, WE are NAfME"!
Back to list of all 2021 NAfME Division President-Elect Candidates