Click here to return to the main webinar page.
Rob Lyda is the music teacher at Cary Woods Elementary in Auburn, AL and an adjunct instructor at Auburn University. He has taught a variety of instrumental, vocal, and general music courses for students in grades K-undergraduate. Dr. Lyda received the B.M.E. from Troy University and the M.Ed. and Ph.D. in Music Education from Auburn University.  In addition to his academic degrees Dr. Lyda has completed certification studies in Kodály, World Music Drumming, TI:ME, and is an Orff-Schulwerk (Levels I-III) certified teacher at the Master level.
Dr. Lyda regularly presents research on technology integration, creativity, and general music education at state, regional, and national conferences. He is a sought-after clinician for professional development workshops, particularly for topics related to elementary music education. His efforts have been recognized through awards that include Teacher of the Year at the school and district level, the Phi Kappa Phi Love of Learning Award, and the Alabama Music Educators Association's 2019 Lacey Powell Outstanding Music Educator.
Throughout his career, Dr. Lyda has been a passionate advocate for both music education and music educators.  In the fall of 2000, he founded and hosted the first CMENC (now CNAfME) Collegiate Summit, which is still a well-attended workshop for pre-service music educators across Alabama. Currently he hosts the East Alabama General Music Workshop each fall to provide high quality free professional development for music educators.  In order to fund education initiatives for school and community groups, he has written and received over $500,000 in grant funding.  During the 2016 – 2017 school year, Dr. Lyda was the music education representative on the Alabama State Superintendent's cabinet.  In addition, he supports music education at the state and national level as a member of the NAfME President's cabinet, Advocacy Chair of AMEA, and as a delegate to NAfME's National Assembly in Washington, D.C. 
 Dr. Lyda holds memberships in the Alabama Music Educators Association (AMEA), National Association for Music Education (NAfME), American Orff Schulwerk Association (AOSA), College Music Society, Phi Kappa Phi, Phi Mu Alpha Sinfonia, the Organization of American Kodály Educators (OAKE), and the National Band Association. Currently, Dr. Lyda serves as the National Chair of NAfME's Council for General Music Education, Secretary of the Elementary Division of the AMEA, the Advocacy Chair of the AMEA, and is on the advisory board of Teaching Music Magazine.
Jennifer Kauffman is currently a K-5 General Music-4th/5th Chorus teacher at Crofton Elementary in Anne Arundel County Maryland.  On her local MEA she serves as President-Elect of Maryland Music Educators Association, and Immediate Past President of MD General Music Teachers Association.  Jennifer serves as Eastern Division Rep. for NAfME's General Music Council and is currently writing some lessons for Hal Leonard's EEMC.
Previously, Jennifer has taught K-5 general music and chorus in Allegany and St. Mary's County, secondary orchestra, general music, and band in Baltimore, and middle school orchestra & general music in Calvert County.  Serving as a guest conductor. chaperone, and adjudicator at local, district, state and eastern levels has helped her awareness of the potential for all students and the drive to change instructional strategies to meet their needs.  
Continuing her growth as an artist, Jennifer is currently working toward another Master's degree in Kodaly Education at Loyola University. She actively performs with Ark and Dove Contemporary Church Band.  Jennifer is married to her husband, David, who together have two children, Kaitlyn (22), Sam (20), and Stella(Beagle) in Annapolis, MD.  As an active member of the church, Jennifer has led Kids Band, Sunday school classes, and participated in several church committees.  Her time in western MD led to co-owning a retail music store, serving as a band parent association president and member, and becoming a certified Musikgarten teacher.  Finally, her service continues as a member of NAFME, MMEA, Delta Kappa Gamma, TAAC, and a MD 4-H All Star.
From 2014-2017 she piloted the National Core GM Assessments in both 2/5 grades-responding/creating music.  With Maryland State Dept of Education Office of Fine Arts she is currently on their MC3 Artist Roster as a co-creator and co-facilitator of music teacher professional developments. She has also served as a co-writer for the Grades 3-8 Micro-Credentials, co-writer of the Maryland General Music K-5 Standards Revision Phase 2, and a Master Teacher in the Arts.  She has been the guest presenter for the fall and spring MMEA conferences, Education Closet's Annual Webinars, Common Ground, and on the e-community for developing MD Music Assessments based on 21st Century Skills.   In 2015, Jennifer was awarded an MMEA Award for Excellence in teaching.
Dr. Becky Halliday, Associate Professor, teaches courses in teacher preparation and music education. Prior to this appointment, she taught elementary general music in Georgia and Mississippi for 17 years, and has led workshops and clinics throughout the Southeast. Dr. Halliday currently teaches Pre-K – 6th grade elementary general music in Randolph, AL, as well as a free musicianship class for K-5 students through the UM Community School of Music.  She has been the recipient of notable awards, including the Distinguished Teacher Award for the University of Montevallo College of Fine Arts and the Lacey Powell Outstanding Music Educator Award for the Alabama Music Educators Association (AMEA).
In addition to her teaching responsibilities, she has presented research findings at regional, national, and international conferences in the areas of teacher preparation, sociology, arts integration, and music with special learners. In addition, she has served as a clinician for elementary music workshops and honor choirs throughout the Southeast. She served on the Editorial Board of the Music Educators Journal and has publications in state and national journals.  Her work on the committee to revise the 2006 Alabama Course of Studies for Fine Arts has since led her to conduct presentations across the state to assist teachers in understanding and unpacking the state standards.
Dr. Halliday is the founding Director of the University of Montevallo Kodály Institute (UMKI), a teacher training course that is endorsed by the Organization of American Kodály Educators (OAKE), and a co-Director of the University of Montevallo Young Musicians' Camp. In addition, she has served in leadership positions with the Sweet Home Alabama Kodály Educators (SHAKE) chapter of OAKE and the Higher Education Division of AMEA. Currently, she serves on the Board of Directors of OAKE and the Council of General Music Education for NAfME. She earned her Ph.D. in Music Education from The University of Southern Mississippi and both her MMed and BMUS from The University of Georgia. She holds certifications in the Orff-Schulwerk Approach through the University of Kentucky and the Kodály Concept through the University of Montevallo Kodály Institute.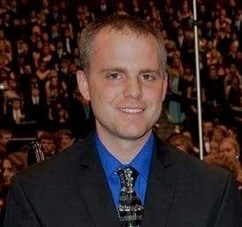 Dr. James Weaver is the Director of Performing Arts and Sports for the National Federation of High School State Associations. He has been a teacher and administrator at the district, state, and national level. As the Director of Performing Arts and Sports, Dr. Weaver oversees student participation, professional development, and awareness of performing arts activities throughout the nation's 19,500+ high schools. Dr. Weaver has been a part of several national projects for performing arts educators including serving as the co-chair of the International Performing Arts Aerosol Study, creating copyright compliance resources, and developing national trainings for performing arts adjudicators. Dr. Weaver specializes in educational administration and leadership focusing on professional development and teacher job satisfaction and retention. Dr. Weaver has degrees from Concordia College – Moorhead, Northern State University, and the University of South Dakota.