Candidate for NAfME National President-Elect 2024-2026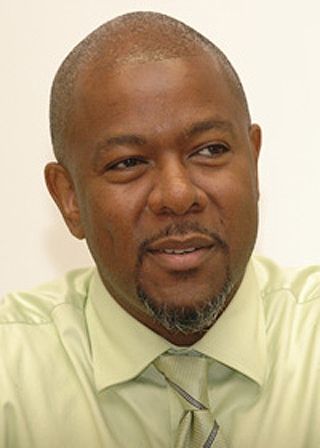 Cecil Adderley is currently a 2024 NAfME National President-Elect Candidate.
Curriculum Vitae
Cecil Adderley Curriculum Vitae
Responses to the three questions
What do you see as the major challenges music education will face during your term and in what ways can you transform these into opportunities during your presidency?
Future music educators will face a number of significant challenges that must be addressed by the current leadership of our profession. Our most immediate areas of focus must be access, relevance in our local communities, and lifelong engagement with music.
School districts and local leaders will continually examine graduation requirements, and it is critical for educators at all levels to support music as a part of the basic curriculum for all students. As they explore and build their creative outlets, access to these opportunities will not only serve as their foundation for PK12 experience in artistic expression, but also as a catalyst for participation in what is relevant in their local communities.
As president of NAfME, I would be committed to working collaboratively with our stakeholders, as true-to-form partners in improving the quality of and access to arts education. Our nation's leading arts education organization must work with each state to identify areas of need and work on solutions framed by their unique needs. We must provide the support, bold professional development, and guidance so that all communities can better explain to their local leaders the importance for sustainable music education. I believe our work together is an important opportunity to help everyone to describe the strengths of their local music offerings and why a vibrant local arts community is an attractive community for families, businesses, and the long-term health of a town.
What do you see as the major challenges the association will face during your term and in what ways can you transform these into opportunities during your presidency?
As we contemplate the future of NAfME, it will be necessary for our organization to take the lead in identifying communities where arts education struggles and local arts agencies lack the structure to be effective in carrying out the mission of their agencies. We must be bold in our approach to develop and implement initiatives in music education that are unique, productive, and sustainable. This approach will allow us to form lasting relationships that not only produce quality results, but also create strong arts networks that will grow these partnerships into programs that can be enhanced year after year.
Our association has to listen carefully to the local issues that drive arts education in individual states and regions across the nation. Through this level of dialogue, we will better understand why some programs thrive while neighboring communities struggle to fully develop the potential of music education. By listening to all of our constituents, those who have historically had a voice as well as those who desire a seat at the table, NAfME will have a deeper understanding of how to provide more adequate support and guidance for all members that could make music education strong in a given community. When we are able to formally engage and offer suggestions in supporting students, educators, and all stakeholders, we can ensure that any curious music learner has more OPPORTUNITIES to explore and learn through quality experiences in the arts. With this in mind, every learner of music will be free to immerse themselves in an environment that provides a space for them to blossom under the guidance of dedicated teachers and committed supporters who collaborate to make things work at the local level.
How do you plan to advance equity/DEIA in NAfME during your term of office?
NAfME's commitment to advancing diversity, equity, inclusion, and accessibility will only be accomplished through the collaborative work of the entire organization. It is, and has always been, a priority in my classroom as well as in my administrative efforts, and I would certainly lead by example in maintaining my commitment throughout my term as president.
As a national organization, NAfME is guided by our mission and values with a clear commitment to DEIA. With an intentional approach to not simply showing the potential that it has for communities, but for clearly defining diversity, equity, inclusion, and accessibility for what they are and guiding the process for all involved in our efforts, my work and that of our organization must be that of a true-to-form partner in the statements that we establish as priorities in education.
Equity Statement
Equity in arts education and specifically music education is an opportunity for me to lead others to have a seat at my tables. My tables are my classrooms, meeting rooms, and other spaces where I offer the voices who've gathered an opportunity to share their diverse experiences to help shape and outline an agenda for the future. Each region of our nation has unique artistic and educational traditions and desires to sustain what has been developed, to grow something interesting, and expand to serve more for those who are educated there as well as be of interest to those who will be educated in these communities tomorrow.
So many of us have taken our ensembles to perform or we have presented in various communities across the country or even around the world as part of our careers. In some cases, after the performance or presentation, we took the time to explore the importance of how other, locally made music and how it fit into their lives. Afterwards, we could share what we learned with those who weren't as fortunate to participate. However, there are those who have taken their ensembles or have presented, and the offerings have been one-way. We've presented our perspective, but not taken into consideration the richness in the local experience and how it matters, and needs to be better understood. Equity takes times to understand all who want to share.
An equitable arts education table looks at our past, and applauds our success. At this table we also take the time to see those who are standing on the sidelines waiting for an opportunity to participate, and we listen to, plan, and explore options where these voices may provide their harmonic tones of inclusion and not the dissonance of alarms and exclusion.
Leadership Statement
As president, I am committed to working collaboratively with all involved in keeping NAfME as the premier partner of music educators. As we prepare our organization to follow through with our Strategic Plan and identify the benchmarks reached, I will outline the next steps for the next phase of growth for our great organization. My hands-on style of leadership aims to maintain a consistent focus on core mission, innovation with integrity, and collaboration among all partners within our learning community. This level of appreciation for diverse experiences and viewpoints produces strategies and results which will enable NAfME to thrive in an ever-changing landscape of arts education.
Over the course of my career, my efforts to implement creative, insightful, and responsible approaches in leadership, teaching, and advising students have served me well, and my success in supervising my faculty and staff have advanced their careers to flourish alongside my own. My ability to carry out my professional duties is the result of having significant practical experiences in curriculum, instruction, research, and administration while at the same time ongoing professional development opportunities in these areas of focus. As a teacher, I have continually engaged with others through productive discussions, presentations, and always taking the time to better understand the teaching-learning process of the learners in front of me. My leadership is not a means of talking at others and expecting a specific response, but one where I value the input of others and the gifts team members bring to the organization. I have come to know that this level of insight indeed makes us better and, as a cooperative organization of artistic educators, my leadership must be of a style that will make arts education more effective for all who choose to participate in achieving our goals.
Video from National Assembly 2023
View Cecil Adderley's Opening Remarks from the Presentation of Candidates for NAfME National President-Elect at the National Leadership Assembly on June 25, 2023.
View Cecil Adderley's Q&A from the Presentation of Candidates for NAfME National President-Elect at the National Leadership Assembly on June 25, 2023.