2022 Hill Week Recap
During the week of Sept 19-23, nearly 200 music education advocates participated in the NAfME Virtual Hill Week for Music Education. Prior to 2020, music education leaders and advocates would gather in Washington D.C. to share the importance of music education with their Senators, Representatives and congressional staffers. The in-person event was put on hold during the COVID-19 pandemic, but the virtual meetings provided an opportunity to start establishing relationships that will last throughout the year. We then plan to end the school year with an in-person Hill Day and advocacy celebration in conjunction with the National Assembly in June 2023.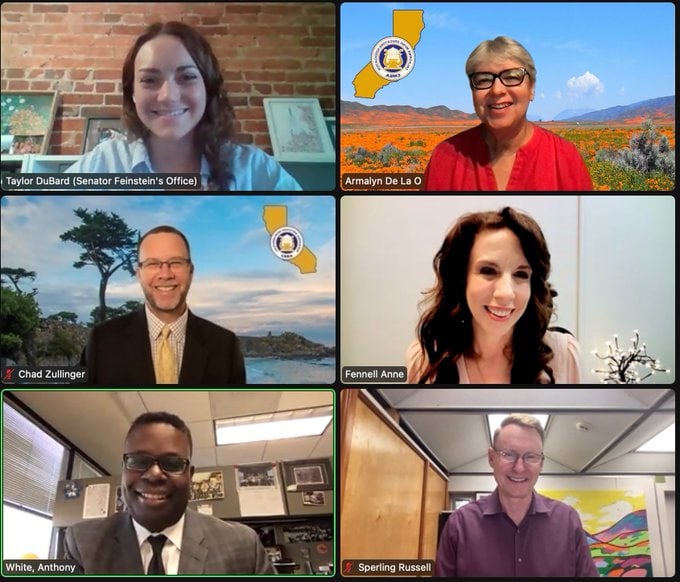 Nearly seventy percent of our participants reported that this was their first time advocating at the federal level. To help prepare ensure their success, the NAfME advocacy and public policy team conducted a training session regarding our legislative priorities for FY 2023 and how to host a virtual advocacy meeting. Following the week of advocacy, participants completed a survey regarding their experience, with one participant noting "I was nervous at first, since I've never done this before. In the end I felt very good about it and look forward to doing this again" 
Appropriations and Legislative Asks 
During their meetings, advocates shared personal stories with legislators and staffers on how federal policy impacts music education. Advocates centered their discussion around programs and legislation in the NAfME FY 2023 Fact Sheet (linked here) Top legislative and appropriations asks included: 
Title I, Part A- Requesting $36.5 billion for school districts to help socioeconomically disadvantaged children. We also requested Congress to direct the U.S. Department of Education to issue guidance for states and districts to utilize Title I funds to support music education. 

Title IV, Part A- Requesting $2 billion to support activities in three broad areas including providing students with a well-rounded education which includes music education. 
Advancing Equity Through the Arts and Humanities (H.R. 7627)- This legislation aims to increase engagement with public and nonprofit entities that serve and are led by people of color, and to support arts and humanities projects that directly combat systemic racism.

 
Participants reported positive interactions with congressional offices as well as several offices requesting more information and dialogue on how to continue to support music education.  
NAfME extends our gratitude to our members and Hill Week participants for their commitment to music education. Your presence in these meetings with legislative offices and your passion surrounding the importance of music education has a lasting impact on decision making at the federal level. We encourage our members to continue to build relationships with legislators to further amplify music education. Thank you all for that you do!  
If you would like to participate in the NAfME Advocacy campaign, click here.