5 Things You Must Do Before the End of the Year
By NAfME Member Glen McCarthy
Get ready for summer because you're just about there! The school year is coming to a close, your guitar class is ending, and you and your students are thinking about relaxing in the sun. That's all good, but don't check out just yet. Before you head for the beach, check out these 5 things you must do before the end of the year.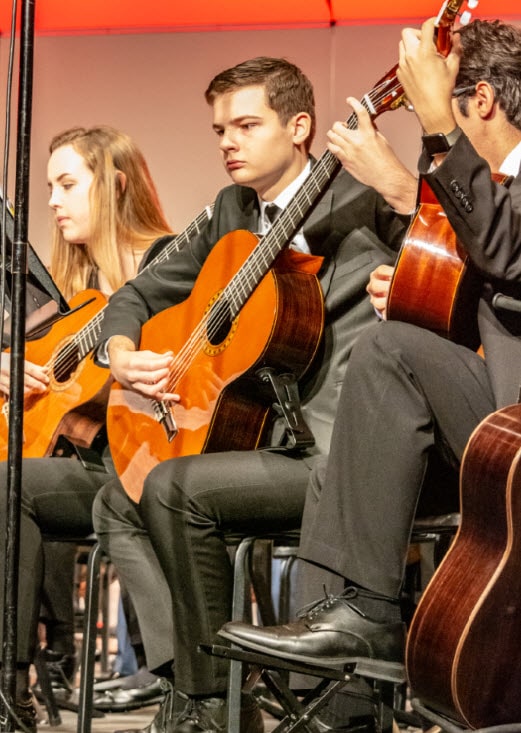 1. Retention
Be sure to tell your guitar students to sign up for classroom guitar next year. This will keep them playing music and keep you looking indispensable in the eyes of your administration. If you're not a guitar player by training, don't worry! Next year your guitar class will focus on helping your students play more musically. You will explore the fretboard, a few advanced chords, more complex rhythms and articulation, etc. If you want to learn more, sign up for the Teaching Guitar Workshops for the summer.
2. I'd Like to Thank the Administrators
Even though you were in the trenches, the school doesn't run without administrators. Thank your administration for their support. Show them how many kids want to sign up for guitar next year (see Retention above). This will tell your administrators that you have a bunch of engaged kids that want to come back for more!
3. Thank You Mom and Dad
A great last note for your final concert is to thank the Moms and Dads of your students. They are definitely part of the equation and recognizing that fact will help them realize just how great you and your guitar class are.
4. Bring the Noise
You must have an end of the year concert/banquet. This will make it real for your guitar students (…why are we playing?). And, in terms of recruitment, a guitar concert will show every student in the school that classroom guitar means time in the spotlight. Additionally, a concert gives parents and administrators a chance to see the results of your classroom guitar program. It makes all of your work and the work of your students tangible.
5. "Batten Down the Hatches" and Clean
After 9 – 10 months of kids playing music in your guitar classroom, you're definitely going to have wear and tear. First, check out your instruments for any repairs that are needed. Often you will have to clean 10 months of dirt off every guitar and change out the strings if you have not been doing it regularly. You will probably want to clean and sanitize chairs, music stands and other equipment. Look around and straighten up. Make sure your room is in great shape for your next act in September!
About the author:
Glen McCarthy retired from Fairfax County, Virginia after 30 years at Robinson Secondary School where he developed a multi-level guitar program. Robinson was the first recipient of the Guitar & Accessories Manufacturers Association's award to recognize innovative guitar programming in the United States. Under his direction, the Robinson Guitar Ensemble performed in numerous venues and was consistently awarded superior ratings at adjudicated festivals.
For over 20 years, Mr. McCarthy has taught class guitar, required for all music education majors and guitar pedagogy at George Mason University. He has been a guest clinician and adjudicator at festivals, conferences and workshops both nationally and internationally. He is the past chair of the NAfME Council for Guitar Education, the past chair of the ASTA Guitar-in-the-Schools Committee and a co-chair and clinician for Teaching Guitar Workshops. He also teaches guitar at the Potomac Academy, the community arm of GMU. He continues to perform in numerous venues and genres. In 2014 from over 32,000 nominees the Grammy Foundation recognized Glen as one of the top ten music educators in the United States.
Did this blog spur new ideas for your music program? Share them on Amplify! Interested in reprinting this article? Please review the reprint guidelines.
The National Association for Music Education (NAfME) provides a number of forums for the sharing of information and opinion, including blogs and postings on our website, articles and columns in our magazines and journals, and postings to our Amplify member portal. Unless specifically noted, the views expressed in these media do not necessarily represent the policy or views of the Association, its officers, or its employees.
Kristen Rencher, Social Media Coordinator. © National Association for Music Education (NAfME.org)