If you are a current, future or retired music educator, or a music education advocate, NAfME is where you belong! Join now to connect with our more than 57,000 members advancing music education while teaching millions of students nationwide and around the world.
Active Teacher Membership
For individuals engaged in music teaching, supervision, or administration as a primary, full-time career.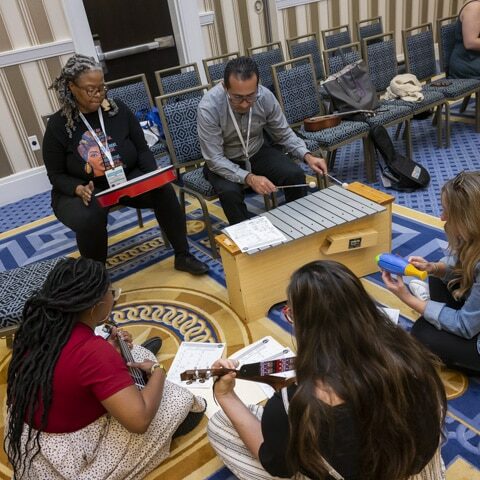 NAfME Membership Benefits
Here's your chance to join the professional network that will help you succeed in the classroom and your career! Questions about benefits? Contact memberservices@nafme.org.
Advocacy resources to help you support and protect your music program
Diversity, Equity, Inclusion, and Access resources
Amplify, the online forum exclusively for NAfME members
Six outstanding NAfME periodicals, including the online archive of back issues
The opportunity to contribute content to the NAfME Blog
Present at the NAfME Biennial Research and Teacher Education Conference and other NAfME events
Access to a wide variety of live NAfME webinars, town halls, and chats throughout the year
Standards-based lesson plans and teaching guides in the NAfME online resource library
All recorded webinars in the NAfME Academy are free for NAfME members (formerly an additional subscription)
Leadership and collaboration opportunities through your state MEA and NAfME Societies and Councils
Free resources to advocate for your program and spotlight your students during March, Music In Our Schools Month®
The right to vote in NAfME elections
Recognition for your students through composition contests and honor society membership
Valuable insurance offerings created especially for educators
25% discount on NAfME books co-published by Rowman & Littlefield Education
Special offers from NAfME corporate members
Copyright resources
All the benefits offered by your state music education association
*Collegiate and associate memberships do not include the right to vote in NAfME elections. Associate membership does not include membership in a state music education association.