2021-2022 Tri-M® Music Honor Society National and State Chapters of the Year Announced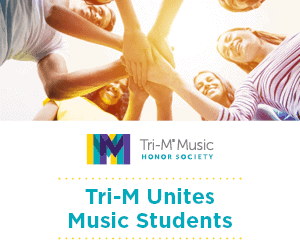 /   News Posts   /   2021-2022 Tri-M® Music Honor Society National and State Chapters of the Year Announced

For Immediate Release
Media Contact: Kristen Rencher
KristenR@nafme.org or 571-323-5898
2021-2022 Tri-M® Music Honor Society
National and State Chapters of the Year Announced
RESTON, VA (July 6, 2022) – The National Association for Music Education (NAfME) announces the 2021-2022 Tri-M® Music Honor Society Chapter of the Year, presented by Schmidt Vocal Arts. The National Chapter of the Year Program is designed to motivate and reward chapters that perform service projects, encourage Chapter Officers to perform their duties properly, and increase awareness and interest in what other Tri-M® chapters are doing.
The Tri-M® National Chapter of the Year (Junior and Senior) will receive an engraved permanent service plaque along with the Chapter of the Year Scholarship award. Scholarships must be used to fund a professional development activity for the chapter including, but not limited to, clinicians, master classes, field trips, conference travel, or summer music program scholarships. The Senior Division Chapter of the Year received a $1,000 scholarship, and the Junior Division Chapter of the Year received a $800 scholarship. Runners-up also received scholarships for their schools. This school year, Tri-M chapters in each of the six NAfME divisions were also recognized as State Chapters of the Year.
National Chapters of the Year:
Senior Division
Chapter of the Year
South Haven High School – South Haven, Michigan
Chapter Number 7958
Jeffrey Bopp, advisor 
First Runner Up
International Christian School – Shatin, Hong Kong
Chapter Number 6751
Laura Danneker, advisor 
Second Runner Up
Yorktown High School – Arlington, Virginia
Chapter Number 1264
Joseph Witkowski, advisor
Junior Division
Chapter of the Year
Vicenza Middle School – APO, AE
Chapter Number 5349
Amy Black, advisor
First Runner Up
Qualters Middle School – Mansfield, Massachusetts
Chapter Number 5745
Laurie Pepicelli, advisor
Second Runner Up
Ranney School – Tinton Falls, New Jersey
Chapter Number 4410
John Propper, advisor
State Chapters of the Year:
Eastern Division
Connecticut
Coventry High School – Coventry, Connecticut
Chapter Number 6609
Hannah Cole, advisor
Massachusetts
Canton High School – Canton, Massachusetts
Chapter Number 4088
Catherine Eckersley, advisor
New Hampshire
Goffstown High School – Goffstown, New Hampshire
Chapter Number 6499
Joshua Desrochers, advisor
New Jersey
Ranney School – Tinton Falls, New Jersey
Chapter Number 5275
Dorothy Sobieski, advisor
New York
Herricks High School – New Hyde Park, New York
Chapter Number 1975
Anissa Arnold, advisor
Pennsylvania
Redbank Valley High School – New Bethlehem, Pennsylvania
Chapter Number 8448
Carrie McIntire, advisor
North Central Division 
Illinois
McHenry Community High School – McHenry, Illinois
Chapter Number 139
Tracy Tobin, advisor
Indiana
Shortridge High School – Indianapolis, Indiana
Chapter Number 7396
Susan Sieler, advisor
Michigan
Bloomfield Hills High School – Bloomfield Hills, Michigan
Chapter Number 7412
Advisor, Alan Posner
Nebraska
Kearney High School – Kearney, Nebraska
Chapter Number 4101
Rick Mitchell, advisor
North Dakota
Davies High School – Fargo, North Dakota
Chapter Number 7213
Michal Lang, advisor
Ohio
Princeton High School – Cincinnati, Ohio
Chapter Number 6264
Kristen Brown, advisor
South Dakota
Pierre TF Riggs – Pierre, South Dakota
Chapter Number 6441
Mackenzie McKeithan Jensen, advisor
Wisconsin
Waterford Union High School – Waterford, Wisconsin
Chapter Number 2738
Derek Machan, advisor
Northwest Division
Oregon
Parkrose High School – Portland, Oregon
Chapter Number 3814
Lesley Bossert, advisor
Southern Division
Alabama
Auburn High School – Auburn, Alabama
Chapter Number 8281
Deanna Marshall, advisor
Florida
Alexander W. Dreyfoos School of the Arts – West Palm Beach, Florida
Chapter Number 3914
Evan Rogovin, advisor
Georgia
North Springs High School – Atlanta, Georgia
Chapter Number 3954
Mirna Dinovic, advisor
Louisiana
Ursuline Academy of New Orleans – New Orleans, Louisiana
Chapter Number 1186
Helen Myers, advisor
Mississippi
Pearl River Central High School – Carriere, Mississippi
Chapter Number 8959
Haley Lambert, advisor
South Carolina
Allegro Charter School of Music – North Charleston, South Carolina
Chapter Number 8885
Anna Baumgaertner, advisor
Tennessee
White House Heritage High School – White House, Tennessee
Chapter Number 8151
Rebecca Pal, advisor
Virginia
Chancellor High School – Fredericksburg, Virginia
Chapter Number 6452
Rhonda Miller, advisor
West Virginia
Martinsburg High School – Martinsburg, West Virginia
Chapter Number 7380
Katie Scramm, advisor
Southwestern Division
Colorado
Conifer High School – Conifer, Colorado
Chapter Number 5710
Sean Cartner, advisor
Oklahoma
Mustang High School – Yukon, Oklahoma
Chapter Number 8408
Sohailah Stout, advisor
Texas – TIE
Seven Lakes High School – Katy, Texas
Chapter Number 8091
Elizabeth Tait, advisor
Texas – TIE
William B. Travis High School – Richmond, TX
Chapter Number 6864
Sabrina Behrens, advisor
Western Division
Arizona
Rancho Solano Preparatory School – Scottsdale, Arizona
Chapter Number 8136
Brandon Zale, advisor
California
Fullerton Union High School – Fullerton, California
Chapter Number 7054
Troy Trimble, advisor
International
Nile C Kinnick High School – FPO, AP
Chapter Number 5343
Jonathan Parker, advisor
Thanks to this year's Presenting Sponsor, Schmidt Vocal Arts. Schmidt Vocal Arts encourages young artists to pursue their passion in the vocal arts, providing opportunities and support to help inspire future generations of singers. Through vocal competitions, educational programming, and scholarships, Schmidt Vocal Arts has impacted the lives of over 5,000 young singers throughout the country and annually provides scholarships for over 120 high school and university students. Learn more by visiting schmidtvocalarts.org.
The Tri-M® Music Honor Society is the international music honor society for middle/junior high and high school students. It is designed to recognize students for their academic and musical achievements, reward them for their accomplishments and service activities, and to inspire other students to excel at music and leadership. Since 1985, through more than 9,000 chartered chapters and approximately 80,000 student members annually, Tri-M has given more than $140,000 in Chapter of the Year Scholarship Awards to chapters across the country making a difference in their communities. Tri-M is a program of the National Association for Music Education.
###
National Association for Music Education, among the world's largest arts education organizations, is the only association that addresses all aspects of music education. NAfME advocates at the local, state, and national levels; provides resources for teachers, parents, and administrators; hosts professional development events; and offers a variety of opportunities for students and teachers. The Association has supported music educators at all teaching levels for more than a century. With more than 50,000 members teaching millions of students nationwide, the organization is the national voice for music education in the United States.
For more information, visit: MusicHonors.com.
Follow Tri-M® on Facebook (www.facebook.com/TriMHQ).
Published Date
July 6, 2022
Category
Students

Tri-M Honor Society
Copyright
July 6, 2022. © National Association for Music Education (NAfME.org)