2022–2023 Tri-M® Music Honor Society National and State Chapters of the Year Announced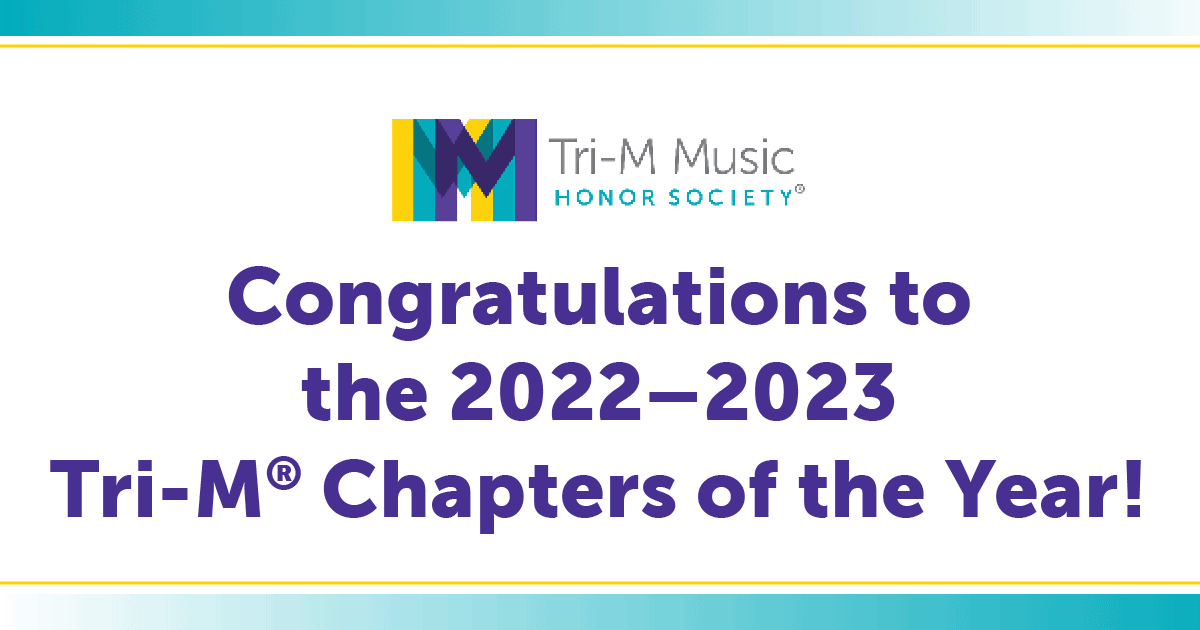 /   News Posts   /   2022–2023 Tri-M® Music Honor Society National and State Chapters of the Year Announced
Media Contact: Kristen Rencher
KristenR@nafme.org or 571-323-5898
2022–2023 Tri-M® Music Honor Society National and State Chapters of the Year Announced
RESTON, VA (July 20, 2023) – The National Association for Music Education (NAfME) announces the 2022–2023 Tri-M® Music Honor Society Chapter of the Year. The National Chapter of the Year Program is designed to motivate and reward chapters that perform service projects, encourage Chapter Officers to perform their duties properly, and increase awareness and interest in what other Tri-M® chapters are doing.
The Tri-M® National Chapter of the Year (Junior and Senior) will receive an engraved permanent service plaque along with the Chapter of the Year Scholarship award. Scholarships must be used to fund a professional development activity for the chapter including, but not limited to, clinicians, master classes, field trips, conference travel, or summer music program scholarships. The Senior Division Chapter of the Year received a $1,000 scholarship, and the Junior Division Chapter of the Year received a $800 scholarship. Runners-up also received scholarships for their schools. Tri-M chapters in each of the six NAfME divisions were also recognized as State Chapters of the Year.
National Chapters of the Year:
Senior Division
Chapter of the Year
Pierre TF Riggs – Pierre, South Dakota
Chapter Number 6441
Mackenzie McKeithan Jensen, advisor
First Runner Up
Travis High School – Richmond, Texas
Chapter Number 6864
Sabrina Behrens, advisor
Second Runner Up
Ralston Valley High School – Arvada, Colorado
Chapter Number 9304
Michelle Ewer, advisor
Junior Division
Chapter of the Year
Baseline Middle School – South Haven, Michigan
Chapter Number 7957
Jessica Fiedorowicz, advisor
First Runner Up
Ranney School – Tinton Falls, New Jersey
Chapter Number 4410
John Propper, advisor
Second Runner Up
Owen J. Roberts Middle School – Pottstown, Pennsylvania
Chapter Number 2251
Felicia Nixdorf, advisor
State Chapters of the Year:
Eastern Division
Connecticut
Simsbury High School – Simsbury, Connecticut
Chapter Number 3829
Lisa Abel, advisor
Delaware
William Penn High School – New Castle, Delaware
Chapter Number 4305
Matthew Haddock, advisor
Massachusetts
Canton High School – Canton, Massachusetts
Chapter Number 4088
Catherine Eckersley, advisor
New Hampshire
Goffstown High School – Goffstown, New Hampshire
Chapter Number 6499
Joshua Desrochers, advisor
New Jersey
Ranney School – Tinton Falls, New Jersey
Chapter Number 5275
Dr. Dorothy Sobieski, advisor
New York
Smithtown High School West – Smithtown, New York
Chapter Number 1338
Joseph Cotignola, advisor
Pennsylvania
Greater Latrobe Senior High School – Latrobe, Pennsylvania
Chapter Number 3634
Ryan Czekaj, advisor
Rhode Island
West Warwick High School – West Warwick, Rhode Island
Chapter Number 1182
Matthew Livesey, advisor
Vermont
Leland and Gray Middle/High School – Townshend, Vermont
Chapter Number 8020
Rene Bernard, advisor
North Central Division
Illinois
Plano High School – Plano, Illinois
Chapter Number 6477
Susan Webb, advisor
Indiana
Shortridge High School – Indianapolis, Indiana
Chapter Number 7396
Katy Blocher, advisor
Michigan
Bloomfield Hills High School – Bloomfield Hills, Michigan
Chapter Number 7412
Alan Posner, advisor
Nebraska
Kearney High School – Kearney, Nebraska
Chapter Number 4101
Rick Mitchell, advisor
North Dakota
Williston High School – Williston, North Dakota
Chapter Number 8150
Katie Rooke, advisor
Ohio
Jackson High School – Massillon, Ohio
Chapter Number 2973
Michele Monigold, advisor
Northwest Division
Oregon
Parkrose High School – Portland, Oregon
Chapter Number 3814
Lesley Bossert, advisor
Southern Division
Alabama
Auburn High School – Auburn, Alabama
Chapter Number 8281
Deanna Marshall, advisor
Florida
Freedom High School – Orlando, Florida
Chapter Number 4762
Suzanne Vascik, advisor
Georgia
Greenbrier High School – Evans, Georgia
Chapter Number 5799
Herbert Rutledge Boykin, advisor
Louisiana
Ursuline Academy of New Orleans – New Orleans, Louisiana
Chapter Number 1186
Helen H. Myers, advisor
South Carolina
Allegro Charter School of Music – North Charleston, South Carolina
Chapter Number 8885
Anna Baumgaertner and Tom Bandiera, advisors
Tennessee
White House Heritage High School – White House, Tennessee
Chapter Number 8581
Rebecca Pal, advisor
Virginia
Meridian High School – Falls Church, Virginia
Chapter Number 8918
Mary Jo West, advisor
Southwestern Division
Kansas
Newton High School – Newton, Kansas
Chapter Number 3752
Amy Ives, advisor
Missouri
Notre Dame de Sion High School – Kansas City, Missouri
Chapter Number 6565
Elizabeth Mulkey, advisor
Oklahoma
Miami High School – Miami, Oklahoma
Chapter Number 9299
Austin Morris, advisor
Western Division
California
Mission Oak High School – Tulare, California
Chapter Number 9170
Calvin Carr, advisor
The Tri-M® Music Honor Society is the international music honor society for middle/junior high and high school students. It is designed to recognize students for their academic and musical achievements, reward them for their accomplishments and service activities, and to inspire other students to excel at music and leadership. Since 1985, through more than 9,000 chartered chapters and approximately 80,000 student members annually, Tri-M® has given more than $140,000 in Chapter of the Year Scholarship Awards to chapters across the country making a difference in their communities. Tri-M is a program of the National Association for Music Education.
###
The National Association for Music Education (NAfME) is a collaborative community that supports music educators and advocates for equitable access to music education. The only association that addresses all aspects of music education, NAfME, together with its affiliated state music education associations, advocates at the national, state, and local levels and provides resources and opportunities for teachers, students, parents, and administrators. Founded in 1907 and representing more than 53,000 members teaching millions of students, NAfME advances the music education profession and promotes lifelong experiences in music.
For more information, visit: nafme.org/tri-m.
Follow Tri-M® on Facebook (www.facebook.com/TriMHQ)
and #MusicHonors on Twitter and Instagram.
Published Date
July 20, 2023
Copyright
July 20, 2023. © National Association for Music Education (NAfME.org)