Back-to-School Music Rituals to Boost Positive Classroom Culture
This blog is sponsored by NAfME Corporate Member Kindermusik.
New sounds, new smells, new faces, new rules . . . children are naturally a bit uneasy during the first few weeks (even months) of school. As educators, we know that when children feel safe, their creativity starts flowing, and when their creativity flows, boosts in academic performance, problem-solving, social-emotional skills, and all areas of brain development begin to take hold. So, our first job is to establish the trust needed to make young minds and bodies relax, reenergize, and gear up for learning.
Setting classroom routines to introduce concepts and aid transitions can help build a positive and encouraging classroom culture. Luckily, you have the perfect tool to make this successful—music!
Consider these two engaging hello and goodbye classroom rituals from Kindermusik International to start your year on the right note.
Greeting Music Ritual
Looking for a new "Hello" song? "Buenos Días" is a classroom favorite!
Here's why it's a winner:
You can sing it in multiple languages: English, Spanish, ASL.
It's an echo song, which encourages children to follow the conductor, take turns, and self-regulate.
As children gain confidence, you can invite them to individually echo one phrase of the song as solo singing practice, which you can even utilize for assessment.
Download the lyrics, watch the original Spanish version below to get a feel for the pacing and sign language add-ins, and access the song on the free Kindermusik app.
Parting Music Ritual
Ending your class with a synchronized dance is a fun, memorable way to connect before transitioning out of music class.
"California Oranges" is an upbeat, rock-genre circle dance that incorporates:
Form or pattern recognition (changing from circle dance to free dance, and vice-versa);
Steady beat (synchronized movements of the circle dance);
And creative expression (the freestyle part!).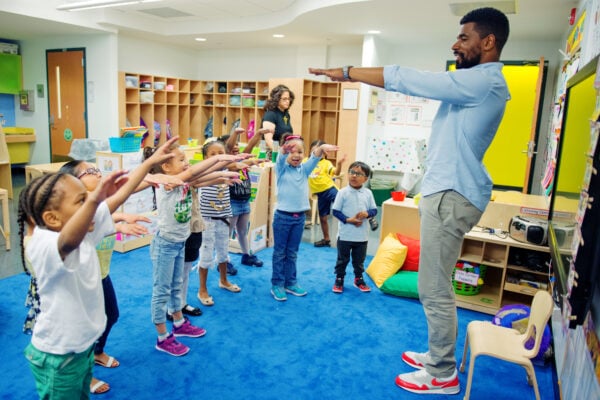 This circle dance is a happy medium between a focused activity and letting loose, making it an ideal music and movement ritual to promote a joyful, inclusive environment. Research proves moving in sync with others and having ample space for self-expression are both huge boosts to social-emotional development, and "California Oranges" is something your students will ask for again and again.
Download the dance instructions, watch the demonstration below, and stream the song from the free Kindermusik app.
More Music Rituals
For more music and movement rituals (including practical ones like handwashing, cleaning up, etc.), grab Kindermusik's free digital rituals pack. Incorporate these into your music classroom routines, and share with your colleagues to promote using the power of music to enhance their rituals!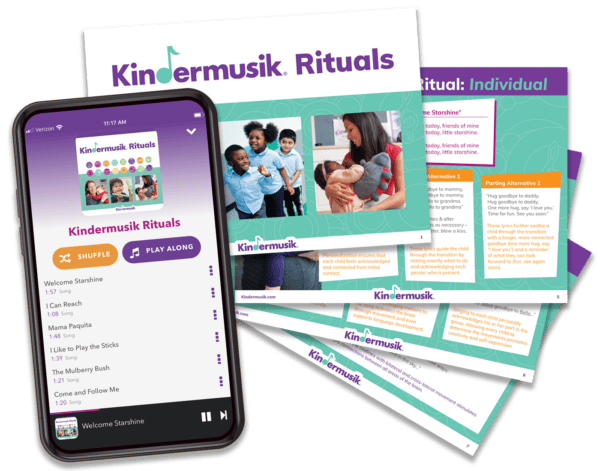 The ultimate goal? Establish trust by creating a safe, predictable environment. Students will gravitate toward the familiarity of the routine, control the creative surprises (like how they play that air guitar!), and gain self-confidence and positive whole-child development as a result.
Established in 1978, Kindermusik International Inc., is the world's leading provider of early childhood music and movement curricula and teacher training, and is used by thousands of Accredited Educators, schools, and other organizations around the world. With a full spectrum of classes for children ages newborn to seven, on-demand training, award-winning books, albums, a free app, and more, Kindermusik nurtures confidence and joy through the power of music.
Did this blog spur new ideas for your music program? Share them on Amplify! Interested in reprinting this article? Please review the reprint guidelines.
The National Association for Music Education (NAfME) provides a number of forums for the sharing of information and opinion, including blogs and postings on our website, articles and columns in our magazines and journals, and postings to our Amplify member portal. Unless specifically noted, the views expressed in these media do not necessarily represent the policy or views of the Association, its officers, or its employees.
Published Date
August 31, 2023
Category
Classroom Management

Repertoire

Technology
Copyright
August 31, 2023. © National Association for Music Education (NAfME.org)