CMA Foundation and NAfME Announce Three 2023 State Advocacy Award Grant Winners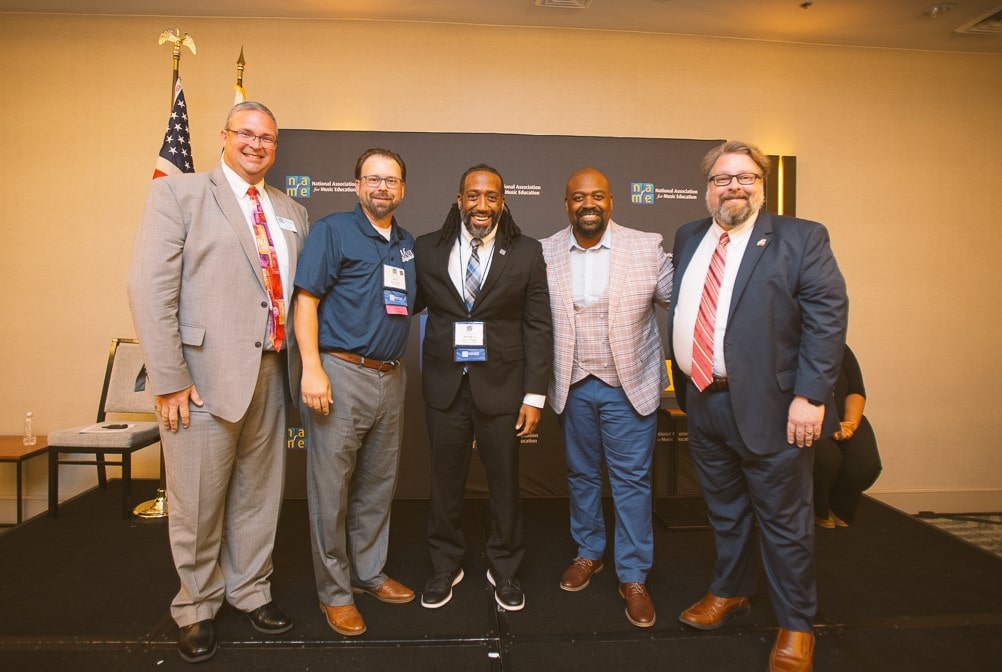 Media Contact: Jazzmone Sutton
JazzmoneS@nafme.org or 571-323-5916
CMA Foundation and NAfME Announce Three
2023 State Advocacy Award Grant Winners
RESTON, VA (July 27, 2023) — In collaboration with the CMA Foundation, the National Association for Music Education (NAfME) announces the 2023 recipients of the State Music Education Association Advocacy Grant Awards. These grants support the work of NAfME state music education associations (MEAs) by augmenting existing advocacy initiatives and creating new advocacy opportunities.
"NAfME is pleased to partner with the Country Music Association Foundation to honor three outstanding MEAs for their work in advocacy," stated NAfME President Scott R. Sheehan. "On behalf of the National Executive Board, we offer our deepest congratulations and thanks to the Alabama MEA, Missouri MEA, and the North Carolina MEA. Collectively, they are putting a spotlight on ways to engage music educators and collegiate students in the important work of advocating for our most disadvantaged and historically underrepresented students. The funding provided by the CMA Foundation will have a great impact on the efforts of these three associations to support new music educators entering the field. They are also supporting the creation of culturally responsive policies and resources that can later be shared with members across the entire country. We are pleased to honor AMEA, MMEA, and NCMEA for their transformative work and look forward to seeing the results of their efforts in the years to come."
Learn about the three MEAs selected this year for grants to aid their advocacy efforts:
Alabama: The Alabama Music Educators Association was awarded funds to provide mentoring, professional development, and advocacy training for collegiate members at Historically Black Colleges and Universities (HBCUs), and beginning or early career music educators.
Missouri: The Missouri Music Educators Association was awarded funds to create a series of short videos tailored to educate music educators on how to effectively advocate for policies and programs that are culturally proficient and responsive to the needs of their students.
North Carolina: The North Carolina Music Educators Association was awarded funds to develop a professional learning community with online modules and in-person training to support the unique opportunities and challenges for rural educators.
"NAfME remains one of the most consistent and impactful champions of both student and teacher voices across the United States," said Tiffany Kerns, CMA Foundation Executive Director. "As another organization committed to furthering music education, we understand the need for state advocacy resources at the state level and recognize the role the State Advocacy grant plays in amplifying and extending these efforts. We could not be prouder to continue to support this work."
###
About the CMA Foundation
Established in 2011 as the philanthropic arm of the Country Music Association (CMA), the CMA Foundation is committed to improving and sustaining high-quality music education programs across the United States, working to ensure every child has the opportunity to participate in music. Through strategic partnerships, professional development and grant distribution, the CMA Foundation, a nonprofit 501(c)(3), invests various resources across the national public school system, after school programs, summer camps and community outreach organizations.
The National Association for Music Education (NAfME) is a collaborative community that supports music educators and advocates for equitable access to music education. The only association that addresses all aspects of music education, NAfME, together with its affiliated state music education associations, advocates at the national, state, and local levels and provides resources and opportunities for teachers, students, parents, and administrators. Founded in 1907 and representing more than 53,000 members teaching millions of students, NAfME advances the music education profession and promotes lifelong experiences in music.
Follow NAfME on Twitter (twitter.com/nafme) and on Facebook (facebook.com/nafme).
Published Date
July 27, 2023
Category
NAfME News

State Advocacy & Public Policy
Copyright
July 27, 2023. © National Association for Music Education (NAfME.org)