NAfME Awards Eight Collegiate Members and Four Institutions' Collegiate Chapters for Excellence and Achievement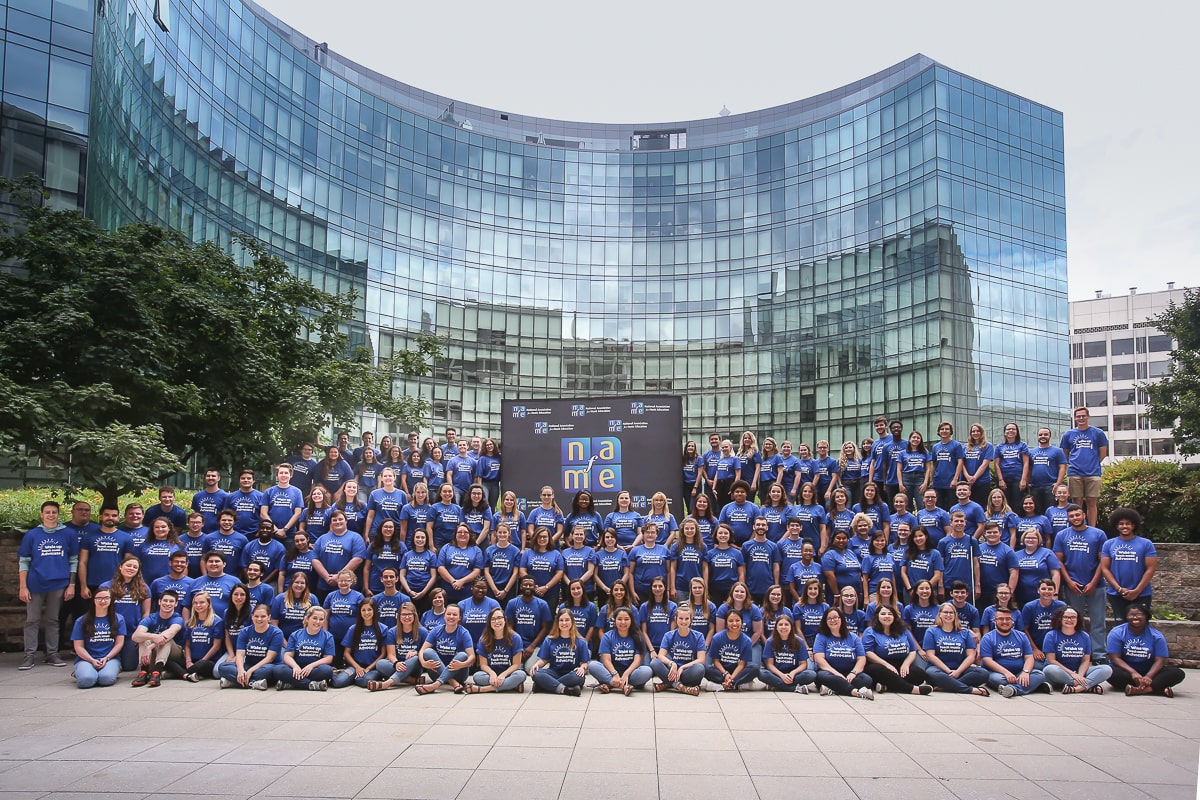 /   News Posts   /   NAfME Awards Eight Collegiate Members and Four Institutions' Collegiate Chapters for Excellence and Achievement

Media Contact:
Catherina Hurlburt
CatherinaH@nafme.org or 571-323-3395 
National Association for Music Education Awards
Eight Collegiate Members and Four Institutions'
Collegiate Chapters for Excellence and Achievement
RESTON, VA (July 17, 2020) – The National Association for Music Education (NAfME) recognized the NAfME Collegiate Chapters of four schools as "Chapters of Excellence" this summer. These preservice music educators and collegiate chapters were recognized this June during the annual NAfME National Leadership Assembly, held virtually this year. The Chapter of Excellence Recognition was developed to encourage chapters to plan and execute successful chapter music programs, professional development projects, recruitment techniques, and service projects. Recognition of excellent projects is conferred annually and is based on activities completed by the chapter between January 1 and December 31st of the year prior.
The four chapters receiving Chapter of Excellence Recognition for the 2019–2020 school year include:
Music Program: VanderCook College of Music—Chicago, Illinois
Service: University of Arkansas–Fayetteville—Fayetteville, Arkansas
Recruitment: University of Illinois at Urbana–Champaign—Urbana, Illinois
Professional Development: Bowling Green State University— Bowling Green, Ohio
Eight NAfME Collegiate members were also recognized with Professional Achievement Awards. The purpose of the Professional Achievement Award is to recognize individual collegiate members for their commitment and dedication to NAfME and music education. This recognition is given to collegiate members who have served their chapters in an exemplary manner.
Professional Achievement Award recipients for 2019–2020 include:
Marissa Altendorfer—University of Wisconsin–River Falls (River Falls, Wisconsin)
Samantha Bream—The College of Saint Rose (Albany, New York)
Brendon Culloton—University of Illinois at Urbana–Champaign (Urbana, Illinois)
Christina Fray—The College of Saint Rose (Albany, New York)
Tai Knoll—Bowling Green State University (Bowling Green, Ohio)
Alexis Newman—University of Arkansas–Fayetteville (Fayetteville, Arkansas)
Iris Ramirez—University of Tulsa (Tulsa, Oklahoma)
Kimberly Rosenbaum—Hofstra University (Long Island, New York)
Read about the work of these NAfME Collegiate members and chapters, and learn about past recipients of the NAfME Collegiate Chapter of Excellence Recognition and NAfME Collegiate Professional Achievement Awards. To learn more about the NAfME Collegiate program, visit nafme.org/collegiate.
###
National Association for Music Education, among the world's largest arts education organizations, is the only association that addresses all aspects of music education. NAfME advocates at the local, state, and national levels; provides resources for teachers, parents, and administrators; hosts professional development events; and offers a variety of opportunities for students and teachers. The Association has supported music educators at all teaching levels for more than a century. With more than 60,000 members teaching millions of students nationwide, the organization is the national voice of music education in the United States.
Published Date
July 17, 2020
Copyright
July 17, 2020. © National Association for Music Education (NAfME.org)