NAfME Member Lori Lyford Receives 2019 BHS/NAfME Music Educator of the Year Award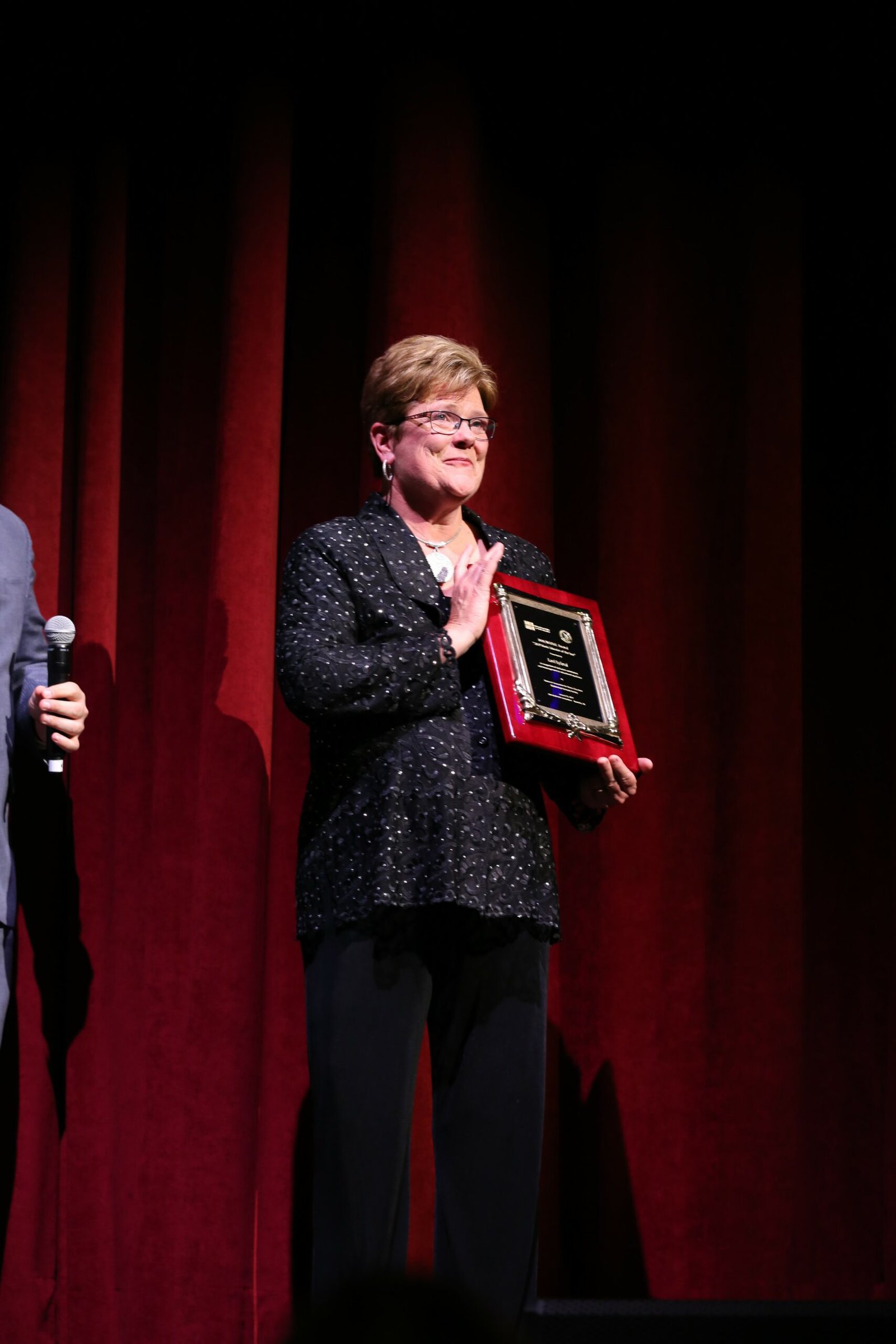 For Immediate Release
Contact: Catherina Hurlburt at NAfME
catherinah@nafme.org or (703) 860-4000
NAfME Member Lori Lyford Receives
2019 BHS/NAfME Music Educator of the Year Award
RESTON, VA (February 15, 2019)—The Barbershop Harmony Society (BHS) and National Association for Music Education (NAfME) have honored NAfME member Lori Lyford of Chandler High School in Chandler, Arizona, with the 2019 BHS/NAfME Music Educator of the Year Award, in recognition of her excellence in teaching, performance, and lifelong impact on young singers. The award was presented to Ms. Lyford in January during the Next Generation Junior Barbershop Chorus Festival, held at the Midwinter Convention of the Barbershop Harmony Society at Nashville's Grand Ole Opry House.
Ms. Lyford is in her eleventh year as High School Choral Educator at Chandler High School. She teaches five periods of choir, including Beginning Women's Choir, Advanced Women's Choir, Chamber Choir, Men's Choir, and the award-winning Treblemakers, a women's barbershop chorus. The Men's Choir and Treblemakers combine to form Chorale, an 80+ voice concert choir. The Treblemakers have won the Sweet Adelines International's Young Women in Harmony video contest in 2014, 2015, 2017, and 2018 under Ms. Lyford's direction. Ms. Lyford received her Bachelors in Voice Performance and Music Education from Whitworth College and her Masters in Educational Psychology from Northern Arizona University.
"As her colleagues have noted, Ms. Lyford has touched the lives of thousands of students during her 41-year career as a public school music teacher," said NAfME Executive Director and Chief Executive Officer, Michael J. Blakeslee. "She asks her students to operate under three simple rules in her classroom: Be Respectful, Be Courageous, and Be a Family. Lori wants her classroom to be a safe place where students can risk enough to build their courage, trust enough to build their bonds with each other, and challenge themselves to grow, even if they aren't successful right away. Lori is a lifelong learner, always looking for a new technique, method, or analogy, and this is reflected in her teaching. We congratulate Ms. Lyford on this outstanding achievement and are proud to call her a NAfME member."
"Ms. Lyford has touched the lives of thousands of students during her 41-year career as a public school music teacher."
Ms. Lyford has served as guest speaker and given motivational classes to current and prospective teachers with an emphasis on making connections with students and creating a positive classroom climate. In 2017, she was named Chandler High School Teacher of the Year, and was then named an Ambassador of Excellence (one of the Top 5 Teachers in Arizona) by the Arizona Educational Foundation. In 2012 Ms. Lyford received the NAfME/Sweet Adelines Educator of the Year Award because of her involvement with youth in barbershop.
"My son is truly happier on days that he has choir because he gets to spend time with, as he puts it, his brothers and family," wrote Jessica Williford, a parent who is among those who nominated Ms. Lyford for the award. "He loves that Ms. Lyford's room is a no judgment zone. She expects everyone to treat each other with respect. That is how she gets them to all work to their full potential. They work together, they harmonize together, they grow together, and together they are successful."
The Barbershop Harmony Society works to build an awareness of the intrinsic value of singing and provides inclusive opportunities to participate in the joy of harmony. In partnership and collaboration with NAfME, an annual award has been established to honor educators who give students the opportunity to learn and participate in the joy and power that music education brings in uplifting the human spirit and fostering the wellbeing of society.
###
National Association for Music Education, among the world's largest arts education organizations, is the only association that addresses all aspects of music education. NAfME advocates at the local, state, and national levels; provides resources for teachers, parents, and administrators; hosts professional development events; and offers a variety of opportunities for students and teachers. The Association has supported music educators at all teaching levels for more than a century. With more than 60,000 members teaching millions of students nationwide, the organization is the national voice for music education in the United States.
Follow NAfME on Twitter (twitter.com/nafme) and on Facebook (facebook.com/nafme).
For additional information, contact Catherina Hurlburt at catherinah@nafme.org or 703-860-4000, ext. 216.
Published Date
February 15, 2019
Copyright
February 15, 2019. © National Association for Music Education (NAfME.org)