For Immediate Release
Contact: Catherina Hurlburt
catherinah@nafme.org or (571) 323-3395
Scott R. Sheehan Begins Term as National Association for Music Education National President, 2022–2024
RESTON, VA (June 30, 2022)—On June 15, 2022, the National Association for Music Education (NAfME) welcomed the new 2022–2024 National President, Scott R. Sheehan, as he begins his term. Scott Sheehan is the Director of Bands and Music Department Chairperson at the Hollidaysburg Area Senior High School in Hollidaysburg, Pennsylvania. He is also a consultant for strategic planning and association development.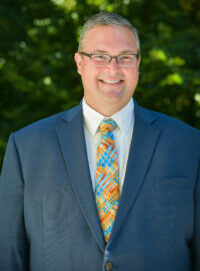 "Together we are moving music education forward through a very challenging time as we emerge from the pandemic," shared Sheehan. "As I begin my presidency, I am very excited to implement a new strategic plan. This plan focuses on advocacy, professional learning and growth, research, music teacher education, and our keystone of equity. . . . I realize that it's the boots-on-the-ground music educators who make a difference for their students every day, and I am looking forward to working with the state music education associations (MEAs), as well as individual teachers to support and promote meaningful and relevant music education. I have seen music education change lives and save lives. And I know together, arm-in-arm, we will continue making a difference for music education moving forward."
"I have seen music education change lives and save lives. And I know together, arm-in-arm, we will continue making a difference for music education moving forward."
As the President of the NAfME Eastern Division from 2015–2017, Sheehan served on the National Executive Board and Executive Committee. He was the Program Chair for the NAfME All-National Honors Ensembles from 2015-2021. As an active member of the Pennsylvania Music Educators Association (PMEA), Sheehan has served as State President, as well as a District President and Curriculum and Instruction State Representative. He coordinates the PMEA Leadership Academy, serves on the PMEA Mentoring Program Steering Committee, and is chair of the PMEA Model Curriculum Framework project. Sheehan holds a B.S. Degree in Music Education, a B.M. Degree in Music Marketing from Clarion University, and holds a Master's Degree in Music Education from the Pennsylvania State University.
"We must continue to advocate for our profession and encourage young people to consider a career in music education," shared Sheehan in an upcoming interview in the August 2022 Teaching Music magazine, a quarterly NAfME publication provided to all members. "As we look at where music positions are vacant, the message should be strategic, supporting future music educators to ensure our profession reflects the diversity of our student populations. We also need to promote the profession outside of our own space so that school officials and the general public are aware that our profession has a great impact on the wellbeing of society. Music is not a luxury. It is a necessity, and we need a diverse, qualified, and motivated music educator workforce to facilitate music learning." In the upcoming issue of Teaching Music, Sheehan describes three main areas of focus for the Association in the next two years: Leadership, Relevance, and Relationships.
Learn more about Scott Sheehan here. And watch his message to the membership here.
###
National Association for Music Education, among the world's largest arts education organizations, is the only association that addresses all aspects of music education. NAfME advocates at the local, state, and national levels; provides resources for teachers, parents, and administrators; hosts professional development events; and offers a variety of opportunities for students and teachers. The Association has supported music educators at all teaching levels for more than a century. With more than 50,000 members teaching millions of students nationwide, the organization is the national voice for music education in the United States.
Follow NAfME on Twitter (twitter.com/nafme) and on Facebook (facebook.com/nafme). For additional information, contact Catherina Hurlburt at catherinah@nafme.org or 703-860-4000.
Published Date
June 30, 2022
Copyright
June 30, 2022. © National Association for Music Education (NAfME.org)