Senator Jon Tester of Montana Named the NAfME 2019 Music Education Champion Award Recipient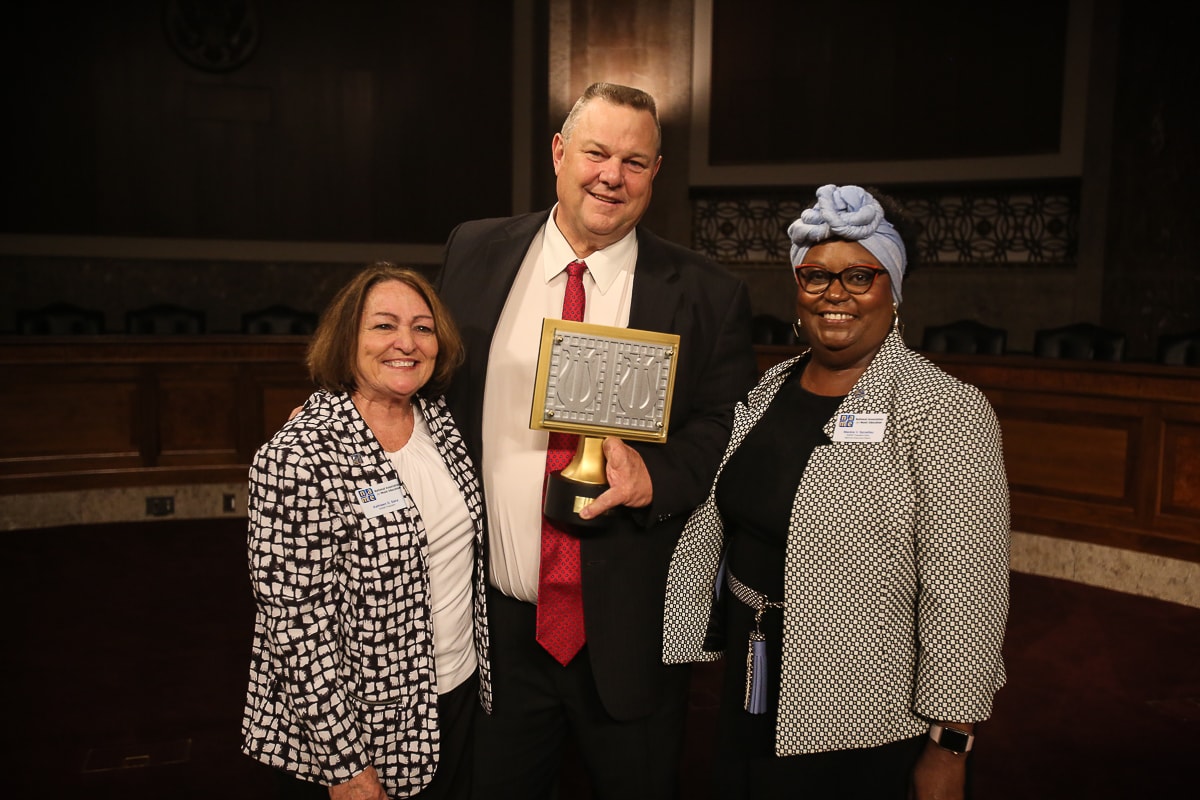 /   News Posts   /   Senator Jon Tester of Montana Named the NAfME 2019 Music Education Champion Award Recipient
Media Contact: Catherina Hurlburt
CatherinaH@nafme.org or 571-323-3395
Senator Jon Tester of Montana Named the
NAfME 2019 Music Education Champion Award Recipient
RESTON, VA (July 10, 2019)—National Association for Music Education (NAfME) is proud to announce Senator Jon Tester (D-MT) as the recipient of the 2019 Music Education Champion Award.
Senator Tester has demonstrated time and again his commitment to supporting equitable, well-rounded educational opportunities for all students. He began his professional career as an elementary music educator and, after joining the private sector, supported music education as a member of the local school board. On the Senate Appropriations Committee, Senator Tester has been an influential voice in consistently advocating for spending levels adequate to support the public education system. His leadership helped get an appropriations bill past the finish line that secured $1.2 billion in Fiscal Year 2019 funding for Title IV-A—three times the amount of funding the program received just two years prior.
"The fact of the matter is, if we're going to have well-rounded students coming out of school, and kids with self-confidence, music and the arts are a big part of that." – Senator John Tester, speaking on June 19, 2019, at the NAfME Hill Day Rally
In 2018, NAfME recognized Congresswoman Nydia Velázquez as a Music Education Champion in recognition of her many efforts supporting music education, including her legislation titled Guarantee Access to Arts and Music Education (GAAME) Act. When music advocates walked the halls of Congress to advocate for the GAAME Act in 2018, Senator Tester listened. He introduced a companion GAAME Act into the Senate in 2018, and again in 2019 during Music In Our Schools Month®. If passed, his legislation would provide articulating language to encourage school districts to use their Title I, Part A funds to improve access to music education for disadvantaged and low-income students, taught by certified music educators.
"The GAAME Act is an invitation for schools to consider music and arts education as they determine how to use their federal dollars. This legislation is important as music education is included in the Every Student Succeeds Act as a well-rounded subject that should be taught in schools." – Mike Blakeslee, NAfME Executive Director & CEO
NAfME presented the Music Education Champion Award to Senator Tester in June during NAfME Hill Day 2019. Bestowed only upon select, appropriate recipients through the course of the association's 112-year history, the award recognizes personal commitment to the promotion of music education, both through engagement with policymakers and outreach to potential music education supporters.
Senator Tester is the eighth recipient of the Music Education Champion Award and the fourth member of Congress to receive the award. Previous congressional recipients include Sen. Lamar Alexander of Tennessee and Sen. Patty Murray of Washington (2016). Both were recognized for their work on the passage of the Every Student Succeeds Act (ESSA), which included "music" as a stand-alone subject necessary for a "well-rounded education." Other awardees include: Andrew Dost of the band fun. (2014); Brooklyn-based band San Fermin (2015); Barbershop Harmony Society's 2009 International Champion Quartet, Crossroads (2016); CMA Foundation (2017); and Congresswoman Nydia Velázquez (2018).
NAfME is grateful to the Senator for his ongoing leadership and looks forward to working with him to ensure each and every student has access to a sequential and standards-based music education.
###
National Association for Music Education, among the world's largest arts education organizations, is the only association that addresses all aspects of music education. NAfME advocates at the local, state, and national levels; provides resources for teachers, parents, and administrators; hosts professional development events; and offers a variety of opportunities for students and teachers. The Association has supported music educators at all teaching levels for more than a century. With more than 60,000 members teaching millions of students nationwide, the organization is the national voice of music education in the United States.
Follow NAfME on Facebook, Twitter, and Instagram. For additional information, contact Catherina Hurlburt at catherinah@nafme.org or 571-323-3395.
Published Date
July 10, 2019
Copyright
July 10, 2019. © National Association for Music Education (NAfME.org)