Tri-M® Music Honor Society and NFHS Present 10 Schools Grants to Start Tri-M® Chapters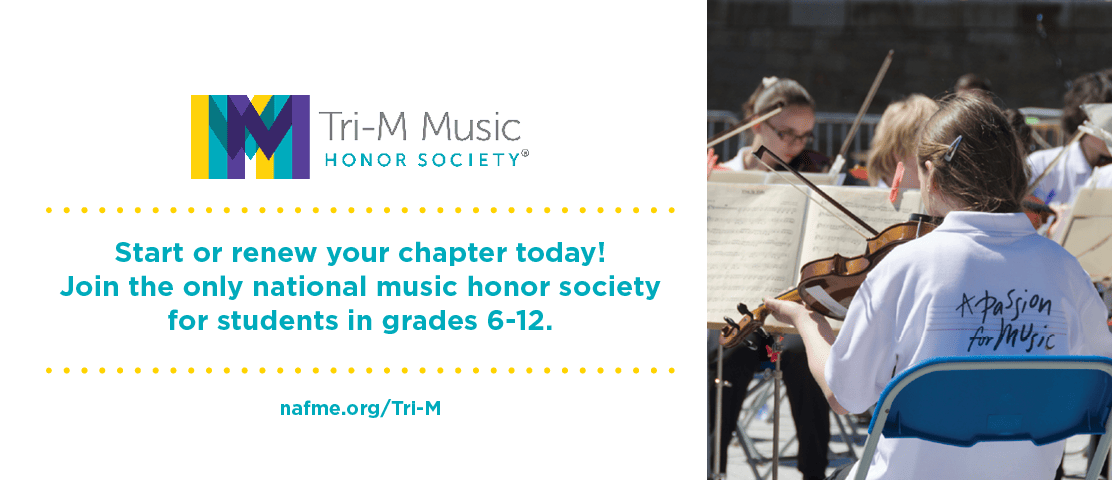 /   News Posts   /   Tri-M® Music Honor Society and NFHS Present 10 Schools Grants to Start Tri-M® Chapters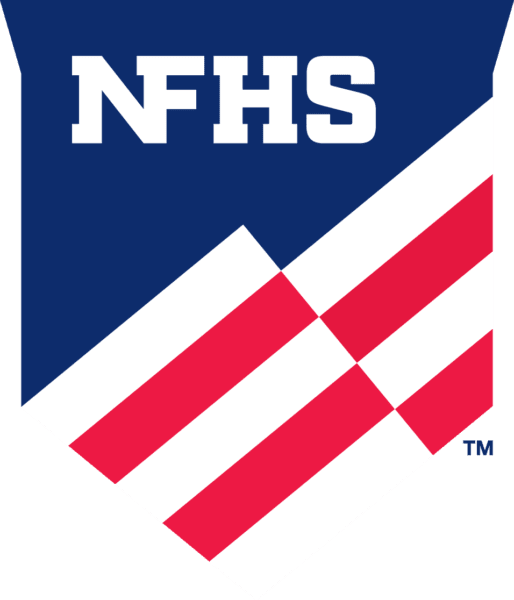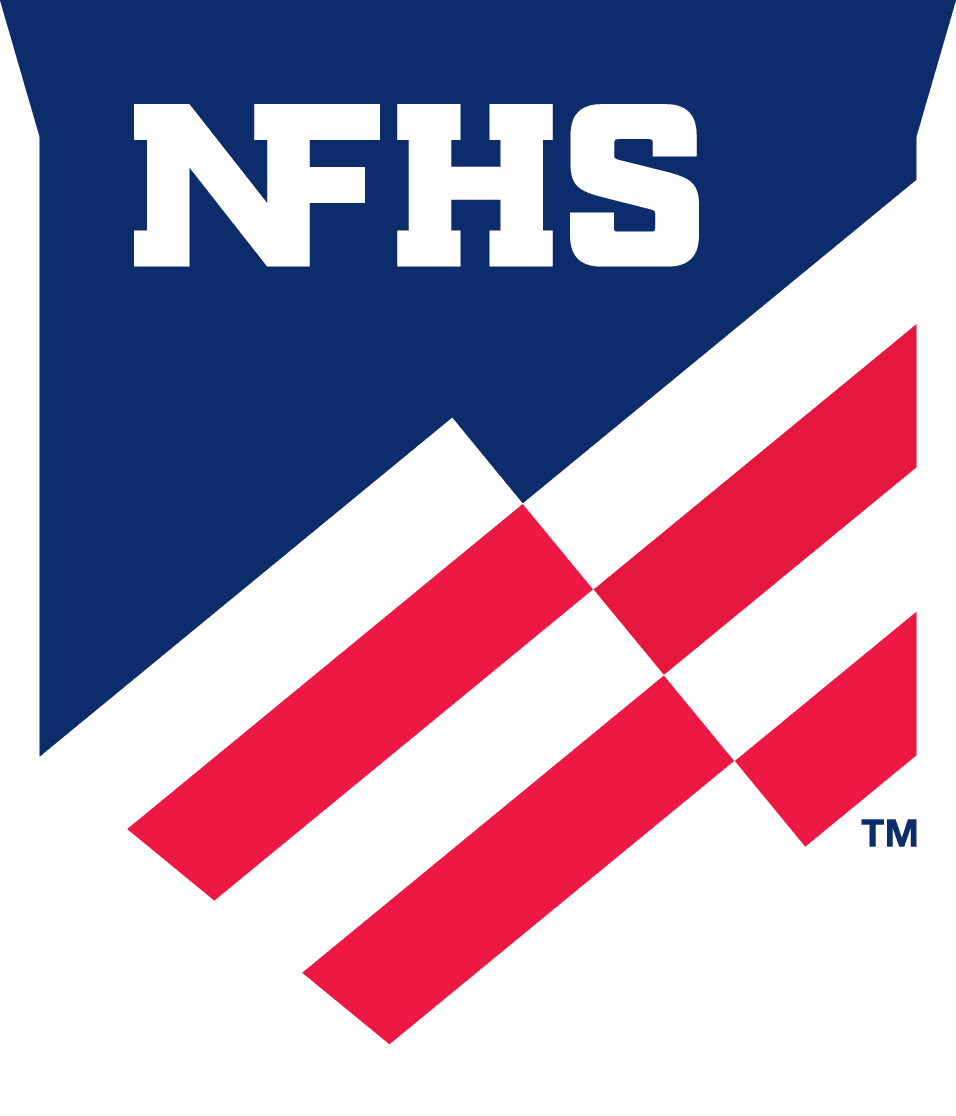 For Immediate Release
Contact: Kristen Rencher
kristenr@nafme.org or (571) 323-5898
Tri-M® Music Honor Society and National Federation of State High School Associations Present 10 Schools Grants to Start Tri-M® Chapters
RESTON, VA (November 2, 2023)—The Tri-M® Music Honor Society (a program of National Association for Music Education, or NAfME) extends gratitude to the National Federation of State High School Associations (NFHS) for continuing its generous collaboration, providing grants to 10 new Tri-M® chapters during the 2023–2024 academic year. The 10 schools receiving grants have been announced.
These 10 schools bring leadership opportunities to their music students through Tri-M chapters. Through community outreach and service projects, these student leaders demonstrate the impact of music education in their schools.
"On behalf of the NAfME National Executive Board, we recognize the incredible value that Tri-M adds to music programs across the country," said Scott R. Sheehan, NAfME President. "The dedication, leadership, and service that Tri-M students cultivate cannot be overstated. We are especially proud to recognize these 10 outstanding chapters for going above and beyond as they clearly demonstrate the importance of music in their schools and the impact music can have on their communities. Congratulations to all! Our sincere thanks is extended to NFHS for making this opportunity possible."
"We are especially proud to recognize these 10 outstanding chapters for going above and beyond as they clearly demonstrate the importance of music in their schools and the impact music can have on their communities."
"The National Federation of State High School Associations is excited to help launch these schools' participation in Tri-M," Dr. James Weaver, NFHS Director of Performing Arts said. "We join NAfME in this enthusiasm for these students to become leaders in their music programs, schools, and communities."
The ten grant recipients shared how Tri-M Music Honor Society benefits their school and the wider community:
Presentation High School, San Jose, CA (advisor: Camille Cintas; principal: Kristina Luscher)—"We want to have a space where students interested in music can feel empowered, advocate for the music program, and have their voice be heard, and feel pride in their musical accomplishments as they enter into adult society. We believe Tri-M will help boost the image, status, and reach of our music program and unite students, faculty, parents, and admin towards this goal."
Caribou High School, Caribou, ME (advisor: Rebekkah Willey; principal: Jamie Selfridge)— "We've witnessed firsthand how this organization inspires and motivates our music students to take ownership of their program and advocate for the arts in their community. They are excited to plan service projects that would benefit our elderly population, support fundraising to get instruments in the hands of students who can't afford them, as well as supporting our efforts to start children's music theatre camps."
Velma Jackson High School, Camden, MS (advisor: Joel Hill; co-advisor: Yahya Muhammad; principal: Perry Green)—"We are a rural Title I school with very few artistic offerings in our community. Tri-M will give us a structured, focused, student-led organization with a mission to affect change and provide our students and community with much-needed enriching arts opportunities."
Rex Putnam High School, Milwaukie, OR (advisor: Ericka Lockwood; principal: Lajena Welch)—"A Tri-M chapter will increase our student's ability to gain leadership skills within the realm of music. Through participation in Tri-M, we hope that our students will be more equipped for college and career experience, and gain confidence to pursue music opportunities beyond high school."
St. Marys Area High School, St. Marys, PA (advisor: Adam Brooks; principal: Joe Schlimm)—"It has always been a goal of our high school music department to give new, interesting, and creative opportunities to perform as well as learn about music. A Tri-M chapter fits directly within this umbrella of creating lifelong music makers and supporting musically gifted students in their endeavors."
Groton Area High School, Groton, SD (advisor: Desiree Yeigh; co-advisor: Amy Warrington; principal: Shelby Edwards)—"There is so much focus and emphasis on athletics in our school, but we are working hard to change the stigma of 'you have to choose music or athletics.' We know our students would love another opportunity to bring more awareness about the importance of music and why it would benefit all."
Lockhart High School, Lockhart, TX (advisor: Danielle Winton; co-advisor: Caitlyn Durkee; principal: Cynthia Vasquez)—"Many students who are involved in the performing arts do not currently have opportunities to showcase their leadership abilities across the performing arts programs. Our hope is that this Tri-M chapter would bring our band, choir, orchestra, and piano programs together in collaborating in this program and its activities."
Albert Hill Middle School, Richmond, VA (advisor: Evan Turner; co-advisor: Lauren Crapanzano; principal: Tashiana Ivy)—"We have a strong core of musicians who need opportunities to expand their leadership skills. Our music program is growing, and we want to encourage that growth by giving our musicians more responsibilities inside and outside of the classroom."
Morgan Middle School, Ellensburg, WA (advisor: Tor Blaisdell; principal: Michelle Bibich)— "Morgan Middle School is a vibrant learning community that is both ethnically and fiscally diverse. Music is a place where these diversities can find common ground while working together towards a common goal. Our Tri-M chapter will not only promote excellence amongst those who have already chosen to participate but bring attention to our fantastic community—creating music programs and encouraging more participation across the school."
Superior High School, Superior, WI (advisor: Amy Eichers; principal: Aaron Fezzey)—"The students look forward to using the skills and talent that they have learned to bring joy to our community. Their goal is to raise awareness and the visibility of our music programs in the schools by volunteering their time and providing music for our local senior centers and events in the community."
Requirements for a school to receive the grant included:
Have a willing faculty member able to fulfill the duties of the Advisor role.
Have never chartered a chapter, or not have had an active chapter in the past 10 years.
Be in good standing with their NFHS state association.
Plan to or currently participate in NFHS state music contests and/or programs.
Plan for student leadership development.
Learn more about Tri-M® Music Honor Society at nafme.org/Tri-M.
###
The Tri-M® Music Honor Society is the international music honor society for middle/junior high and high school students. It is designed to recognize students for their academic and musical achievements, reward them for their accomplishments and service activities, and to inspire other students to excel at music and leadership. Since 1985, through more than 9,000 active chartered chapters and approximately 92,000 student members, Tri-M has given more than $140,000 in Chapter of the Year Scholarship Awards to chapters across the country making a difference in their communities. Tri-M is a program of the National Association for Music Education. Follow Tri-M on Facebook (facebook.com/TriMHQ).
The National Association for Music Education (NAfME) is a collaborative community that supports music educators and advocates for equitable access to music education. The only association that addresses all aspects of music education, NAfME, together with its affiliated state music education associations, advocates at the national, state, and local levels and provides resources and opportunities for teachers, students, parents, and administrators. Founded in 1907 and representing more than 57,000 members teaching millions of students, NAfME advances the music education profession and promotes lifelong experiences in music.
Follow NAfME on Facebook (facebook.com/nafme), Instagram (instagram.com/nafme), and Twitter (twitter.com/nafme).
About the National Federation of State High School Associations (NFHS)
The National Federation of State High School Associations (NFHS) serves its members by providing leadership for the administration of education-based high school activities through the writing of playing rules that emphasize health and safety, educational programs that develop leaders, and administrative support to increase opportunities and promote sportsmanship. The NFHS Performing Arts Department provides opportunities for collaboration among state performing arts leaders, copyright guidance, professional development, programming best practices, and advocacy resources, to serve its member state associations.
Published Date
November 2, 2023
Category
NAfME News

Tri-M Honor Society
Copyright
November 2, 2023. © National Association for Music Education (NAfME.org)