A Composition Project for Performing Ensembles
By NAfME Member Matthew Witt
For decades, performing ensembles have focused on one thing: Rehearsing. We must learn to do more than rehearse – to teach composition, theory, and history. How do you teach music composition to your performing ensembles? When everyone is focused on your ensemble's performances, how do you make time to teach composition to each individual student? I have developed a project-based approach to fulfill this need. The project requires a fair amount of preparation ahead of time, but the invested time will serve you and your students well.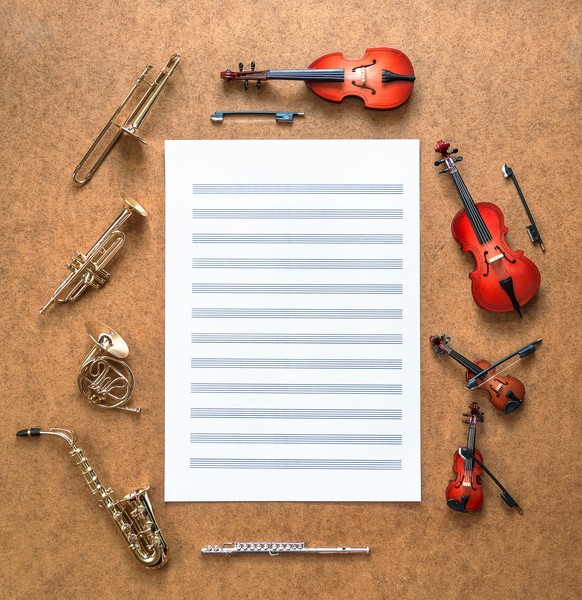 1. Starting with Standards
Did you know that the new 2014 music standards for performing ensembles include music composition? Incorporating these standards will do more to show our effectiveness than any number of superior ratings at festivals. The first step in creating your project is to establish the prompt. The prompt should be simplified directly from a standard. For example:
MU:Cr1.1.E.5a Compose and improvise melodic and rhythmic ideas or motives that reflect characteristic(s) of music or text(s) studied in rehearsal.
I crossed out enough of the standard so that we are left with: "Compose melodic ideas of motives." If we add a required number (I use ten), we now have an easy introductory project for the beginning band, choir, or orchestra student. When first implementing this project, give your students at least an entire quarter to complete the assignment. Each quarter can have a project based solely on this one standard. For example:
Q1: Compose 10 rhythmic ideas or motives
Q2: Compose 10 melodic ideas or motives
Q3: Improvise 10 rhythmic ideas or motives
Q4: Improvise 10 melodic ideas or motives
This means that by the end of their first year, your beginning students will have met this standard completely. This same process should be applied to the more advanced standards for your older students. With 25 standards available within music composition, and often at least four ways to simplify them, that provides you with more than 100 projects for you to choose from. However, for a less stressful implementation, only assign the composition project to your beginners. Then continue adding the more advanced projects as they grow from year to year. It would not be a good idea to suddenly require your high school seniors to compose four-part harmony with no previous composition experience.
2. Creating Guidelines
One of the key goals of this project is not to take up too much valuable rehearsal time. One strategy for accomplishing this is to do as much teaching as possible within your project guidelines. Make sure students read these guidelines thoroughly and understand them. Review parts of them often during your announcements. Below is an example of my beginner-level project guidelines. Notice the amount of information that is provided in the form of suggestions.
The suggestions come from my own knowledge of composition, an area where many teachers have little experience. It goes without saying that you can't teach what you do not already know. Take the time to learn composition for yourself before your students start asking questions that you are unable to answer. I found the book Composing Music: A New Approach by William Russo to be a great way for music educators to learn composition fairly quickly.       
3. Provide the Tools
Unless you want to interpret hieroglyphics, I wouldn't suggest having students hand-write music on staff paper. Sometimes this is the only option you have though, in which case you must be willing to invest time teaching students to notate neatly by hand before you teach them composition. If you are lucky enough to be in a school that issues iPads, Chromebooks, or other electronic devices, I recommend using the online tool at Noteflight.com that can be accessed from any device with an internet browser. Noteflight is free, and using it is a simple experience.
Similar to teaching students good handwriting, you must take the time to train your students on how to use Noteflight on their devices. In this one instance, you will need to forgo a good part of rehearsal time to make sure students understand the tool inside and out. Students can quickly become frustrated if the tool is hindering more than helping. Noteflight's website has an in-depth user guide built in that makes it easy to learn quickly.
About the author:
NAfME member Matthew Witt is a band and choir teacher in Wray, Colorado. He received his bachelor's degree in Music Education from Metropolitan State University of Denver. Matthew is a skilled saxophonist and improviser. He values student-driven learning, and emphasizes creativity and experimentation. Visit his website, and connect with Matthew on LinkedIn and Facebook. Also see the Noteflight website.
---
Matthew Witt presented on his topic "A Composition Project for Performing Ensembles" at the 2016 NAfME National Conference.
Did this blog spur new ideas for your music program? Share them on Amplify! Interested in reprinting this article? Please review the reprint guidelines.
The National Association for Music Education (NAfME) provides a number of forums for the sharing of information and opinion, including blogs and postings on our website, articles and columns in our magazines and journals, and postings to our Amplify member portal. Unless specifically noted, the views expressed in these media do not necessarily represent the policy or views of the Association, its officers, or its employees.
---
Brendan McAloon, Marketing and Events Coordinator, September 27, 2016. © National Association for Music Education (NAfME.org).