2022 NAfME National Conference
Frequently Asked Questions
*The 2022 NAfME National Conference and All-National Honor Ensembles are in-person events and will not be livestreamed or recorded.
*Note that audio or video recording of any sessions (as well any dissemination of any recordings) is not permitted. Still photos may be taken of slides on the screen but are strictly for attendees use only.
Shareable Graphics for Social Media
Let fellow music educators know you are attending this November so you can begin connecting and networking! (Click on the graphic link and right-click to download the file.)
Shareable for Twitter and Facebook
Event Directory and Map
Dates and Hotel Venue
November 2-3: Pre-Conference Forums:
Music Program Leaders Forum
Emerging Leaders Forum
NAfME Collegiate Pre-Con
November 3-5: 2022 NAfME National Conference
Including:
Daily guest keynote speakers
Happy hour events and evening entertainment
A Young Composers and Songwriters Concert featuring the winners of the 2022 NAfME Composition Competitions
Over 200 peer-reviewed presentations and poster sessions throughout
November 3-6: All-National Honor Ensembles, final concerts November 5-6
The 2022 NAfME National Conference will take place at the Gaylord National Resort & Convention Center, National Harbor, Maryland: 201 Waterfront Street National Harbor, MD, 20745
Parking and Local Transportation
Attendees have the option to self-park at the rate of $24/day (includes the 20% discount for NAfME) or valet-park at the rate of $49.
Overnight guests have in-and-out privileges.
Attendees may use a personal vehicle, taxi, or ride share to and from the airport.
COVID-19 Policy and Procedure
POLICY
All registered participants, attendees, and vendors of the 2022 NAfME National Conference are required to be fully vaccinated for COVID-19. Please review our full policy, here.
All registered participants, attendees, vendors, and guests at all NAfME events must either:
Prior to arrival at the event, upload to NAfME's third-party vendor App proof of having completed a primary course of vaccination against COVID-19 (with the final dose at least two weeks prior to the event), and display the App clearance for admittance to the event;
OR
Test negative on a COVID-19 rapid antigen test administered by an onsite nurse at the Gaylord National Resort & Convention Center, prior to checking in at the registration desk. Testing is required only on the first day of attendance. This option is available to anyone who has not been vaccinated against COVID-19 or prefers not to use the vendor App to store their COVID-19 antigen test results.
Verification of proof of vaccination and administration of COVID-19 rapid antigen tests will be handled through third-party vendors. NAfME will not retain or store any vaccination related information or COVID-19 testing results.
For step-by-step instructions on how to use the HealthShield by 42Chat platform, visit: https://www.42chat.com/knowledge-base/document-upload-via-sms 
If you did not receive or are unable to access the HealthShield by 42Chat text link, please use the below QR code to complete the process.
Have questions? Please email: MemberServices@nafme.org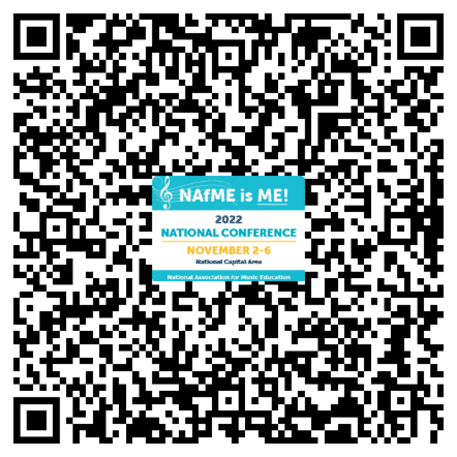 ONSITE PROCEDURE AND TESTING INFORMATION
Testing Location: Kent Island Room
Testing Hours
Wednesday, November 2                     1:00 – 5:00 PM
Thursday, November 3                          7:00 AM – 5:00 PM
Friday, November 4                                7:00 AM – 5:00 PM
Saturday, November 5                           7:00 AM – 4:00 PM
Sunday, November 6                              6:15 – 10:15 AM
Wifi
The 2022 NAfME National Conference and All-National Honor Ensembles are in-person events and will not be livestreamed or recorded. A basic wireless network will be available throughout the event space and in the guest rooms of those staying onsite at the Gaylord National, which will allow enough bandwidth for attendees to check email and access the event mobile app.
Please note, per the Gaylord National Resort & Convention Center, the level of data available will not be sufficient to download presentation materials, stream video content, or livestream meetings via platforms such as Zoom. For session presenters, we ask that you download all session materials in advance, including videos from Vimeo or YouTube (etc.) and have them prepared on a thumb drive. NAfME is unable to provide greater wireless network capabilities in specific rooms for any duration of the event.
How to access onsite basic wifi:
Now as part of the resort fee, overnight guests will have access to basic Wi-Fi for general browsing and web surfing throughout the resort – including the hotel and convention center. Guests will need to select GaylordResort network and authenticate their last name and room number. For in-room access to the wi-fi, guests will need to select GaylordHotels network and re-authenticate themselves.
FedEx – Picking Up Pre-Shipped Items
If you pre-shipped items to the Gaylord National Harbor, such as poster session materials, you may pick them up at the onsite FedEx (see attached event directory for location and directions).
Attendees are responsible for any fees for shipped items.
Registration Information and Onsite Hours
Wednesday, November 2                    1:30 – 5:00 PM
Thursday, November 3                        7:30 AM – 5:00 PM
Friday, November 4                              7:30 AM – 5:00 PM
Saturday, November 5                         7:30 AM – 3:00 PM
NAfME National Conference Cancellation Policy
If you need to cancel, you will need to make the request in writing by the refund deadline of September 19, 2022, you will receive a refund of the registration fee only, minus a $50 processing fee for each cancelled record. No refunds will be issued for cancellation requests received after September 19, 2022. All written requests must be submitted via email to: Memberservices@nafme.org. Credit cards will be refunded within one week of receipt of requests and may take 5-10 business days to reflect on your credit card statement. Please allow 6 weeks for refund checks to be issued. Checks will only be issued in the name of the original payer.
Cancellation Requests Related to COVID-19
Individuals who have registered for the 2022 NAfME National Conference and are unable to participate in such events or meetings due to their own positive test for COVID-19 (PCR test dated 48 hours or less prior to the first event date and provided for verification) may be eligible for a refund of their registration fee. For more information, contact Memberservices@nafme.org.
Conference Mobile App
Program Book (Including all Sessions and Events)
See above for instructions on how to download the Conference mobile app.
Both the mobile app and PDF program book are being updated regularly. Following an increasingly common practice in the meetings industry, there will not be a hard copy conference program available for attendees this year. Please consider printing a copy of the full program that is online if you prefer a hard copy for reference. Any changes in the program will be communicated through the app. A few copies for reference of the conference schedule will also be available for reference at the information booth located in the registration area.
Schedule at a Glance
View the sessions schedule overview (pdf)
Who May Attend ANHE Rehearsals
All-National Honor Ensembles (ANHE) rehearsals are CLOSED to family, friends, and directors.
Registered Conference attendees may view rehearsals ONLY on Friday, November 4 from 11:00 AM–12:30 PM and/or 4:15–5:15 PM. A conference badge is required to enter.
Student Performing Groups
Click here to learn about the Student Performing Groups appearing at the Conference!
ANHE Concerts and Ticket Sales
Concert Tickets
Tickets are available for purchase during the below hours at the ticket booth near registration.
Tickets are $10.00 each
Conference attendees receive complimentary admittance. Must show badge to enter the concert.
Thursday, November 3                          10:00 AM – 5:30 PM
Friday, November 4                                11:00 AM – 4:00 PM
Saturday, November 5                           2:00 – 9:00 PM
Sunday, November 6                              8:00 – 10:00 AM
Concert Schedule
Saturday, November 5
6:30 – 10:00 PM
Modern Band
Guitar Ensemble
Mixed Choir
Jazz Band
Sunday, November 6
9:30 – 10:45 AM
Symphony Orchestra
Concert Band
Onsite and Local Dining Options
Click here to view:
Luggage Storage
Conference attendees may store their luggage on Saturday, November 5 in Maryland Ballroom A
Professional Development Contact Hours
Conference attendees can receive 15 hours of recognition from NAfME for their professional development contact hours for attending the conference. Anyone seeking recognition for contact hours must complete NAfME's attendee survey, which will be sent to all registrations at the end of the 2022 NAfME National Conference, including providing their name and email address as part of completing the survey.
The deadline for completing that survey will be November 11. NAfME will follow up with letter of recognition for contact hours the week of November 14.