Composition Projects that Promote 21st Century Skills
AND Develop Your Performing Ensemble
By Nora Tycast and Brian Lukkasson
As with any good and efficient professional development session (does that exist?) we always want to know, "Why am I doing this?" and "How exactly will I use it in my classroom?" By the time you get to the end of this blog post, you should have a good idea about how to take big or baby steps toward implementing composition into your performance classroom. But first, here is the "why are we doing this?"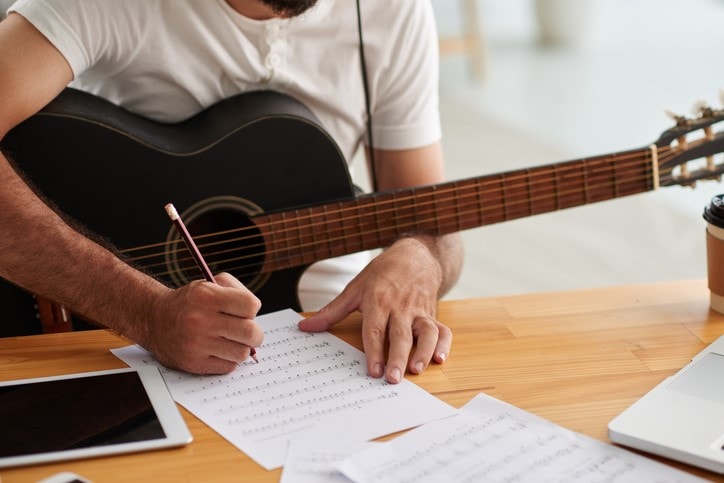 Building the Framework for Composition Projects
We have been teaching together for the better part of 15 years, and in that time we have come to value a couple of things: collaboration and risk-taking. We teach in a medium-sized school district that serves a growing urban suburb of the Twin Cities. We see 220 9th-12th students each day for 55 minutes and perform with each ensemble upwards of five times a year.
Eight years ago we evaluated the Minnesota State Standards and National Standards against our curriculum and realized that all of our students were not getting a chance to compose. Additionally, the drill and kill of key signatures, rhythm and counting tests, and basic music theory rarely moved from the memorization to assessed implementation.
We learned early on that students would need significant scaffolding in order not only to feel successful, but also to have representative compositions. We initially made sure students understood how to write notation and the basic theory behind keys and progressions, but their compositions lacked direction, discernable melodies, and overall complexity.
They would most easily be described as moody soundscapes filled with slow morphing "chords." Over the past eight years we have created numerous scaffolding assignments to meet the needs of the students and that particular year's larger annual composition assignment. Every year, we change, refine, and reflect on our scaffolding.
The variety of assignments that we have chosen as a way to prepare students for their larger composition project changes from year to year and is based on student competency and the type of composition project we are creating. For example, a large composition project in the 10th grade year that is based around an animal theme would have a scaffolding assignment that focuses on melody writing, transposition in a different key, listening and reflecting on music that uses animals as its theme (Saint Saens' "Carnival of the Animals") and a quick write-up that helps each student table their initial thoughts about writing their own music about an animal. Here are other examples that have been used as scaffolding assignments:
Rhythm-writing and transcription–these can be tailored to the music, meter, or chord progressions you are working on for performances
Key signatures (major and minor)
Transposition (on their instrument and with other instruments/students)
Antecedent and consequent
Lots of listening and reflecting (based on assignment theme)
Literacy-based assignments (Quick Writes, Pair Shares, Close Reads)
We start scaffolding within the first week of school. One to two days a week a portion of the rehearsal is allocated to assignments or projects that would be considerable scaffolding for our composition project, though they rarely require the entire class time. We also encourage students to keep their instrument close by, so that they are constantly trying out what they may be writing or reflecting on.
In eight years we have been able to collaborate (through trial and error and lots of collaboration) to create a composition curriculum that meets the individual needs of each of our students and makes a strong impact on our performance quality.
How Composition Benefits Your Ensemble
Including composition in a very full performance schedule can be daunting. However, finding a way to include smaller assignments along the way makes the product more rewarding from both a composition performance standpoint as well as the qualitative impact on their performance. When a ninth-grader can speak about a composer's intent in comparison to their own intent at the end of the year, you know that you have reached a truly creative and admirable goal.
Here are four tangible take-aways that we have been able to see in a single year of including composition in all of our ensembles:
Our students have an increased level of musicianship on their own instrument and in their ensemble, demonstrated both through playing and listening response.
Our students are more reflective on their own performance, both individual and ensemble, and use musical vocabulary to form descriptive and specific opinions.
Our students have a greater understanding of compositional techniques in their concert music and are better able to discern the composer's intent.
Our ensembles are able to perform music of a high level (grade) and quality, but spend less time in rehearsal.
Look at your concert calendar; see where you can include scaffolded assignments to include music theory, melody, and harmony, and produce a student composition project that is meaningful to your performances and your students. The rewards will come back to your performing ensemble two-fold.
About the authors:
Nora Tycast and Brian Lukkasson have been teaching together at Spring Lake Park High School, a school district just outside of Minneapolis, MN, for nine years. They have have 30 years of teaching experience between the two of them. Brian, a trombone player and Master's degree in music graduate from the University of St. Thomas, has served and directed  numerous state-wide jazz education organizations and ensembles. Nora, a trumpet player with a Master's in Educational Policy and Administration, has worked on the school-wide literacy team and is currently the secretary for the Minnesota Band Directors Association. They can be reached at ntycas@district16.org and blukka@district16.org.
Nora and Brian will be presenting on this very topic at the 2015 NAfME National In-Service Conference this coming October in Nashville, TN! Don't miss the In-Service EARLY BIRD RATE. The deadline is July 31!
Join us for more than 300 innovative professional development sessions, nightly entertainment, extraordinary performances from across the country, a wild time at the Give a Note Extravaganza, and tons of networking opportunities with over 3,000+ other music educators! Learn more and register today: http://bit.ly/Nafville2015
Did this blog spur new ideas for your music program? Share them on Amplify! Interested in reprinting this article? Please review the reprint guidelines.
The National Association for Music Education (NAfME) provides a number of forums for the sharing of information and opinion, including blogs and postings on our website, articles and columns in our magazines and journals, and postings to our Amplify member portal. Unless specifically noted, the views expressed in these media do not necessarily represent the policy or views of the Association, its officers, or its employees.
Brendan McAloon, Marketing and Events Coordinator, July 13, 2015. © National Association for Music Education (NAfME.org).