Creativity and Improvisation for Beginning Strings: A Step-by-Step Approach
By NAfME Member Michael E. Martin,
School District of Haverford Township, PA, retired
Why Create and Improvise?
There are many reasons to include creativity and improvisation as part of any music class or rehearsal. Results of recent studies indicate the inclusion of creativity and improvisation may increase overall musicianship. The new Core Music Standards list Creativity as one of three Artistic Processes to be cultivated in order to grow our students into successful musicians and successful 21st Century citizens.
In my experience, nothing develops independent musicianship as well as creativity and improvisation. We are not completely literate musicians unless we can conceive and express our own musical ideas. Yet, unless they were trained in jazz performance, very few music teachers feel they have been adequately trained to teach creativity and improvisation.
In this blog, I will briefly share a step-by-step process teachers can use to get their students creating and improvising musically right from the start, in a way that will improve overall musicianship.
 Readiness to Create and Improvise
Students must be able to sing and play a variety of tunes and bass lines by ear. The bass line for each tune should consist of the roots of the harmonic progression. Tunes with simple harmonic progressions (tonic and dominant) should be taught first. Singing and playing songs and bass lines by ear provides the musical context within which students will learn to create and improvise.
Students must develop a vocabulary of tonal and rhythm patterns they can perform and recognize aurally. The first tonal patterns should be tonic and dominant arpeggiated patterns. The first rhythm patterns should be simple quarter and eighth note patterns. These patterns provide the content for students' creativity and improvisation.
Creativity and Improvisation Begins
Creativity and improvisation begins when the teacher chants or plays a rhythm pattern and asks the student not to echo the same pattern, but to respond with a different pattern. The teacher begins with patterns that are four macrobeats in length (one measure in 4/4 time) and asks students to respond without a pause, keeping the "rhythm groove," in call and response manner.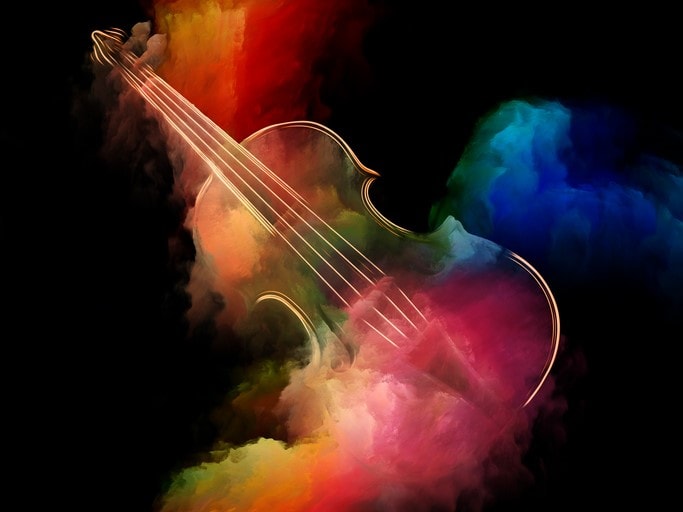 Tonal creativity begins when the teacher sings a two- or three-note tonic or dominant pattern and asks the student not to echo the same pattern, but to respond with a different pattern. Later, when students have learned the terms, "tonic" and "dominant," the teacher can specify whether the students should respond with a tonic or dominant pattern. Students always sing first, then perform on their instruments. After creating and improvising individual patterns, students are asked to improvise series of patterns.
Combining Tonal and Rhythm
Each step below is performed first with the voice, then with the instrument.
Perform the bass line for a familiar song, such as "Mary Had a Little Lamb."
Improvise rhythms on the bass line. ("Changes" must still occur at the right time!)
Establish "chord tones" and voice-leading to the song as follows: Divide your class into three groups. Instead of performing the bass line, one group performs DO for tonic and TI for dominant; one group performs MI for tonic and FA for dominant; and, one group performs SO for both tonic and dominant. Students enjoy and begin to internalize the sound of the harmonies.
Add improvised rhythms to these chord tones.
Establish a steady large beat pulse. Ask students to improvise tonic and dominant tonal patterns with a different pitch on each large beat. For example, if "Mary" were notated with quarters and eighths and the quarter note was felt as the large beat, the student would perform all on quarter notes. An example might be: DO MI SO MI l FA RE MI DO l SO MI DO MI l RE TI DO_ll.
Add improvised rhythms to the step above. Students are now free to improvise tonal patterns and rhythm patterns, as long as they are using tonic at the right time and dominant at the right time.
As students become more comfortable, they can be taught to add neighbor tones, passing tones and embellishments to their improvisations. Creative use of dynamics, phrasing, silence, motivic development, and tension and release can all become part of the process.
Results
Spending 10-15 minutes of each class period on creativity and improvisation will pay big dividends in the overall musicianship of your students. They will be more intelligent listeners, play better in tune, and more rhythmically together, and be able to make music independently!
RESOURCES
Developing Musicianship through Improvisation by Christopher D. Azzara and Richard F. Grunow, GIA Publications, Chicago, 2010.
Teachers Guide, Jump Right In: The Instrumental Series for Strings by Richard F. Grunow, Christopher D. Azzara, Edwin E. Gordon, and Michael E. Martin, GIA Publications, Chicago, 2002.
About the author:
Michael E. Martin is a private teacher, freelance musician, and certified teacher-trainer for the Gordon Institute for Music Learning. Before retiring, he taught for 40 years in the School District of Haverford Township in suburban Philadelphia. Mr. Martin is a published author, frequent conference presenter, and has trained music teachers at leading universities and conservatories in the U.S. and Portugal. Mr. Martin has received the Citation of Excellence from PMEA and the 2013 Outstanding String Teacher Award from the Pennsylvania/Delaware String Teachers Association.
Michael presented on this topic at the 2015 NAfME National Conference in Nashville, TN.
Did this blog spur new ideas for your music program? Share them on Amplify! Interested in reprinting this article? Please review the reprint guidelines.
The National Association for Music Education (NAfME) provides a number of forums for the sharing of information and opinion, including blogs and postings on our website, articles and columns in our magazines and journals, and postings to our Amplify member portal. Unless specifically noted, the views expressed in these media do not necessarily represent the policy or views of the Association, its officers, or its employees.
Brendan McAloon, Marketing and Events Coordinator, August 24, 2015. © National Association for Music Education (NAfME.org).