From Classroom to Corridor: 
Why Leaving Your Classroom More Often Is Good for You
By NAfME Member Casey Clementson
Take a minute and think about the personalities of the teachers at your school.  At my middle school, my colleagues and I had our own cliques – we were grown-up versions of our students! As the "band geek," could any of my colleagues possibly understand what I did?  Surely not.
Turns out, these colleagues were my best allies in my professional development and some of my dearest friends.
Today, as a professor, I see how the demands of coursework in music education funnel undergraduate students into a sense of isolation or "us against them" upon graduation. Although compartmentalizing music education courses is usually necessary to help students graduate in a reasonable amount of time, future music educators are missing the crucial professional development opportunity of creating rapport and collegiality with young teachers in other disciplines.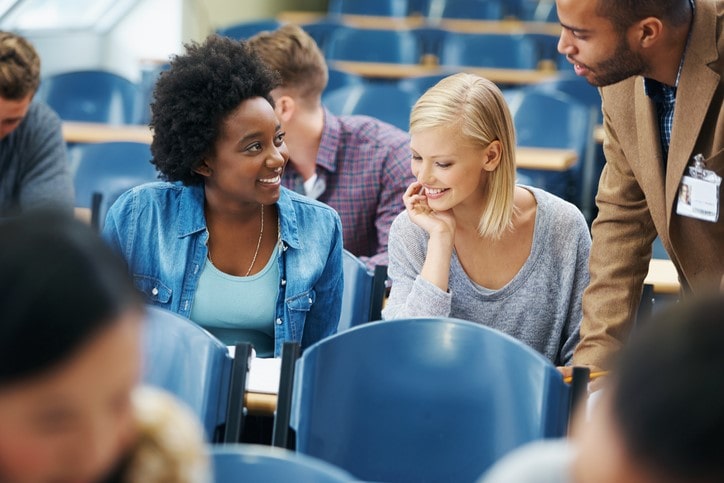 I remember this from my own first years of teaching. I had been trained so well to do what I did that it was difficult for me, at first, to see and appreciate my new colleagues and all their training and expertise.  I saw cliques: men who cared only about sports, women who cared about shopping and gossip, tech nerds who cared about online gaming, and the person who couldn't wait to go to community band rehearsal each week.
That last person was me, in case you couldn't tell.
Teacher isolation is real but can be counteracted in a number of ways.  In a recent education blog by npr, Jasmine Garsd discussed how rural teachers have taken up blogging to keep in touch with other teachers and to share best practices.  Musical Futures holds regular twitter chats (#mufuchat) for teachers to share ideas about a pre-determined question in addition to their wealth of resources available on their website to combat creative isolation. 
While going online is useful, don't forget the importance of stepping away from your computer or classroom to interact with the teachers in your own building.
Here are some reasons to escape the classroom and go out into the corridor:
Psychologist Ron Friedman, in his book The Best Places to Work: The Art and Science of Creating an Extraordinary Workplace states that "Friendship is the single most overlooked factor when it comes to building an extraordinary workplace." Friedman says having friends at work can contribute powerfully to your ability to focus, deal with setbacks, and improve your performance. What do you have in common with your colleagues?  That math teacher could be your new coffee and shopping friend.  The eighth grade science teacher at my school helped me train for my first 10K race…and later my first marathon. Do you have a favorite sports team or hobby?  Chances are someone else on your staff does too.
Friendships create loyalty. Positive relationships with your colleagues may create support for your advocacy efforts and could make it easier to schedule that extra rehearsal or field trip (and you may feel more willing to creatively rearrange your schedule to accommodate the 5th grade science museum field trip, as well).  In addition, a classroom or homeroom teacher could help assuage an upset parent before they meet with you at conferences.
Teachers who work together can create positive and successful schools. Janet Barrett and Dennis Thiessen describe how "reform-minded" teachers who proactively make changes in their work lives through leadership, committee work, or school planning ultimately improve the environment in their own classroom. Positive, professional friendships can help make this a reality.
Cultivating professional and personal relationships with your colleagues means that, when times get tough (and they will), you will have an army at your back instead of feeling isolated and alone.  Granted, your friend the math teacher will probably stare at you blankly over that cup of coffee while you explain your new idea to teach Stravinsky to the 3rd graders, but that's ok.
You can blog about it later.
How have you (or your school) cultivated professional friendships among teachers?
About the author:
As a music educator, Casey Clementson has most recently been helping undergraduates discover and refine their own teaching style. Her research has been published in Interval: The Journal of the Minnesota Music Educators Association and the upcoming issue of Contributions to Music Education. Currently, she is on the music education faculty at the University of Minnesota, Twin Cities.
Did this blog spur new ideas for your music program? Share them on Amplify! Interested in reprinting this article? Please review the reprint guidelines.
The National Association for Music Education (NAfME) provides a number of forums for the sharing of information and opinion, including blogs and postings on our website, articles and columns in our magazines and journals, and postings to our Amplify member portal. Unless specifically noted, the views expressed in these media do not necessarily represent the policy or views of the Association, its officers, or its employees.
Kristen Rencher, Social Media Coordinator. © National Association for Music Education (NAfME.org)