Helping Students Find Their Identity through Music:
GRAMMY Music Educator AwardTM Winner Jeffery Redding
Jeffery Redding was named the 2019 Music Educator Award honoree.
The GRAMMY Museum and The Recording Academy® selected 10 finalists for the 2019 Music Educator Award. Eight of the finalists are NAfME members as was last year's winner, Melissa Salguero of P.S. 48 Joseph R. Drake in the Bronx, New York. Teachers are encouraged to apply for the 2021 award by March 31 by visiting GRAMMYMusicTeacher.com. Participating in the application process makes you part of our overall music education advocacy movement so teachers, apply this and every year.
NAfME member and 2019 GRAMMY Music Educator Award winner Jeffery Redding is the choral director at West Orange High School in Winter Park, Florida. He earned his bachelor's degree in music from Florida A&M University, and his masters degree and doctorate in music at Florida State University. He recently shared who inspired him to become a music educator and encouragement to those considering becoming music educators.
"When a student walks into your room, they're people. You treat them as equals. . . . When they sing, you see their spirit."—Jeffery Redding, in a CBS interview.
What inspired you to become a music teacher?
The death of my professor Dr. Augustus Pearson Jr. (Florida A&M University) inspired me to become a music educator—understanding the profound impact he had on my life—as well as my wonderful teachers and mentors past and present: Patty Sayers, Beth Meadows, Edna Hargrett, Vernon Smith, Andre Thomas, Judy Bowers, Clifford Madsen, Alice-Ann Darrow, Rodney Eichenberger, and Kevin Fenton.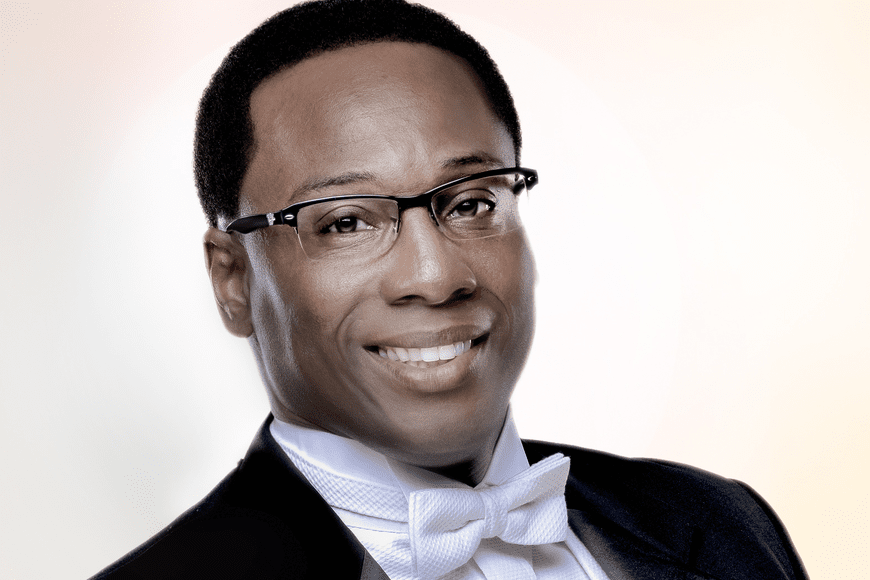 What goals do you establish for the music program at your school?
Goals are always: Learn to be the best version of yourself, to touching and changing lives through song with a servant's heart.
What role do you believe your NAfME membership has had in the professional development aspects of your career?
NAfME has contributed greatly to my professional development, everyday, made possible by providing incredible resources, conferences, honor choirs, and more.
"If you're going to become a music educator, know the greatest gift you can give is to serve."
What would you say to students interested in becoming music educators?
If you're going to become a music educator, know the greatest gift you can give is to serve. Pass on your joy! Know your passion and purpose for why you do music education. You'll be an impactful music educator when priorities are always student-centered first.
What role do you believe music education plays in the overall learning experience of students?
Music education plays an incredible role. You learn math, literacy, science, history, and so much more. You also learn valuable social skills. 
What would you say to a music educator thinking about entering to win the 2020 GRAMMY Music Educator Award?
If you're applying for the 2020 GRAMMY Music Educator Award, remember to use the platform to discuss serving others though music education. We need all the help we can get to serve everyone. 
For more information on the GRAMMY Music Educator AwardTM process – and to enter your name for consideration in the 2020 competition – please visit GRAMMYMusicTeacher.com. Applications due by March 31, 2019.
Did this blog spur new ideas for your music program? Share them on Amplify! Interested in reprinting this article? Please review the reprint guidelines.
The National Association for Music Education (NAfME) provides a number of forums for the sharing of information and opinion, including blogs and postings on our website, articles and columns in our magazines and journals, and postings to our Amplify member portal. Unless specifically noted, the views expressed in these media do not necessarily represent the policy or views of the Association, its officers, or its employees.
Catherina Hurlburt, Marketing Communications Manager. March 11, 2019. © National Association for Music Education (NAfME.org)