Infusing Creativity into Your Choral Rehearsal
By Dr. David W. Langley
Creativity is a hot topic in music education right now. While we music teachers certainly talk a lot about how important it is, how can you put it into practice in your own classrooms?
Here is a quick and easy guide to getting started with composing and improvising in your chorus. If you will keep these seven handy tips in mind, you can make up your own creative activities that will have your students learning and having fun at the same time!
Freedom from judgment is a great first step to support students!
1. Growing a supportive classroom culture
Creativity needs to have a proper environment in which to thrive, and helping to foster that environment in the classroom is the responsibility of both teachers and students alike. A creative culture is one that is built on safety, trust, and communication.
A feeling of safety. Students (and teachers) are more apt to freely create when they feel they are in a safe space. Freedom from judgment is a great first step to support students!
A sense of trust. Chorus students need to be able to develop a relationship and mutual trust for those who are creating music with them. Simple bonding or sharing time will help students to be more creative, and will help them to make memories while making music.
A line of communication. It is important to develop skills in both listening and responding so that the music students create together feels cohesive, something greater than just the sum of its parts.
Wondering if your chorus room is ripe for creativity?
Check out the 10 Characteristics of a Highly Effective Learning Environment
2. Control? Let it go!
Take a deep breath, step off of the conductor's podium, and step out of your comfort zone. We choral directors are used to standing in front of a group and giving very precise instructions that yield a uniform outcome. Learn to share a little bit of control with your students (be a good judge of what they can handle). We don't always have to be the primary source of knowledge in the classroom (Wiggins, 1999). Encouraging creativity means giving up some power over what happens. Embrace just a little bit of chaos.
3. Low pressure, high fun
Start with some activities that allow students to experiment with improvisation and composition in low-pressure situations. This may mean improvising with just one trusted friend, or composing in a small group without having to share it with others. Put that supportive classroom culture to work by allowing students some freedom to choose a trusted friend or group with which to work!
4. Start small
You don't have to create a whole unit when beginning creativity. It can be as simple as a step in your warm up exercises. Begin with some basic solfege patterns of four beats each, starting within the pentatonic scale. Once you have introduced around 8-10 of these patterns, allow students to choose one and share it with a neighbor. Eventually, you can encourage students to build off of these patterns. The great thing is that, when they starting improvising and their brains freeze up, they can always fall back on these simple patterns.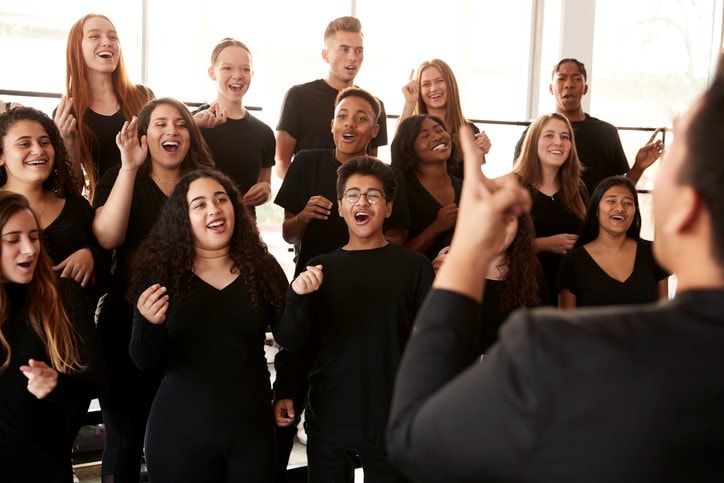 Looking for more ideas on improvisation? Check out Choral Improvisations: Tensions and Resolutions (Freer, 2010)
5. Meet students where they are
Students already have their own "musical vocabulary" that they have developed through the music they listen to in their free time. Bring that influence into the classroom by encouraging composition that is inspired by pop or R&B music. We like to start with an activity called "Imagination Game."
Here is a link to a video of our choir taking part in this activity at the recent NAfME In-Service Conference: Georgia Southern Chorale- Imagination Game
6. Freedom within parameters
When thinking about composing or improvising with your students, it is difficult to balance the activity with enough direction while also leaving room for students to think for themselves. Activities need to include just enough parameter to keep students focused, but also enough freedom so that students feel empowered to be able to create on their own. That balance may differ from student to student, class to class, and day to day. It is up to you and your students to find just the right balance.
7. Be an active model of creativity
Imagine how you might feel if someone encouraged you to be creative, and then watched very closely while you struggled through the process. This is how our students might feel if we constantly monitor their creative process. Try joining in the fun instead! If students see you working to overcome obstacles, problem-solving through the creative process, and allowing yourself to make mistakes, then they will adhere to your model of the creative process.
Creativity is sometimes a messy endeavor. It may not always feel like progress, and you as the teacher may occasionally feel out of control. However, giving your students the freedom to think independently and act musically helps to empower them to become the most well-rounded, authentic musicians possible. Good luck on your journey, and happy creating!
David Langley presented a session on this topic at the 2015 National In-Service Conference.
Freer, P. K. (2010). Choral improvisation: Tensions and resolutions. The Choral Journal, 18-31.
T. Heick (2014, June 16). The characteristics of a highly effective learning environment. [Web log]. Retrieved from http://www.teachthought.com/learning/10-characteristics-of-a-highly-effective-learning-environment/
Wiggins, J. (1999). Teacher control and creativity. Music Educators Journal, 85(5), 30-44.
About the author:
NAfME member David W. Langley is A ssistant Professor of Music Education as Assistant Director of Choral Activities at Georgia Southern University in Statesboro, Georgia. His duties include teaching courses in music education, supervising student teachers, and directing ensembles such as the University Singers and the collegiate a cappella group, Fermata the Blue. He spent thirteen years teaching elementary and high school music in the metropolitan Atlanta area. Langley holds bachelors and masters degrees from the University of Georgia, and a Ph.D. from Georgia State University. He is a frequent presenter, adjudicator, and clinician throughout the southeast.
In his free time, David loves taking part in improv acting workshops in his hometown of Savannah, Georgia.
Connect with David Langley via Facebook and LinkedIn
Connect with the Georgia Southern Chorale, under the direction of Dr. Shannon Jeffreys, at singatsouthern.com, or on Twitter.
Did this blog spur new ideas for your music program? Share them on Amplify! Interested in reprinting this article? Please review the reprint guidelines.
The National Association for Music Education (NAfME) provides a number of forums for the sharing of information and opinion, including blogs and postings on our website, articles and columns in our magazines and journals, and postings to our Amplify member portal. Unless specifically noted, the views expressed in these media do not necessarily represent the policy or views of the Association, its officers, or its employees.
Brendan McAloon, Marketing and Events Coordinator, November 6, 2015. © National Association for Music Education (NAfME.org)