Playing through Beethoven's 9 Symphonies Every Year
Know the Musical Scales to Reach Monumental Heights
By NAfME Member Joseph Rutkowski
Consider this not-so-monumental for the teacher (although it does take plenty of planning and preparation), but a hugely monumental experience for your students. What could be better than this for any music teacher?
You get a letter (or a phone call, or a voice message, or an email, or a text message, or a Facebook message, or an Instagram note, or a Snapchat, or a What's App, or whatever . . . ) from a former student: "I just heard Beethoven Symphony No. 7 (or Holst Suite No. 2 or the Hallelujah Chorus or Miles Davis So What) in concert (or on a CD or on the radio or in a commercial or in a movie or on TV or on iTunes), and I thought about when you introduced it to us when I was in 9th grade. And because you made us play it again every year, I remember it well. In fact, I can see the faces of my friends in that class, and I can remember what my stand partner said to me after class about how much she loved that second movement (or whatever)."
If you read any of my previous blogs or articles, you might recall my soapbox mantra: Master the scales before you attempt to play the music of the masters.
Ah yes . . . you can't play or even GET Beethoven or Holst or Handel or Miles without knowing your scales. But the scales and the exercises are the necessary means to the end. And the end, ladies and gentlemen, boys and girls, the end is THE END, in the hippest way of saying things.
How to Get from Point A to Point B
For the past 20 years, I've been having my orchestra classes read through as much as they can of each movement of each Beethoven Symphony. In my school, I am lucky to have two separate string classes: a 9th grade group and the upper grades group. But, this can work if you have one string class with all four grades. Twenty years ago, I purchased complete sets and parts to all the Beethoven symphonies. Now, it is possible to download the score and parts for free (or for a nominal, very low price) at IMSLP.org.
On the first day of classes, I introduce to the 9th grade string class (or re-introduce to the older group) the D major scale with some variations (scale in thirds and arpeggio). Even though Beethoven's First is in C major, I find it best to start the year with D scale for strings (and the B flat scale for band class), so as to re-acclimate the students to an instrument they might not have touched since June. I put the first AND second violin parts in all the first violin folders.
After a 15-minute review and warmup of the D scale, I instruct the students to take out Symphony No. 1 from their folder (first violinists will start with the second violin part). We skip the slow introduction and start at the Allegro con brio in a slow 4/4 tempo (quarter note = 100). If we can get all the way through the exposition, we try it once more. If that's too tough (of course, this depends on the year in my school—how many strong players graduated), we concentrate on the first theme. We go through it again. If it is recognizable, I let the first violinists play their violin I part on the 3rd reading. I then put on a CD of a great orchestra playing that portion so that they hear how it sounds up to tempo. We then try to play it that fast, and most times the group can get through it. Of course, we are missing all those great woodwind lines, brass punctuations and timpani blasts.
At the end of class, I invite them to attend an after-school session when I also invite the other string class and the band class(es). The band folders have the 9 symphonies' wind parts. Alto and baritone saxophone folders will have a copy of the bassoon parts (easy to read as treble staff adding 3 sharps to the key signature). Trombone, euphonium, and tuba players can have the cello/bass parts.
On the second day, we review the part played the day prior. I explain sonata form so that they begin to realize that all classical first movements have an exact formula. If we are able to get through the entire exposition, I have them read the recapitulation so that they see the similarity and the changes this portion has compared to the exposition. For the rest of the week, we concentrate on the exposition and recap so that those significant themes are planted like seeds in the students' memories.
IF we are making great progress, we try the first few phrases of the other movements, making sure that we play the coda of the last movement. If we are able to get 25% to 40% percent of all the instrumental students to attend two or three after school sessions that week, the string players get to hear live the wind parts, and the 9th graders get to be pulled along by the older experienced players. By the end of the week, the groups will have made significant progress in a recognizable performance of the most memorable part of Beethoven's First Symphony.
We spend the next eight weeks doing the same with the other symphonies. I have the band class(es) spend the first nine weeks of school doing the same thing with what I call the eight staples of the wind ensemble literature:
Vaughan Williams Folk Song Suite;
Holst Suite No. 1;
Holst Suite No. 2;
Grainger Irish Tune & Shepherd's Hey;
Grainger Lincolnshire Posy;
Sousa Stars & Stripes Forever;
Karel Husa Music for Prague 1968 (4th movement only).
I tell my band students that if they keep playing their instruments in college, I would bet that during the course of their four years of playing in the wind ensemble or band that they will re-visit one of those eight staples of the wind ensemble literature. The same goes with the string students and the Beethoven symphonies.
Rethinking the First Nine Weeks of School
I know what you're thinking: "How does this writer think this can be done in my school?"
I really don't know if it can be done by all students. But I believe it is worth a try. Try downloading just the first movement of Beethoven's Symphony No. 1 score and parts. Give the band classes the wind parts of that piece instead of the Vaughan Williams. See if you can get enough students to volunteer to come after school once or twice that week to try playing though that much. If it works, download the Symphony No. 2 and try it with that. Hold off the wind repertoire until next year.
If it DOESN'T work, then put it aside to try next year and go back to work on the marching band repertoire or the winter concert program.
Oh yeah! The Winter Concert! How can I justify putting off working on the winter concert program for the first nine weeks of school? Well, in my 40+ years of teaching experience, I find that the groups don't even get serious about the December 20th concert until November 15th anyway. This can make the first nine weeks of school so much more productive and meaningful in the long run. The pressure of putting together the winter concert program is great motivation for the students (and teacher!) to work hard for those six weeks prior to the concert. Six weeks means (30 minutes x 5 days x 6 weeks = 900 minutes =) 15 hours of rehearsal for a 30-45 minute program. That seems reasonable.
Instilling a Lifelong Love of Music
Every morning when I'm driving to work I usually listen to some kind of music. On the radio sometimes it's classical, sometimes it's jazz, sometimes it's rock 'n' roll. How great it is that we can just turned on the radio or put on a CD or turn on our iPod and listen to any kind of music that we like—that we love.
And then I realize how lucky I am and all of us other music teachers are who have the opportunity to teach children how great MUSIC is and HOW to sing and play music. And the best part is hearing back from those students who cared about what they learned and cared about letting us know!
Testimony from student Emily Cohen, Tri-M® chapter 2605
at Great Neck North High School, class of 2019
Every year, the halls of Great Neck North High are filled with the sounds of Beethoven's Symphonies coming from room 218. High schoolers work hard to learn their parts and study the rhythms for these nine beautiful symphonies. Since freshman year, the seniors have studied each symphony four times and with their help, the current freshman will do the same. Most high school orchestras never have the ability to play an entire Beethoven Symphony, let alone all nine, but the North High Orchestra is different. For Mr. Rutkowski, it's all about instilling the love of music in students, and Beethoven is just the way to do it. Never does he question if we will be prepared for the Winter Concert, or whether or not our time is worth being spent on these pieces. Learning Beethoven will always be worth every second, and that is truly evident as the students grow older. As freshmen become sophomores, and eventually seniors, Beethoven begins to hold a very special place in their hearts.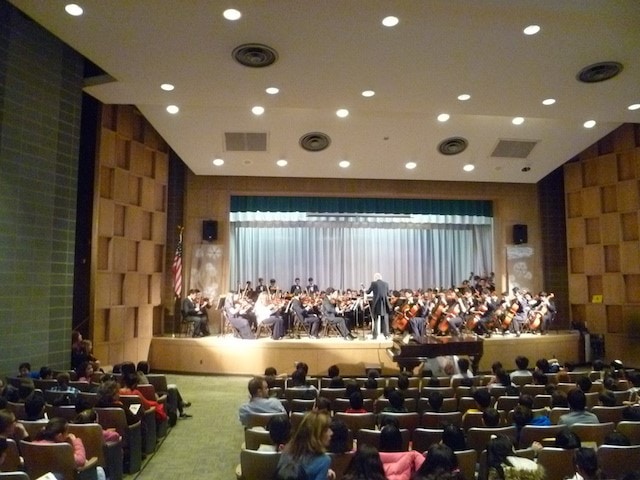 For myself, coming to class and after school orchestra to play Beethoven is always something for which I try to find time. As I replay each of them, every year, fond memories of my freshman year and school concerts come to mind. I think of my older cousins, who all helped spark my love for orchestra, and the friends I've played these pieces with for four years. Now, as a senior, I've begun to understand that helping underclassman and encouraging them to play is what keeps this music alive and, as Mr. Rutkowski says, "Beethoven in the room." I will forever remember the slow introduction of the fourth symphony or my favorite cello part in the third. Mr. Rutkowski knows this, and lives for the day that we call him in a few years and tell him about the Beethoven Symphony that we just heard in a store or on the radio. Every year we look forward to those monumental first few months of school, eager to revisit Beethoven and allow the history and melodies to fill room 218.
Read past articles by and about Joseph Rutkowski:
About the author:
NAfME member Joseph Rutkowski has taught band and orchestra classes at the John L. Miller-Great Neck North High School on Long Island since 1991 and was the orchestra director at Stuyvesant High School in NYC for the eight years prior. He continues to perform as a concert clarinetist in orchestras and chamber ensembles, as well as a jazz pianist with his sons and former students. Joseph is a two-time Presidential Scholar Teacher, a Distinguished Teacher of the Harvard Club of Long Island, the 2015 Long Island Music Hall of Fame Educator of Note, and a three-time GRAMMY Music Educator AwardTM Quarterfinalist.
Did this blog spur new ideas for your music program? Share them on Amplify! Interested in reprinting this article? Please review the reprint guidelines.
The National Association for Music Education (NAfME) provides a number of forums for the sharing of information and opinion, including blogs and postings on our website, articles and columns in our magazines and journals, and postings to our Amplify member portal. Unless specifically noted, the views expressed in these media do not necessarily represent the policy or views of the Association, its officers, or its employees.
---
Brendan McAloon, Marketing and Events Coordinator, December 21, 2016. © National Association for Music Education (NAfME.org)