Arts High School and Kean University
Newark New Jersey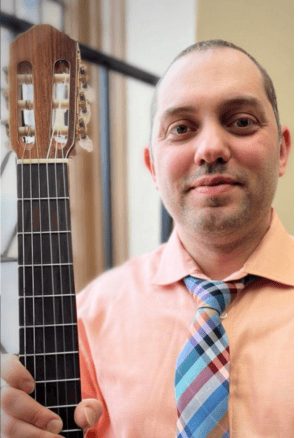 Jayson Martínez is recognized as the first guitar major in the history of the prestigious Arts High
School in Newark, NJ, the nation's first high school of the Visual and Performing Arts. This
experience led him to attend New Jersey City University, where he studied under the tutelage of
Dr. Ana María Rosado, and earned degrees in Music Education (B.A.), Music Performance
(M.Mus.), and Educational Supervision and Administration (M.EdLd.). As Director of Guitar
Studies at his Alma Mater, Mr. Martínez has garnered several awards, including the 2018
Teacher of the Year Award and is a nominee for the 2024 GRAMMY Music Educator's Award.
Currently, Mr. Martínez serves as the New Jersey Music Educators Association (NJMEA)
Chairman for Guitar Education, where he is also the Director of the NJMEA Honors Guitar
Ensemble. He is also the National Association for Music Education (NAfME) Eastern Division
Representative for the Council of Guitar Education. As of 2022, Prof. Martinez also serves as
adjunct Professor of Guitar Studies for the Kean University Music Conservatory.
An established classical guitarist, Mr. Martínez served as the concertmaster for the renowned
New York City Classical Guitar Orchestra for over a decade. In 2021, he founded the New
Jersey Guitar Orchestra, where he also serves as conductor.
Staying true to his roots, he is also the proprietor of Tremolo Music Studio LLC in Clifton, NJ,
where he provides music education to aspiring musicians of all ages. (2023)