This year's Music In Our Schools Month® (MIOSMTM) proved to be a very successful state advocacy initiative. Many Federated State Music Education Associations (MEAs), led by dedicated state leaders and passionate music education advocates, conducted truly impactful advocacy efforts and strengthened music education for students. In celebration of their accomplishments, some are highlighted here.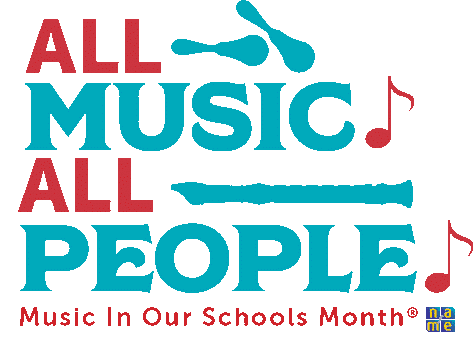 Thank you to all the states that participated in MIOSM this year. We look forward to working with you on various other advocacy initiatives across the remainder of this year and into the future as we work to ensure music making, for, and by, all.
New York
The New York State School Music Association (NYSSMA) held their 46th annual Joe Sugar Day in Albany on March 4. The priorities NYSSMA included were a state level bill mirroring the federal Guarantee Access to Arts and Music Education (GAAME) Act, filling the Curriculum Associate in Music Education position within the New York State Education Department, and advocating for the "I Support Music Education" License Plate Bill. The funds (donations collected) from the purchase of the license plates would be used to support scholarships for the New York State Summer School of the Arts program.
West Virginia
Congratulations to WVMEA, which hosted their first ever Hill Day on March 6. Having recently been awarded a State Advocacy Grant from the Country Music Association (CMA) Foundation, WVMEA used the grant funds to cover costs associated with Hill Day.  Board members of the MEA met with legislators to introduce themselves and educate state officials on the benefits of music education.
Pennsylvania
The PMEA Advocacy Council worked closely with their state's Department of Education on the state ESSA plan during MIOSM and developed a comprehensive document to educate members on how to access Title IV funds. They are collecting information from school districts that used Title IV funds for music education. They are also partnering with other organizations to influence education policy in the state, such as the PA Arts Education Network, the School Boards Association, and the National Association of Music Merchants.
California
CMEA is planning their annual Stand Up 4 Music Day in Sacramento in May 2019. Stand Up 4 Music is a coalition of Californians who advocate for music as a vital part of a comprehensive education. The CMEA Advocacy Leadership Team is an active part of this coalition. Working with the Coalition, CMEA will advocate for a local control funding formula, credentialed arts educators, and a state seal of arts education.
Michigan
Michigan's Music Education Advocacy day was held on April 11. In collaboration with the Michigan School Vocal Music Association, MMEA met with legislators to discuss the importance of music education in Michigan schools and urge their support for the ongoing work of the Michigan Department of Education on certification and ESSA-aligned legislation that would authorize best practice guidelines for K-5 general music contact time and teaching environment, and provide high quality music education experiences for all Michigan students. Performances were given by the Maples Elementary School Arabic Drumming Ensemble, pianist Jonah Cohen, ukulele/vocal soloist Kinley Kiefer, and Haslett Middle School 8th Grade Select Choir & Haslett High School Select Senior Women.
Kansas
KMEA celebrated with an official proclamation signed by Governor Laura Kelly commemorating the month of March as Music In Our Schools Month. Learn more about the proclamation and the work of KMEA Advocacy Chair Kelly Knedler and MIOSM Chair Patty Ahern here.
Massachusetts
Massachusetts Music Educators Association completed their MA Advocacy Day on April 2. The priorities MMEA included are a well-rounded education under the Every Student Succeeds Act, an increase in education spending as included in Governor Charlie Baker's budget, and sharing stories from across the state on the power of music education.
North Carolina
In celebration of Music In Our Schools Month, the State Board of Education and Governor Roy Cooper issued proclamations commemorating MIOSM, and the NCMEA presented four student ensemble concerts at the North Carolina State Capitol at lunchtime every Wednesday during March. This year Miss America 2019 Nia Franklin joined NCMEA. A North Carolina native, Ms. Franklin made a 2-day visit to Raleigh to help NCMEA advocate for the importance of arts education.
Missouri
MMEA held its annual Advocacy Day on April 15.  MMEA's Advocacy Day began with a workshop the evening before that included a presentation by member Mike Quilling and a discussion on Missouri's asks of legislators and relevant issues currently before the legislature. Missouri's requests on current legislative action addressed state funding for the K-12 schools and universities as well professional development funding that flows through the Missouri Arts Council. MMEA members also discussed the prospect of future legislation requiring the state to report the participation rate of K-12 students enrolled in music and arts classes.
Forty-eight MMEA members from 21 different house districts and 13 different senate districts met with their own and other Missouri legislators and their offices. Participants included Tri-M students, NAfME Collegiate members and K-12 and higher education. MMEA members as well as parents and members of the business community who are part of the newly formed MMEA Advocacy Network. The day included a talk by MMEA member and 2018 Missouri Teacher of the Year Beth Davey. Several participants also attended legislative hearings on workforce development and its effects on schools.  
The Federal Government
On the federal level, the President's annual budget request for fiscal year 2020 again, for the 3rd time, zeroed out funding for well-rounded programs found in the Every Student Succeeds Act's (ESSA) Title II-A and Title IV- A.  It also eliminates the Arts in Education Grants. Last year, Congress responded by appropriating $1.17 billion for Title IV-A for FY 2019, which was in part thanks to the efforts of music advocates nationwide. Such efforts must continue and will now be critical so that music programs can continue to receive these funds. Go to the Grassroots Action Center, where you can easily ask your member of Congress to fully fund Title IV-A. Additionally, send Matt Barusch your Title IV-A Success Stories at mattb@nafme.org, because members of Congress love to hear personal stories about how this funding is helping students in music programs across the country. Together, we can ensure that all students across America have access to a quality, well-rounded education.
Music In Our Schools Month is an annual initiative of the National Association for Music Education (NAfME) to raise awareness of the importance of music education for children of all ages. NAfME uses this awareness initiative to draw attention to the great work MEAs are doing during March each year, which comes this year at a crucial moment. If your state held an Advocacy day during MIOSM, we want to know about it! Reach out to Matt and let him know what your state accomplished in March, and we will update this document to let our members know!
Matt Barusch, State Advocacy Engagement Manager, April 26, 2019. © National Association for Music Education (NAfME.org)