Post-Employment Prep: New Places to Go
Resources for Retired Music Educators
By NAfME Member Paul K. Fox
This article first appeared on Paul Fox's blog in two articles here and here.
Stepping into the Future
Probably one of the most insightful and expansive treasures of online articles on retirement is Stepping Into the Future – A Retirement Journal by Jean Potuchek, who defines herself as "a professional sociologist who has just stepped into the next phase of my life, retirement, after more than thirty years of college teaching." She succinctly states her purpose: "This blog is about my experience of that new phase of life."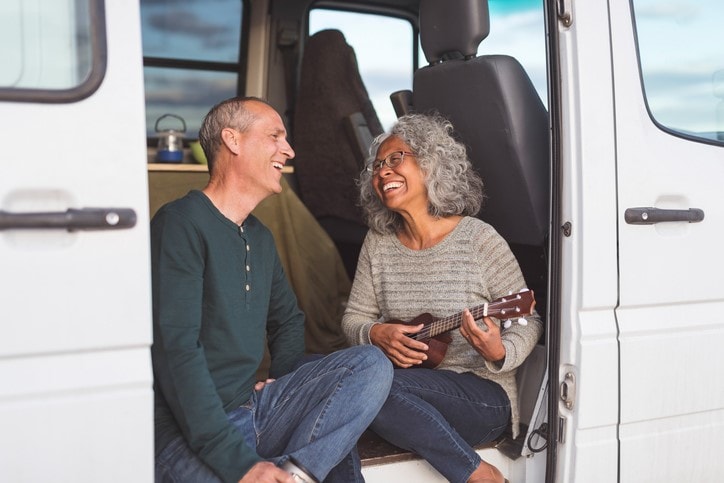 Take a deep breath, find an easy chair, ignore your cell phone's texts/calls, and plunge into her full website. Or, if you prefer, set aside 30 minutes and read a few of her individual posts (below). I have just begun to "crack this nut" – her blog is more extensive than anything else I have found!
As a music educator, this last title piqued my interest. We urge every retiree to revisit their creativity roots and seek renewed opportunities to enjoy music as a lifelong pursuit. (We have already posted reprints of several of my articles on this subject from PMEA News, the state journal of the Pennsylvania Music Educators Association, including "Sing Your Heart Out, Now and in Retirement" and "It's Time to 'Dust off Your Chops' (Join a Community Band/Orchestra)"
Potuchek relates her rationale for a quest in more spontaneity in her retired life and participating in a "creative aging singing workshop" sponsored by the Portland Public Library:
I am never going to be a totally spontaneous free spirit; it's just not in my character. I like structure, and I don't see myself giving up scheduling as a way to structure my days and weeks. But as I get weekly practice in spontaneity, I am learning to loosen up and be more flexible with my schedules. My first spontaneous jump into a new activity has brought the joys of choral singing back into my life, introduced me to some new friends, and helped me to recover long-forgotten skills (like reading music). Who says you can't teach an old dog new tricks? For this old dog, retirement is proving to be a time of growth and learning. – Jean Potuchek
How to Survive Retirement
In my last blog-post on retirement, "Three Exit Lanes to Retirement Self-Help Guides," I briefly mentioned Stephen Price's book How to Survive Retirement: Reinventing Yourself for the Life You've Always Wanted. No one resource has everything, but this book comes closest to covering the greatest variety of subjects, exploring such possibly mundane (?) topics of financial planning, making your home elder-friendly, and social security information, to riding the up-and-down emotions of "change" and retirement.
Of special merit, Price shares 14 pages of ideas on volunteering, with a gang of valuable websites on which to follow up . . . everything from animal shelters, museums, zoos, aquariums, and conservation groups to business mentoring, foster grand-parenting, senior companions, and child advocates.
The last full chapter, written by Laurence Burd, MD, starts with a quote by the late PA Senator Arlen Specter: "There's nothing more important than our good health – that's our principal capital asset," and dives into the effects of aging and how to maintain good health throughout "our maturing years" (or second childhood?). I have never seen a manual for retirees that goes into such detail on a host of physical issues. This is definitely a book worth buying, reading, and keeping.
"Although a life of ease may have been your dream, retirement brings with it a host of questions, problems, and responsibilities that never occurred to you and may now seem insurmountable. How to Survive Retirement will help you plan for most any eventuality during the golden years." – Steven Price/back cover
Three More Must-Read Books
I submit there are basically three ways to learn something new by reading about it. One is the tutorial format, a.k.a. an instrument of "programmed learning." Another approach is the comprehensive reference manual or user guide. Finally, many people prefer a narrative story, perhaps a fictitious account that features characters exploring and revealing insights on the topic you are studying.
I am applying this concept to three mini book reviews of preparation for retirement. All you have to do is select your favorite "learning style."
How to Retire Happy, Wild, and Free (2016) by Ernie Zelinski. The chapters are laid out by general concepts you need to understand. However, as in many user guides, you could turn to almost any page in the volume, jump around (in any order) to specific areas on which to focus, e.g. tips on travel (page 165) to health/wellness (page 109), and not lose the overall meaning.
How to Retire Happy, Wild, and Free is one of the most easy-to-read and humorous publications on the market and best resources for a frank discussion of the emotional aspects of coping with retiree life-style changes/altered expectations, and finding creative new ways to self-reinvent and thrive.
It's Never Too Late to Begin Again (2016) by Julia Cameron. The tutorial's approach is a logical progression of chapters/how-to sections that must be read and completed in order. There are often worksheets, exercises, or activities to complete at the end of each chapter. The hierarchy of these "units" build a sequential set of competencies for which you must master one by one, a prerequisite before going on to the next section. Julia Cameron's book is a perfect example of this method. Actually, it is based on her earlier work, The Artist's Way (also a tutorial), plus 25 years of teaching artists to "unblock their creativity" using her tools "Morning Pages" (stream-of-consciousness writing) and "Artist Date" (reserved weekly block of time to nurture your creativity). Perhaps both editions should be consumed/and worked chapter by chapter.
Refire! Don't Retire (2015) by Ken Blanchard and Morton Shaevitz. The authors set the stage for an easy-to-understand narrative, specifically how to "make the rest of your life the best of your life." The fictitious "Larry and Janice Sparks" share anecdotes of their experiences, modeling potential opportunities of retirees enhancing their relationships, stimulating their minds, revitalizing their bodies, growing spiritually . . . basically rekindling passion in every area of their lives.
Co-authors Ken Blanchard and Morton Shaevitz relate their chance first meeting on a business trip:
"So what are you into and what's new in your life," was the beginning of our plane conversation. For the next fifteen minutes, we spoke with growing enthusiasm and animation. We talked about the things we were doing, and especially what we were excited about. When Morton mention he was working in the area of older adults and looking at aging from a new and different perspective, Ken piped up and said he'd been thinking about similar issues. The term he was using was "refire" – an attitude of embracing the years ahead with enthusiasm rather than apathy. At that moment, this book was born.
Read the rest of my blog, "3 Exit Lanes to Self-Help Retirement Guides," for more recommended titles.
Top 55 Retirement Planning Websites
Generally, I am not much in favor of perusing commercial websites on planning for retirement, especially those by investment counselors, but Ernie Zelinski (author of bestsellers like How to Retire Happy, Wild, and Free) sent me this link. Zelinski's own "Retirement Cafe" is the second website listed, and seems to archive the foundations of much of his subsequent writings.
Here is his "10 Dumbest Retirement Moves."
Purchasing a larger home than you need or than you can afford
Watching a lot of TV — more than an hour and a half a day is excessive!
Gambling
Spending a lot of time shopping
Complaining about life
Being afraid to spend the kid's inheritance
Being a miser with your money
Planning to work forever — something NOT advocated in The World's Best Retirement Book.
Neglecting your health by not indulging in vigorous physical exercise every day
Not making new friendships and neglecting old friends
If you are concerned about your personal finances, investment, lifestyles, travel, or other issues in planning for your "golden years," goldretiree.com may be valuable.
Besides websites of Jean Potusek and Ernie Zelinski, I was taken with the following writers:
The final entry at GoldRetiree.com, AARP is worth mentioning here. I was one of those 40-something spouses who automatically became a member when his wife turned 50 and she joined; I was neither ready, nor expecting it. However, the AARP magazine and online materials are excellent, and span topics about travel, health care, and coping with aging, finance, dining and cooking, etc., plus special discounts and benefits.
If you like, the entire listing of retirement websites is provided at this link: GoldRetiree.com.
Finally . . . The Ultimate Resource Guide/Bibliography
I tried to revise, assemble, and share in one place all of the retirement resources I have found. Click on this link to download the ultimate retiree resource guide. You do not have to be a former music educator to use this reference list to gain a perspective on research and assistance to preparing and managing the life-changing adventure of retirement.
This document is my present to you. It cannot get much more comprehensive or convenient to find/use this collection of "sound advice" from advisors who themselves have successfully found happiness, good health, and real purpose in retirement life.
To sum it up, I will echo Ernie Zelinski's final thoughts:
The way I see it, you will have attained true freedom in this world when you can get up in the morning when you want to get up; go to sleep when you want to go to sleep; and in the interval, work and play at the things you want to work and play at – all at your own pace. The great news is that retirement allows you the opportunity to attain this freedom.
To access Paul Fox's webinar, "Preparing for a Smooth Transition for Retirement," subscribe today to NAfME Academy for just $20/year for members, or $100 for nonmembers. Learn more about NAfME's Retired Member benefits.
Did you know NAfME has a special rate for retired members? Learn more. Share your insight and join the conversation today in the Retired Member community on Amplify.
Previous Articles by Paul K. Fox
About the author:
NAfME Member Paul K. Fox is currently the State Retired Members' Coordinator for the Pennsylvania Music Educators Association (PMEA), Chair of the PMEA Council for Teacher Training, Recruitment, and Retention, Founding Director of the South Hills Junior Orchestra, Steering Committee/School District Representative of the UPPER ST. CLAIR TODAY magazine, staff announcer for "The Pride of Upper St. Clair" USCHS Marching Band, Trustee for the Community Foundation of Upper St. Clair, and volunteer escort for the St. Clair Memorial Hospital.
Retired June 2013 from 33 years at the Upper St. Clair School District and 2 years at the Edgewood School District (now Woodland Hills School District), Paul K. Fox primarily taught Orchestra/Strings (Grades 5-12) at Boyce Middle School, Fort Couch Middle School and the Upper St. Clair High School (USCHS), along with positions in EL/MS/HS choral and general music, elementary band, and HS music theory. He also served as Upper St. Clair School District Performing Arts Curriculum Leader (7 years), Executive Producer of USCHS Fall Plays (29 productions) and Spring Musicals (30 shows), Editor/Writer/Photographer for Upper St. Clair School District publications/communications (26 years), Assistant Sponsor and Business Manager of the USCHS St. Clairion Yearbook (4 years), and Secretary-Treasurer of the Pennsylvania Music Educators Association District One (21 years).
Did this blog spur new ideas for your music program? Share them on Amplify! Interested in reprinting this article? Please review the reprint guidelines.
The National Association for Music Education (NAfME) provides a number of forums for the sharing of information and opinion, including blogs and postings on our website, articles and columns in our magazines and journals, and postings to our Amplify member portal. Unless specifically noted, the views expressed in these media do not necessarily represent the policy or views of the Association, its officers, or its employees.
---
Brendan McAloon, Marketing and Events Coordinator, June 1, 2017. © National Association for Music Education (NAfME.org)