State Success Stories—Ohio
Our affiliated state associations are responsible for great work that is done daily to try and create equitable access to quality music education for America's students. This work has been more important than ever as of late, as COVID-19 has forced rapid innovations and changes in the educational landscape.  When a state accomplishes incredible things in the field of music advocacy, such accomplishments are worthy of recognition. In this entry of our "State Success Stories" blog series, we commend the Ohio Music Education Association (OMEA), and their work to have COVID-19 music education guidance recognized by the Governor of Ohio, Mike DeWine. Their efforts will ensure that access to music education continues to exist for Ohio students during the pandemic.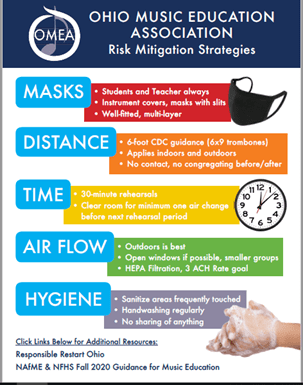 The United States has taken a state-by-state-approach to deal with the pandemic, with each state having different protocols and coordination among state agencies. Each state's education department, as well as state departments of health and governors' offices, have released guidelines on how to resume education safely and successfully in this environment. Recognition of music education in state-level guidance has varied from state to state, and our affiliated state associations have done some incredible work to have these guidelines recognize safe ways to resume music education. Ohio has had remarkable successes in this area. Through continued outreach with Ohio Governor Mike DeWine's office, OMEA leadership successfully advocated for recommendations created by OMEA, as well as the Fall 2020 Guidance for Music Education prepared by NAfME and The National Federation of State High School Associations (NFHS), to be included in the state of Ohio's school reopening guidance.
This process was no small feat. Some states, given the concern that singing and playing wind instruments may possibly increase the spread of COVID-19 via respiratory droplets and via aerosol, have opted to not allow these activities in person. But, as we know from the Fall 2020 Music Education guidance, these activities can indeed be practiced safely, with proper precautions. OMEA leadership, led by OMEA President Ann Usher and Executive Director Roger Hall, worked diligently to develop relationships and to get this guidance into the hands of local education agencies and state education stakeholders. 
OMEA was also able to secure a seat at the table for Ohio Superintendent of Schools Paolo DeMaria's school reopening task force, where Ann attended weekly meetings to advise his office on re-opening schools. DeMaria is a self-professed arts supporter who regularly attends the in-person OMEA conference, sitting in on all-state rehearsals and attending the OMEA board meetings. He convened a task force of representatives from other state education, school nurses, and athletic associations, and other public health advisors to assist with school re-opening recommendations. Through connections developed by participation with these groups, music education-friendly recommendations were included in the Governor's guidelines, Responsible Restart Ohio: K-12 School and Collegiate Band, Choir, Dance Teams and Other Similar Performance Activities. Said Ann: "We are grateful that Governor DeWine gave OMEA the opportunity to weigh in on the recommended guidelines for instrumental and choral performing ensembles as well as best practices for all music instruction. While reopening plans look vastly different across the state, we are confident our music educators have the creativity and resilience to continue to provide high-quality music education for students in all types of learning environments."
If you would like to learn more about OMEA's success and strategies in advocating for music education, join us for our webinar Music Advocacy: State Success Stories and Strategies on Tuesday, September 29, at 6:30 PM ET. These have been tremendously difficult times for everyone, and teachers face exceptional challenges. While much about this virus is unknown, what is not in dispute is how music and the arts are helping students cope with the social upheaval these times have brought us.
NAfME supports and commends the amazing work that our state MEAs and our members are doing on a regular basis to ensure that students continue to receive music education in these times. If your state MEA has a story you believe deserves recognition in our "State Success Stories" blog series, contact me at mattb@nafme.org. We are all in this together!
---
Matt Barusch, State Advocacy Engagement Manager, September 25, 2020. © National Association for Music Education (NAfME.org)