The P.A.S.S.I.O.N.A.T.E. Choral Educator's Guide
to Longevity in the Classroom
Dr. Derrick Fox, NY ACDA R&S Chair for Multicutrual and Ethnic Perspectives
Assistant Professor of Music Education/Choral Conducting, Ithaca College

Originally printed in NY ACDA's Choral Cues
As we return from learning, sharing, and connecting with colleagues and new and old friends at the Eastern ACDA convention, I am reminded of how invigorating the art of choral music can be for the soul. The many engaging sessions and inspiring concerts reminded us that we became music educators because of the role music played in our own early lives. We are driven by this passion to pay the gift of music forward to
our students.
As the years go by, we assume many roles as director, choreographer, set builder, costume designer, caregiver, counselor, etc…. losing ourselves in the many tasks that are required to keep our choral programs afloat. Over my years of teaching, these demands began to chip away at the passion for music that I once coveted. In an effort to protect my passion and develop a healthier work/life balance, I devised strategies that
allowed me to truly enjoy teaching by fostering classroom community, instilling student ownership, and rekindling my own personal music-making endeavors.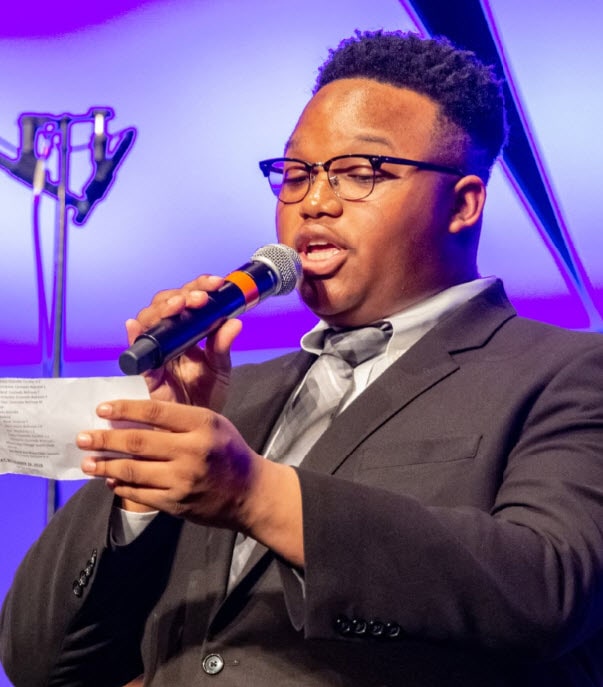 Pace/Play: It is important that you don't take yourself too seriously. Students appreciate rehearsals that offer a balance of challenge and relaxation. Finding that intricate balance will yield a great amount of student equity for when you really need every ounce of their attention.
Acquire: Never stop learning! If you can't make it to your state or national convention, create your own cohort of teachers with whom you can trade ideas and best practices. With Skype, FaceTime and other social outreach applications, it is easier than ever to build professional groups that reflect the needs of your teaching situation. No teacher is an island unto himself/herself.
Sing: We know that singing is VERY personal act. If you would like for your students to be vulnerable then you must be the same. Choral directors should stay engaged vocally so that we never forget what it feels like to be one the other side of the podium. It will inform the way you teach your own singers when you remember what it feels like to be the singer.
Savor: As music students, we are taught to find the errors and move on to the next issue. Savor the successes. If you get wrapped up in the hunt for mistakes, your students will never experience the gratification of achieving. Take time to intentionally revel in the good things, however big or small, because you and your students deserve it.
Imagine: It is imperative that you have a vision for your work. A choral program without a mission is like a house built without a blueprint. No one will want to live there. I encourage you to create a mission statement for your choral program. The motto I used for my high school was "Great Music, Better People." My teaching strategies, literature choices and interactions with my students exemplified that statement so that I could ask the same of them.
Ownership: Find ways to relinquish some aspect of your rehearsal or choral program to your students (i.e. roll taking, uniform check-out, leading sightreading). For most of us Type A choral types, this is difficult because we are doers and find it hard to "just let go." Students will take care of possessions in which they have invested their own time.
Never forget your purpose: Have you clearly defined why students should be a part of YOUR choral program? We are all familiar with commonly-stated benefits of participating in music programs but can you articulate how those global benefits are applicable in your program? Be proactive about specifying how your choral program is directly related to the overall well-being of the school community. This will come in handy if you find yourself in the unfortunate position of justifying your program needs.
Appreciate: In the hustle and bustle of preparing concerts, shows, solo and ensemble groups, we can forget to express our gratitude to our students, colleagues, family and friends. "Too often we underestimate the power of a touch, a smile, a kind word, a listening ear, an honest compliment, or the smallest act of
caring, all of which have the potential to turn a life around." –
Trust: Build relationships with those you trust with your professional well-being. This is difficult in that there are those who will point out your flaws because it makes them feel better, and there are others who will point out your flaws because they are truly invested in your growth. Discovering the difference can lead to a wonderful cohort of life long friendships and musical inspiration.
Empower: Choir can be a vehicle for understanding cultural differences and build bridges between your students. Choose literature that represents the diverse cultures that compromise your classrooms, schools, district, state and country. Not only does this empower the students in your classroom it also builds a positive learning community in which you can accomplish great music making, which is at the core of what we want to achieve everyday.
"Choose a job you're P.A.S.S.I.O.N.A.T.E. about, and you'll love it every day of your life."
As you move through the remainder of the year checking things off of your "choir-to-do-list," I encourage you to keep the quality of that experience at the forefront of your actions. We are all familiar with
the quote, "Choose a job you love, and you will never have to work a day in your life." I'd like to expound upon that with "Choose a job you're P.A.S.S.I.O.N.A.T.E. about, and you'll love it every day of your life."
About the Author:
Dr. Derrick Fox is an assistant professor of choral music education and choral conducting at Ithaca College. He conducts the IC Chorus, IC Madrigal Singers, and teaches choral conducting and rehearsal techniques. He is an active adjudicator and clinician for regional, state and national organizations from the middle/junior high school to the collegiate level. He has worked with ensembles and presented at state conventions in Arkansas, Iowa, Pennsylvania, Kansas, Missouri, West Virginia, Texas, New York, Florida, and Michigan. As a soloist, Dr. Fox's performed with the Arkansas Symphony, Lansing Symphony, St. Louis Symphony, University of Missouri, Michigan State University, and the Espaço Cultural (Brasilia, Brazil). Dr. Fox's upcoming conducting engagements include the regional honor choirs in New York, Missouri, and Pennsylvania, all state honor choirs in Arkansas, Connecticut, West Virginia, Tennessee, and Kansas, and the International School: Middle School Choral Festival in Kuala Lumpur, Malaysia.. His presentation engagements include the 2015 American Choral Directors Association National Convention in Salt Lake City, Utah, the 2015 NAfME National In-Service Conference in Nashville, Tennessee, and the 2015 Midwest Clinic: International Band, Orchestra and Music Conference in Chicago. He is a contributing author in the Hal Leonard/McGraw Hill choral textbook Voices in Concert, and his arrangement Lord, Give Me Just a Little More Time is available in the Hal Leonard Sacred Music Series.
Derrick presented on his topic "50 Shades of Grading" at the 2015 NAfME National Conference this month in Nashville, TN. 
Did this blog spur new ideas for your music program? Share them on Amplify! Interested in reprinting this article? Please review the reprint guidelines.
The National Association for Music Education (NAfME) provides a number of forums for the sharing of information and opinion, including blogs and postings on our website, articles and columns in our magazines and journals, and postings to our Amplify member portal. Unless specifically noted, the views expressed in these media do not necessarily represent the policy or views of the Association, its officers, or its employees.
---
Brendan McAloon, Marketing and Events Coordinator, October 5, 2015. © National Association for Music Education (NAfME.org).