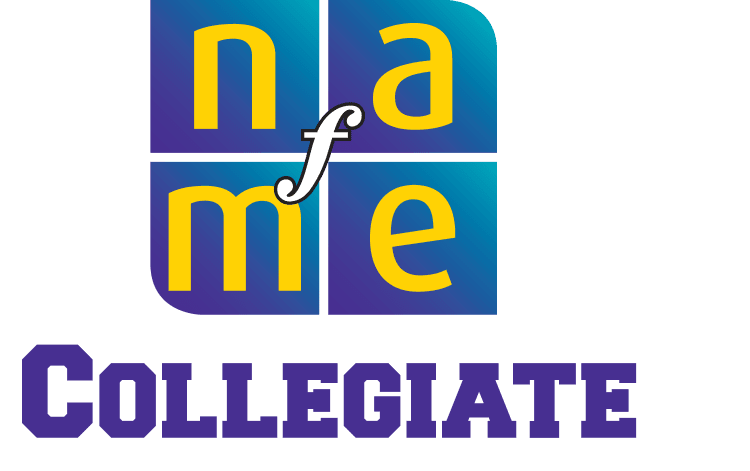 The NAfME Collegiate Advisory Council is pleased to announce the recipients of the 2019 Shannon Kelly Kane Scholarship, the 2019 Professional Achievement Awards, as well as the Chapter of Excellence Award recipients. These individuals and chapters have worked tirelessly to advance the field of music education and we applaud their efforts.
2019 Professional Achievement Award Recipients:
The purpose of the Professional Achievement Award is to recognize individual NAfME Collegiate members for their commitment and dedication to NAfME and music education. This recognition is given to Collegiate members who have served their chapters in an exemplary manner.
Ben Maynard, Ball State University, Muncie, Indiana
Ben has been a member of the Ball State University NAfME Collegiate chapter throughout his four years on campus and served as Vice President for two years. Maynard presented at the 2018 NAfME Music Research and Teacher Education National Conference. He consistently demonstrates leadership skills and a willingness to improve engagement in the chapter through professional development opportunities. During the 2017-2018 school year, Ben facilitated an after-school music program teaching ukulele, guitar, and percussion to elementary students. Maynard also organized the first NAfME Collegiate recital in the Muncie community at the Cornerstone Center for the Arts.
BriAnna Crook, Boise State University, Boise, Idaho
BriAnna was the first individual to hold the position of State Student President of the Idaho Music Educators Association (IMEA), which is a position on the IMEA board. During her first summer as state student president, Crook attended the 2017 NAfME Collegiate Advocacy Summit in Washington, DC, from which she returned with a drive to advocate for more funding and support for education in the state of Idaho. As a current student teacher, her advisor and mentor teacher praise her organization, excitement for teaching, love of music, teaching children, and lifelong learning.
Joshua Bottoms, University of Nevada, Reno, Nevada
Joshua currently serves as President of the University of Nevada, Reno NAfME Collegiate chapter and has done outstanding work for the department of music and the music education community. With approximately 150 hours of service to the chapter, Bottoms has been extremely involved in the development of programs, fundraisers, service projects, and recruiting efforts. He has done an exceptional job representing the chapter by sending students to attend the Conn-Selmer Institute and the Nevada All-State Conference.
Martha Wachulec, Montclair State University, Montclair, New Jersey
Martha currently serves as President of the Montclair State University NAfME Collegiate chapter and has previously served as Vice President. Throughout her various roles within the chapter, Martha has been a mentor and inspiration to all members. Additionally, Wachulec has maintained an annual Chamber Day for middle school students, served as liaison to the New Jersey Music Educators Association for the NAfME Eastern Division Conference, and implemented lectures and workshops for the undergraduate music education students on campus.
Eva Aneshansley, University of Colorado Boulder, Boulder, Colorado
Eva's signature contribution to the NAfME Collegiate chapter, and to the broader music program and the state of Colorado is her leadership. As chapter treasurer, Aneshansley has secured thousands of dollars in grant funding for various chapter events and travel expenses associated with attending the Colorado MEA conference. Eva was recently elected Colorado MEA NAfME Collegiate President-Elect and will represent fellow future music educators on the board of CMEA.
2019 Chapter of Excellence Award Recipients:
The Chapter of Excellence Recognition was developed to encourage chapters to plan and execute successful chapter Music Programs, Professional Development Projects, Recruitment Techniques, Advocacy, and Service Projects. Recognition of excellent projects is conferred annually and is based on activities completed by the chapter between January 1 and December 31 of the year prior. Chapters are evaluated on participation, commitment, creativity, impact, organization, uniqueness, and visibility.
Advocacy: Florida State University, Tallahassee, Florida
The Florida State University NAfME Collegiate chapter has maintained a high standard of excellence in the area of advocacy. Such efforts include an advocacy session for chapter members in preparation for the Florida Music Education Association collegiate advocacy day at the State Capitol, a music awareness outreach event, a month-long social media campaign during Music In Our Schools Month®, and a week-long, campus-wide, advocacy awareness event titled #AdvocacyEd4Tomorrow during "Arts in Education Week."
Music Program: New Jersey City University, Jersey City, New Jersey
The New Jersey City University NAfME Collegiate Chapter organized concerts where they traveled to high schools to perform solo and chamber music for students. During such events, concert attendees can speak with chapter members about their experiences as music majors. In addition to off-campus events, the chapter is a critical component of Woodwind and Brass Day as well as the Honor Band on campus. It is worth noting that many chapter members are first-generation college students, rely on public transportation, and are working part-time while attending school.
Professional Development: University of Hawai'i, Mānoa, Honolulu, Hawai'i
The University of Hawai'i, Mānoa has experienced great success in providing professional development for its members. The chapter has hosted, assisted, and attended multiple conferences, volunteered for local feeder programs, and has presented themselves to the Hawai'i legislative branch. The chapter worked closely with the Hawai'i Music Education Association to host the MEA's annual conference during the first semester of the chapter's existence. Collegiates assisted with transitions, set up and break down, introduction of presenters, and provided a snack bar and other logistical support.
Recruitment: Nazareth College, Rochester, New York
During the 2018-2019 academic year, the Nazareth College NAfME Collegiate Chapter successfully recruited 35 new members. The recruitment efforts of the chapter include sending welcome letters to incoming first-year music education students prior to their arrival on campus as well as an increased social media presence on Facebook and Instagram. Additionally, the chapter increased their visibility on campus through posters, flyers, and features on the music department television screens. Periodically, polls were sent to collect feedback on events. In doing so, the chapter was able to organize events that would be more meaningful for members.
Service: Oklahoma State University, Stillwater, Oklahoma
The Oklahoma State University NAfME Collegiate Chapter teamed up with the Music Industry students on campus to conduct a service project to benefit the six elementary schools in Stillwater, Oklahoma. The Music Industry students designed and built six authentic cajón drums to donate to the schools, and the NAfME Collegiate Chapter visited each school to share the origin/history of the drums as well as present a hands-on drumming experience for the elementary students. The project was enthusiastically received by the children, the music educators, and the school principals who attended.
2019 Shannon Kelly Kane Scholarship Recipient
The Shannon Kelly Kane Scholarship was created by Shannon's family and friends in coordination with NAfME to honor her exemplary life and her love of teaching music. The scholarship award is open to current NAfME Collegiate members who have been nominated for NAfME Collegiate Professional Achievement Recognition. The 2019 recipient of the Shannon Kelly Kane Scholarship will be announced during the Hill Day Celebration Reception in Washington, DC, on June 19, 2019.
---
Recipients will be formally recognized on stage at National Assembly as part of the NAfME Awards program in late June 2019. Following the awards program, a professional photographer will be available so recipients may further memorialize the honor with the leaders of their state music education association.
Published Date
April 15, 2019
Copyright
April 15, 2019. © National Association for Music Education (NAfME.org)