Creating Effective Ensemble Substitute Lesson Plans
Substitute Lessons That Are Effective, Relevant, and Timely
By NAfME Member Peter J. Perry, D.M.A.
I do not know a teacher who does not LOATHE writing substitute lesson plans—or has the anxiety of what to look forward to when they return from their absence. The disruption to everyone's schedule, as well as the unknown variables (e.g., substitute competence, unusual behavior issues, etc.) all make most teachers reticent about leaving their classes. With this said, as teachers (with real-life obligations) we all have to be absent—whether it is a professional meeting, your or your child's illness, or a sewer back-up into your home (I've had all four). There are valid, appropriate reasons not to be in school, and your absence should not (if properly prepared) negatively affect your program or the instruction of your students.
"Lessons" Not "Plans"
Yes, "plans" is a shortening of "lesson plans." There is, however, a distinction for those prepared for a teacher absence. The "plans" left for a substitute tend to be a plan to keep students busy and out of trouble. Students see through this, and very quickly identify this as a "free day" and do not take the plans seriously. If, however, we remember the first part of the name, "lesson," and are conscientious about creating "lessons" that help meet the instructional goals we work toward normally in the ensemble class, their validity and relevance will be obvious to students, and the expectation for completing them is not only reasonable but part of the overall process. This also needs to be part of the expectations you set with your students prior to your absence and at the beginning of the year.
Use the Tools You Have
Over the last year and half, we have lived in a world where we were not physically "there," but through technology, still interacted and instructed our students through synchronous and asynchronous teaching. This lived experience (and the skillsets we developed through it) should make substitute lesson creation an effectual byproduct of this experience.
These tools/strategies include:
One-to-One technology ratios – Every student has a device
Learning Management Systems (LMS) – Google Classroom, Canvas, Schoolology
Music Apps – Notation programs, Digital Audio Workstations
Recording Features on Devices – Chromebook recording or via smartphone
YouTube and other streaming content
Students have experience with these tools and have been using them over the past year to learn. The missing component for making these truly effective was the teacher's ability to make a regular "in-person" connections with students. You can now take advantage of the best of both—the technology AND provide the in-person context needed to help students make conceptual connections. Together, these can help you craft substitute lessons that are effective, relevant, and timely.
What Makes a Good Substitute Lesson?
Many of the components that make a good substitute lesson align with those that make an in-person lesson effective.
These include:
Make the lesson relevant to the ongoing instruction. Make sure it helps work to achieve the ensemble's instructional goals.
Tailor the lesson assignments to the time you will be out. For example, do not assign a multiple-day project to students if you are out for one day. Conversely, make sure you do not under-assign for the time either.
Utilize student leaders when appropriate.
Make your lesson executable by even the most incompetent or untrained substitute. Yes, sadly we have all had these helpful, but woefully unprepared individuals supervise our students. Hopefully, however, with the strength of a good lesson and the support of student leaders, you can carry these poor souls across the finish line.
Common Mistakes and Barriers to Effective Substitute Lessons—and How to Avoid Them
Depending on the circumstance of your absence, sometimes haste or lack of planning can make that absence a void in the students' instruction. Two typical mistakes teachers make include: leaving a YouTube video that has no connection to instruction or inundating the students with tedious "busywork" that again has no connection to what happens normally. In both cases, these are disjointed from "normal" instruction and the instructional goals of the ensemble.
In your preparation, try to conceive a way for students to continue to do what they would have done if you where there. For example, if a rehearsal of specific repertoire was going to be the plan, how can students get the same or similar experience when you are not there? One obvious solution is to get a music substitute who can run a rehearsal. These, however, can be difficult to find and or book for your absence. Another idea, could be to have students pair up, rehearse, and perform a short (16 measure) selection of the repertoire. Prior to the conclusion of class, they video themselves via their device (Chromebook, phone, etc.) and submit via your LMS (e.g., Google Classroom, Canvas). You can add a self-assessment piece if you want. This keeps students performing and focusing their attention on perfecting a small, but doable piece of the music. Additionally, by working with another ensemble member the student gains an understanding for other ensemble parts within the group as well as uses their ensemble performance skillsets. I call this lesson "Do IT."
Other Ensemble Substitute Lesson Ideas
Sectionals – This requires that you teach student leaders how to run effective sectionals and ensemble students how to participate properly in them ahead of time. When done correctly, sectionals put the onus of improving on the students themselves. Additionally, many students enjoy the leadership role and responsibility these provide.
Skill Assignment – Being careful not to make this "busywork," identify and focus on a particular music skill (i.e., music theory, ear training, sight reading). Craft a lesson that allows students to work on the skill individually on their device with an app like Musictheory.net that can be submitted and assessed in the LMS. Explaining how this lesson fits into the ensemble instruction is key to making it relevant to students.
Listening Assignment – Focused listening for information is a skill that NEEDS to be developed. Create a guide to HOW and WHAT to listen to in a piece of music. Have students use the guide to listen to and reflect on a relevant piece of music (something that connects to what is being performed by the ensemble, a good ensemble model, another piece by a composer you are performing the work of, etc.) Craft this reflection as a way for students to make connections with their prior knowledge and experience as well as how to affect their future performance. Talk about some of the ideas expressed by students at the next rehearsal or engage in a brief pre-rehearsal discussion about what they listened to. Again, this prevents the "busywork" label from being used.
Creating effective ensemble substitute lesson plans can be challenging. Keeping the instructional goals of the ensemble at the forefront when creating them will help with this. Using technology to facilitate these will also help. I outline these ideas as well as many other ways to use technology in ensemble teaching on my website: www.peterperrymusic.net and in my book Technology Tips for Ensemble Teachers published by Oxford University Press. Feel free to check them out.
About the author: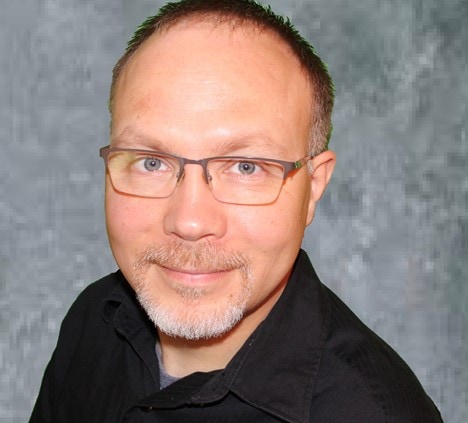 Peter Perry is a lifelong Maryland resident and has traveled the world teaching and performing music. A NAfME member, he is currently in his twenty-sixth consecutive year as Instrumental Music Director at Richard Montgomery High School in Rockville, Maryland. Here he conducts the: Chamber Orchestra, Concert Orchestra, Pit Orchestra, Symphonic Band, Jazz Ensemble, Concert Band, and Marching Band. These ensembles consistently receive critical acclaim on local, state, and national levels.
Dr. Perry is a strong advocate for music technology usage in the large ensemble. His doctoral dissertation, "The Effect of Flexible-Practice Computer-Assisted Instruction and Cognitive Style on the Development of Music Performance Skills in High School Instrumental Students," focused on how the practice software, SmartMusic™, and the cognitive styles of field dependence and field independence affect musical performance skill development. His book, Technology Tips for Ensemble Teachers, published by Oxford University Press, is the first text to specifically outline technology use and instructional strategies using technology in the large Ensemble.
He holds a Doctor of Musical Arts degree in Music Education from Shenandoah Conservatory, as well as a Master of Music Degree in Music Education-Instrumental Conducting Concentration, and a Bachelor of Science Degree-Instrumental Music Education, both from the University of Maryland. While at the University of Maryland, Dr. Perry was awarded the prestigious Creative and Performing Arts Scholarship in Music.
In 2006, Dr. Perry received a Japan Fulbright fellowship and participated in the Japan Fulbright Memorial Fund Teacher Program. In 2009, Dr. Perry received the Presidential Scholar Teacher Award. In 2019, he received the Brent Cannon Music Education Alumni Achievement Award from Kappa Kappa Psi, recognizing outstanding contributions to secondary music education. In October 2019, he took a group of student musicians to Yilan, Taiwan to perform in the Yilan International Arts Festival, representing the United States (the third American ensemble in the festival's history). He is an active guest conductor, clinician, adjudicator, lecturer, author, composer, and performer.
Follow Dr. Perry on Twitter: @peterperry101 or at www.peterperrymusic.net.
Did this blog spur new ideas for your music program? Share them on Amplify! Interested in reprinting this article? Please review the reprint guidelines.
The National Association for Music Education (NAfME) provides are number of forums for the sharing of information and opinion, including blogs and postings on our website, articles and columns in our magazines and journals, and postings to our Amplify member portal. Unless specifically noted, the views expressed in these media do not necessarily represent the policy or views of the Association, its officers, or its employees.
October 21, 2021. © National Association for Music Education (NAfME.org)
Published Date
October 21, 2021
Copyright
October 21, 2021. © National Association for Music Education (NAfME.org)