Curriculum Design for the K-8 Modern Band Instructor
By NAfME Member Christopher Cavarretta
Public education music classrooms vary wildly depending on the school size, location, budget, and resources available. Therefore, making a "one-size-fits-all" music education curriculum is nearly impossible. For example, I started working at my current K–8 school two years ago and was supplied only with 25 guitars, a drum kit, and about 25 xylophones. The primary instruction I received as a new teacher from my administration was to have all the students play instruments in some capacity while only seeing each class once a week. After reviewing various programs, talking with my mentors, and researching my resources, I realized that the best course of action would be to design a curriculum that encourages my students to grow with skills in a "level-up system" that challenges them to build on previously utilized instruments from year to year.
The Curriculum Design
The curriculum is divided into four categories: K–2, 3–5, 6–8, and "advanced" music. Each grouping focuses on different sections of the curriculum. Each grade has its own goals, objectives, and lesson plans. By the end of their grade band, they should be walking away with specific knowledge and understanding that will be the foundation of their work in the future.
What Are the Learning Targets and Objectives? 
The youngest grade band, K–2, focuses on "Musical Explorers," where students begin their journey in music education, focusing on basic concepts such as steady beats, playing together, rote performance, and movement through music. Moving toward the end of second grade, they perform with xylophones and match color-coordinated notes in basic quarter-note and eighth-note rhythms.
3–5 begins "Ukulele & Song Foundations," where students begin the basics of ukulele performance, bucket drumming, and song development. Third graders learn basic music notation on the treble clef and rhythm performance up to sixteenth notes. By the time they graduate fifth grade, they have written at least one original song, using ukuleles, hand percussion, and lyric sheets.
6–8 is titled "Modern Guitar Ensemble," where students start sixth-grade beginner-level guitar with modern pop songs. By the end of the eighth grade, they can use guitar tablature and perform multiple parts for grade 1–2 guitar ensemble pieces.
The final level is "Advanced Band & Orchestra," where students who desire to go even further participate in Modern Rock bands, where we work together to design level-appropriate arrangements of songs they choose, or beginner orchestra, where students have a chance to learn violin, viola, or cello in an orchestral setting.
Example Learning Targets for Each Grade Level 
The below student objective is an example of what each grade should be able to accomplish by the end of the academic year. Students cover more than the material listed below; these are just basic examples of lesson objectives I have used in the past.
K – Students will perform basic singing songs, including "This Land is Your Land" and "Little Silver Moon Boat." 
1 – Students will use tambourines to perform rhythms using basic quarter & eighth-note rhythms from popular songs. 
2 – Students can perform melodies on xylophones utilizing color-coordinated notes and basic rhythm patterns.
3 – Students will be able to perform intermediate rhythms on bucket drums. Students will be able to identify music notation on the treble clef correctly.
4 – Students can perform ukulele songs with a steady beat using the C, F, Am, and G chords. 
5 – Students can create original songs using a ukulele (up to 5 chords), hand percussion, and lyric sheets. 
6 – Students can perform beginner-level songs utilizing C, F, G, Am, and Em while using various strumming patterns. 
7 – Students can identify various intervals, notes, chord progressions and perform them on the guitar. 
8 – Students can perform multi-part guitar ensemble pieces, utilizing notation and tablature.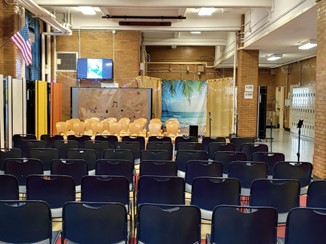 How Do You Involve Students Who Enter Halfway through the Program? 
Sometimes I have students who enter halfway into the program who need to have that understanding that other students do by working through the program years prior. In previous experiences, I have used this to encourage students to support others throughout the lesson. I assign students to be "Teacher Leaders" who help new students catch up with material they may not know while I provide the rest of the class instruction. Of course, I still check in with the new students, but it is helpful to have someone who can answer their questions in the middle of a new lesson.
What Are the Advantages and Disadvantages of the Style of the Curriculum? 
Advantages:
Allows students to grow throughout the program
Keeps an end goal in mind for the students
As a teacher, I have a better idea of what comes next for each class
Lesson planning is a linear flow
I can spend more time on core concepts that line up with national standards
Allows for flexibility with academic time-table
Accessible for all students
 Disadvantages:
Students enter at various levels of the program
Requires steady movement toward curriculum goals 
What Makes This Program Unique?
The program allows students to develop their skills promptly and focus on building musical skills in an accessible environment. No one lesson is designed to over-stimulate a student but promote growth by challenging the student to push the limit of their capabilities.
About the author: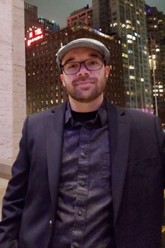 NAfME member Christopher Cavarretta works at PS/IS 121 in South Brooklyn, which houses a DOE NEST Program that integrates students with autism into inclusive classrooms. He teaches kindergarten to eighth grade through general music, guitar ensemble, modern band, and beginner strings. Cavarretta develops inclusive educational activities that ensure everyone is involved in the music-making process of my classroom. Cavarretta attended the Aaron Copland School of Music at CUNY Queens College and received a BA in Music Education. He currently attends NYU pursuing his MA in Music Therapy.
Did this blog spur new ideas for your music program? Share them on Amplify! Interested in reprinting this article? Please review the reprint guidelines.
The National Association for Music Education (NAfME) provides a number of forums for the sharing of information and opinion, including blogs and postings on our website, articles and columns in our magazines and journals, and postings to our Amplify member portal. Unless specifically noted, the views expressed in these media do not necessarily represent the policy or views of the Association, its officers, or its employees.
Published Date
August 15, 2023
Copyright
August 15, 2023. © National Association for Music Education (NAfME.org)