Get Back into the Rehearsal with Technology
Use Your New Technology Skills to Facilitate
Rebuilding Student In-Person Ensemble Skills 
By NAfME Member Peter J. Perry, D.M.A.
Ensemble classes across the country have been severely disrupted since March 2020 due to the COVID-19 pandemic. In response to this emergency, ensemble teachers stepped up to continue teaching band, orchestra, jazz ensemble, and chorus using a variety of technology and essentially reworking ensemble instruction almost entirely. For those places in the country that have remained virtual or hybrid, ensemble classes in their traditional formats have arguably not been able to function normally. Out of necessity teachers embraced technology and reworked methods to be able to continue ensemble instruction for their students.
As we start the current school year, in-person instruction is back across the educational landscape—although still with the continued shadow of COVID-19 hanging over us. While months tethered to a computer, Zoom, and virtual concerts have created some understandable tech-fatigue, we also developed, used, and perfected a brand-new technology skillset. I do not recommend throwing this away. This year poses new and unique instructional challenges. We need to use everything we have in our educational arsenal to address these challenges. These newly acquired tools can help us be more efficient and effective within the context of our traditional methods and also bring our work into a twenty-first century paradigm.
New Challenges
This coming year poses some of the most unique challenges to ensemble teaching we have ever faced. While still in the grips of a world-wide pandemic (and the stressors and mitigations it imposes on teaching), students are entering physical classrooms—some for the very first time. Many teachers will find themselves with ostensibly two sets of beginners. Students who were engaging in a virtual-only setting have developed habits (bad and good) that will not align with in-person learning and need to be brought into the fold or retaught. While the term "learning loss" is tossed around in the media frequently, unless the student did not do anything over the course of the last two years, more than anything they will be out of practice, and possibly a little out of shape musically. Moreover, the experiences they would have had spending time in rehearsals and performances over the last two years are missing.
Together, while not "lost," students will need remediation into how to perform in an ensemble again and to rebuild the ensemble performance skills they need to make the ensemble work. While daunting, these challenges can be met by using the traditional in-person ensemble teaching techniques we have been yearning to use. This, however, is a heavy lift, and using technology (especially the technology we have been using recently) will ease this lift.
Technology Tag Team
The compulsion to go back to pre-pandemic methods is reasonable. I will never again take for granted the ability to sit down together with other people and perform music. I have longed for the exhilaration of performing "that perfect phrase" with my students, or the anticipation of reading a new piece of music with one of my ensembles. Virtual performances and Zoom do not provide the same experience, and the other technology surrounding these methods seem to distract from a return to normalcy. However, during virtual/hybrid teaching we used technology to enhance and build skills that in the course of a normal year we would not typically have been able to address (e.g., music theory, expanded sight-reading skills, music production, etc.). By using technology in a similar way to rebuild ensemble skills now, we build a transition from exclusive online engagement back to traditional ensemble instruction. This is particularly effective because now everyone has the technology in their hands and is familiar with how to use it—something that has been a big impediment to technology usage in ensembles.
We can use this to provide a concurrent platform for teaching ensemble skills (class instruction that is augmented and supported asynchronously with technology). We can teach some aspects in person, while concurrently teaching others using a technology platform that students use outside of class. Together we are able both to focus on specific skill development and needs of students as well as tackle multiple problems simultaneously. Admittedly, this looks a little like traditional "homework." The difference here though is in the intensity and efficiency with which the technology platforms are used. For some, where "practice your part" was the primary homework, this method opens up an extra level and depth of instruction and student development.
Instructional Examples 
NOTE: These examples use specific apps that can be adjusted and replaced with what you currently use.
In-Person Instruction

Asynchronous Concurrent Instruction

In class, the ensemble performs scale passages together working on ensemble technique (balance, intonation, tone, blend, precision).

Students review and reinforce their knowledge of keys using teacher-created Key Signature Challenges on www.musictheory.net and submit their score in Google Classroom.

In class, the ensemble works on sight-reading applicable sight-reading literature.

· Students work on individual Sight-reading exercises in SmartMusic or in Sight-Reading Factory.

· Students work on ear training exercises in www.musictheory.net and submit their score in Google Classroom.

The ensemble reviews first day procedures and begins start of school logistics.

Students submit seating audition videos that are recorded outside of class and assessed by the teacher.

The ensemble records an excerpt of performance literature in class.

Students self-assess their performance using a Google Form.

The ensemble uses student-created backing tracks to warm up.

Students create loop-based backing tracks using BandLab.
While some of these examples might be things you did pre-pandemic, using these techniques together and focusing on what the specific needs of your ensemble are, you will be able to cover more ground effectively and efficiently. I outline these tips as well as many other ways to use technology in ensemble teaching on my website and in my book Technology Tips for Ensemble Teachers published by Oxford University Press. Feel free to check them out. I hope these suggestions help.
About the author:
Peter Perry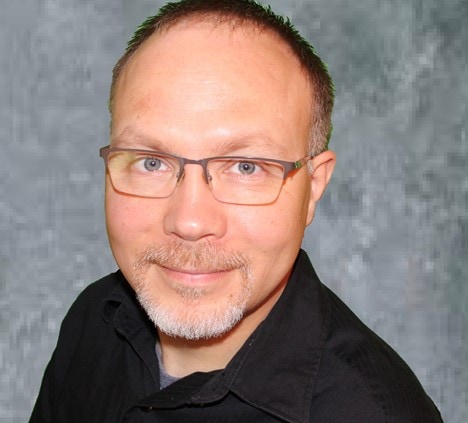 is a lifelong Maryland resident and has traveled the world teaching and performing music. A NAfME member, he is currently in his twenty-sixth consecutive year as Instrumental Music Director at Richard Montgomery High School in Rockville, Maryland. Here he conducts the: Chamber Orchestra, Concert Orchestra, Pit Orchestra, Symphonic Band, Jazz Ensemble, Concert Band, and Marching Band. These ensembles consistently receive critical acclaim on local, state, and national levels.
Dr. Perry is a strong advocate for music technology usage in the large ensemble. His doctoral dissertation, "The Effect of Flexible-Practice Computer-Assisted Instruction and Cognitive Style on the Development of Music Performance Skills in High School Instrumental Students," focused on how the practice software SmartMusic™ and the cognitive styles of field dependence and field independence affect musical performance skill development. His book, Technology Tips for Ensemble Teachers, published by Oxford University Press, is the first text to specifically outline technology use and instructional strategies using technology in the large ensemble.
He holds a Doctor of Musical Arts degree in Music Education from Shenandoah Conservatory, as well as a Master of Music Degree in Music Education-Instrumental Conducting Concentration, and a Bachelor of Science Degree-Instrumental Music Education, both from the University of Maryland. While at the University of Maryland, Dr. Perry was awarded the prestigious Creative and Performing Arts Scholarship in Music.
In 2006, Dr. Perry received a Japan Fulbright fellowship and participated in the Japan Fulbright Memorial Fund Teacher Program. In 2009, Dr. Perry received the Presidential Scholar Teacher Award. In 2019, he received the Brent Cannon Music Education Alumni Achievement Award from Kappa Kappa Psi, recognizing outstanding contributions to secondary music education. In October 2019, he took a group of student musicians to Yilan, Taiwan to perform in the Yilan International Arts Festival, representing the United States (the third American ensemble in the festival's history). He is an active guest conductor, clinician, adjudicator, lecturer, author, composer, and performer.
Follow Dr. Perry on Twitter: @peterperry101 or at www.peterperrymusic.net.
Did this blog spur new ideas for your music program? Share them on Amplify! Interested in reprinting this article? Please review the reprint guidelines.
The National Association for Music Education (NAfME) provides a number of forums for the sharing of information and opinion, including blogs and postings on our website, articles and columns in our magazines and journals, and postings to our Amplify member portal. Unless specifically noted, the views expressed in these media do not necessarily represent the policy or views of the Association, its officers, or its employees.
September 23, 2021. © National Association for Music Education (NAfME.org)
Published Date
September 23, 2021
Copyright
September 23, 2021. © National Association for Music Education (NAfME.org)