June Update: U.S. Debt Ceiling: What Is It and What Was Done to Avoid a Default?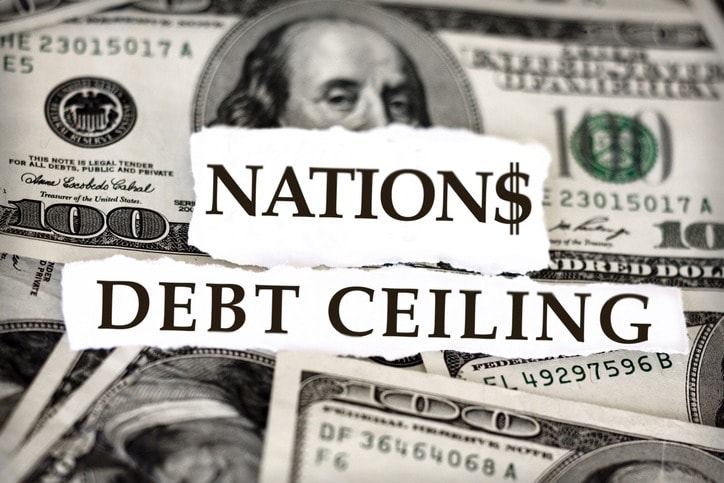 By Zachary Keita, NAfME Advocacy and Public Policy Communications Manager
In January 2023, U.S. Secretary of the Treasury Janet Yellen informed Congress that the United States was projected to hit its debt limit ($31.4 Trillion) later that month. To avoid the government surpassing its debt limit, Secretary Yellen began taking "extraordinary measures" that would allow the Treasury Department to continue financing its obligations through June 2023. These measures provided Congress additional months to come to an agreement on raising the debt limit, which has been raised more than 100 times since the 1940s. If Congress failed to raise the debt limit by this summer, the United States would have default on its obligations for the first time in history.
What Is the Debt Ceiling
To begin understanding the debt ceiling, we must establish the fact that the federal government regularly operates in a deficit. In other words, more money is spent during the Fiscal Year than revenue received in the form of taxes. The federal government must borrow money, typically in the form of issuing bonds, to continue operations, and the sum of these bonds makes up the federal debt. As the federal government continues to operate at a (growing) deficit, the federal debt continues to rise.
The federal debt ceiling acts as a self-imposed cap on the total amount of money the federal government is allowed to borrow to fulfill its obligations (i.e., Social Security, Medicaid, active-duty military salaries, etc.). The debt ceiling is set by Congress and can only be raised through congressional authorization. Typically, Congress works quickly to raise the debt limit and avoid any potential defaults, but a more drawn-out debate, centered on how to avoid hitting the debt limit in the future, will most likely stall the 118th Congress' decision on raising the debt limit.
House of Representatives Advances Debt Ceiling Legislation
On May 31, the U.S House of Representatives voted to advance the Fiscal Responsibility Act (FRA), spearheaded by the Biden Administration and Speaker of the House Kevin McCarthy. The Senate passed the bill on June 1, and it was signed into law by President Biden on June 3.
This proposal would suspend the debt ceiling until 2025, avoiding a potential government default, while paring back some of the more egregious funding cuts proposed by Speaker McCarthy's original bill (see below). FRA is a wide-reaching bill, impacting a wide range of government programs. Here, we will discuss FRA's budgetary implications, specifically as they pertain to the upcoming fiscal year's education budget.
Cap nondiscretionary defense (NDD) spending in FY 2024 at a level of $704 billion ($40 million or 5% less than FY 2023)

Veterans healthcare is exempt from cuts and would receive $121 billion in FY 2024
NDD funding (outside of VA healthcare) would receive $583 billion ($42 billion or 7% less than FY 2023)

Require the Biden Administration to resume collecting student loan payments and interest

Prohibits the Secretary of Education from extending the ongoing loan freeze, under any circumstances
Preserves the Secretary's power to freeze student loans during a future emergency
The original debt ceiling legislation proposed by Speaker McCarthy would have had drastic implications to the NDD budget, with potential across-the-board cuts as high as 22%. While FRA does limit government spending for the upcoming fiscal year, its impact on NDD funding is relatively minimal. Overall, NDD funding would total ~$42 billion or 7% lower than FY 2023 funding levels. A 7% cut to NDD funding would still be quite drastic; fortunately, FRA contains provisions to offset this funding reduction, through the repurposing of previously unspent pandemic relief funds and reallocation of funds directed to the Internal Revenue Service. After the proposed funding adjustments, the Biden Administration estimates NDD funding to total $637 billion, ~$1 billion less than the FY 2023 funding levels.
While FRA is not the "clean" debt limit bill originally proposed by the Biden Administration and supported by NAfME, we applaud this bipartisan effort to avoid default, while insulating NDD funding from drastic cuts.
What Is Being Done to Avoid a Default?
Until last week, the only active measures taken by the federal government to avoid hitting the debt ceiling were the "extraordinary measures" being employed by the Treasury Department, such as potentially not funding retirement programs for government employees. Ultimately, the decision to raise the debt limit and avoid a government default falls on the shoulders of Congress. Democrats in Congress expressed their desire to quickly raise the debt limit, while U.S. Speaker of the House Kevin McCarthy and other House Republicans stated their desire to raise the debt limit contingent on future spending cuts.
House Republican Debt Ceiling Proposal
On April 23, Speaker McCarthy put forth his party's plan to raise the government's debt limit and avoid a potential default in June. Speaker McCarthy's debt ceiling proposal would have raised the debt limit by $1.5 trillion in FY 2024, allowing the government to continue funding its obligations for the foreseeable future.
As promised, Speaker McCarthy's proposal included provisions to cap future government spending, in the hopes of preventing a similar debt limit situation in the future. The proposed caps to government funding would have limited the federal government's budget to FY 2022 levels for the next nine years (allowing for a 1% yearly increase).
Speaker McCarthy's proposal could have had devastating implications for the federal budget, including education funding. To reach FY 2022 funding levels in FY 2024, $144 billion would have to be cut from the current fiscal year's funding level. Republican legislators shared their desire to apply these cuts unilaterally to non-defense discretionary funding, which would result in a 22% reduction in funds available to administer a broad range of critical programs, including those administered by the Department of Education (ED).
Department of Education: Implications of Debt Ceiling Proposal on Education
Reduce Title I funding by approximately $4 billion

Cuts would negatively affect approximately 26 million students from low-income backgrounds
Lowest funding level in nearly a decade

Reduce support for students with disabilities

Approximately 7.5 million children with disabilities would be adversely affected

Lower availability of mental health supports for students

Cuts would result in up to a $300 million decrease in Title IV-A funding

Reduce maximum Pell Grant award and lower number of recipients

Maximum award would be reduced by nearly $1,000
Up to 80,000 students would not receive Pell Grants
In this recent letter sent to Congress, more than 140 organizations including NAfME expressed concern that default, or even the threat of default, would have "a devastating impact on all Americans," especially those who rely on federal programs and services and would be adversely affected by rising interest rates.
NAfME was deeply alarmed by calls from some in Congress for deep cuts to non-defense programs.  We urged Congress to reject these proposed cuts, and work in a bipartisan manner to pass a clean bill raising the debt limit, without provisions to cap government spending for nearly a decade.
Join the ongoing NAfME campaign to support programs and legislation impacting all major arts disciplines. This year's appropriations cycle is set to be an uphill battle, and now more than ever, we need to show legislators that federal programs impacting music and the arts have robust support. Use the Support for Music and Arts Education campaign to send a message to legislators and share this campaign with advocates in your circle. The time to advocate is now!
Updated June 14, 2023. © National Association for Music Education
Published Date
May 3, 2023
Category
Advocacy

Federal Advocacy & Public Policy
Copyright
May 3, 2023. © National Association for Music Education (NAfME.org)