Vision Boards, Lin-Manuel Miranda, and a Surprise
When One Teacher Didn't Throw Away Her Shot
By NAfME Member Lesley Moffat
Online band is hard. 
In an environment where students and teachers normally collaborate and work toward shared goals through the work we do in our ensembles, I was struggling with how to teach those important skills in a virtual environment, and I knew that if I didn't find a way to help students nurture those skills now, then it would make our work harder when we eventually return to the classroom. 
Enter—vision boards. 
One of the activities my students and I did is create vision boards that identify one goal we want to accomplish by the end of the school year. When we were making the boards, students asked me what my goal is, and I replied, "I want to have Lin-Manuel Miranda as a guest co-host for You, Me, & A Cup of Tea" (which is the new daily routine we do at the beginning of each class: I spotlight a different student each day with an interview, and they share some music with the class). We've been studying Hamilton, and I saw the opportunity for him to not only inspire my own students who are desperately missing making music with their friends but also to speak to music teachers and students with whom I could share this video.
My purpose in doing so was to 1) show my students the power of having a vision, taking steps to reach the goal, and reaching out for help when they need help, and 2) creating a video that can be shared with music educators and students around the world who could use some uplifting words from Lin-Manuel to remind them of the power of the arts—and not to give up when circumstances become difficult.
Fast-forward a few weeks—a short video I posted on Facebook was viewed tens of thousands of times and shared by hundreds of people. I received countless messages with email addresses and other ways to contact Lin-Manuel. I followed up with all of the leads.
But it was William who got Lin to respond.
I awoke early one morning to find a package on my front porch with a note that said, "DO NOT OPEN UNTIL DIRECTED BY Honors Wind Ensemble." A few hours later during our online class, I was instructed to open the mystery box.
Inside the box was an envelope. When Will said, "Ms. Moffat, who's it from?", I looked at the return address, and my jaw fell to the floor when I saw Lin-Manuel Miranda's name in the top left-hand corner of the envelope!
As I opened the envelope and I realized what Will had done, the tears started flowing.
In my hands was a handwritten note thanking me for my work with my students. And on my computer screen I saw the dozens of kiddos I've been with for years share in the joy and excitement of this moment.
Excerpt from Will's email to me about how this happened:
I was pretty excited too because less than 24 hours after sending an email to Lin-Manuel, I got a response back from his staffer! I was amazed out of my mind that I was talking to Lin-Manuel's staff member! She said that Lin-Manuel would write you a handwritten letter, and I got so excited! I didn't think it would arrive because of the valiant efforts you have been making to meet him. When I got the letter in the mail, I started jumping up and down! I was not only excited that I was holding something touched by THE Lin-Manuel Miranda, but I was also excited to see your reaction. I have experienced a lot of troubles throughout this pandemic that a lot of other people have as well. It made me so happy to see your reaction and feel the joy coming through the screen. It also made me happy that we can still enjoy these experiences through zoom and still make everyone happy. ????
I am beyond honored to have received a handwritten letter from Lin-Manuel. Sharing that joy with the kids was really a powerful bonding moment—much like when we all have a performance that required a lot of hard work to make happen, but the payoff is grand when it all comes together.
Since we couldn't have a winter concert this year, I created a special video for my students to summarize our Online Band experience. The letter from Lin-Manuel made the video. (Disclaimer: My first day ever rapping was 36 hours before recording this . . . just sayin'!)
I have not given up on having Lin-Manuel as a co-host for You, Me & A Cup of Tea. I have put together a handful of questions to ask him to inspire teachers and students who are struggling with missing making music with their peers and questions for his advice to decision-makers about the importance of keeping the arts alive and well in spite of financial challenges. Our kids have never needed the arts like they do now during these challenging times.
About the author: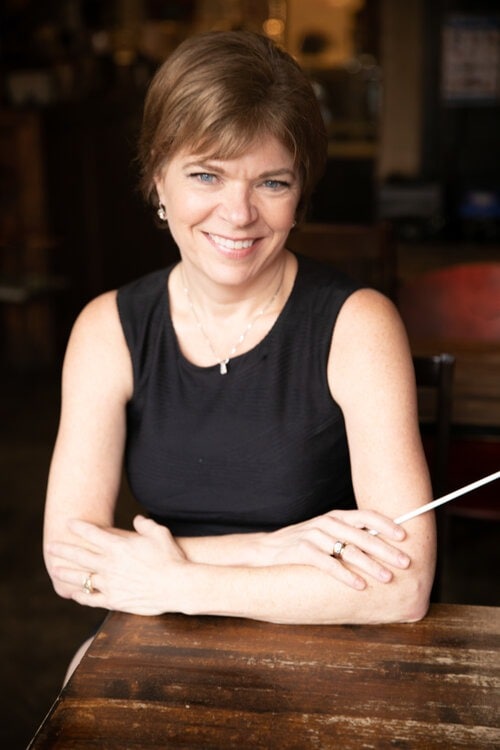 NAfME member Lesley Moffat has taught high school band for more than thirty years and is currently the Director of Bands at Jackson High School in Mill Creek, Washington. She is the author of I Love My Job But It's Killing Me: The Teacher's Guide to Conquering Chronic Stress and Sickness. Moffat has been a presenter at multiple NAfME conferences and participated in conferences and webinars for Washington, Illinois, and Pennsylvania as well as being a guest on podcasts and serving as a guest conductor and adjudicator throughout the Pacific Northwest.
Did this blog spur new ideas for your music program? Share them on Amplify! Interested in reprinting this article? Please review the reprint guidelines.
The National Association for Music Education (NAfME) provides a number of forums for the sharing of information and opinion, including blogs and postings on our website, articles and columns in our magazines and journals, and postings to our Amplify member portal. Unless specifically noted, the views expressed in these media do not necessarily represent the policy or views of the Association, its officers, or its employees.
January 8, 2021. © National Association for Music Education (NAfME.org)
Published Date
January 8, 2021
Copyright
January 8, 2021. © National Association for Music Education (NAfME.org)