RESTON, VA  (November 4, 2014) –The National Association for Music Education announced that Cynthia Napierkowski, Director of Bands at Salem High School in Salem, Massachusetts is the recipient of the 2014 George N. Parks Award for Leadership in Music Education. She will receive the award at the Bands of America Grand National Championships in Indianapolis on Saturday, November 15, 2014.
Developed by NAfME and Music for All, the award is named for George N. Parks (1953–2010), director of the University of Massachusetts Minuteman Marching Band at the University of Massachusetts Amherst from 1977 until his death. Considered a national authority on drum majoring, he led the George N. Parks Drum Major Academy, a summer workshop program for high school drum majors.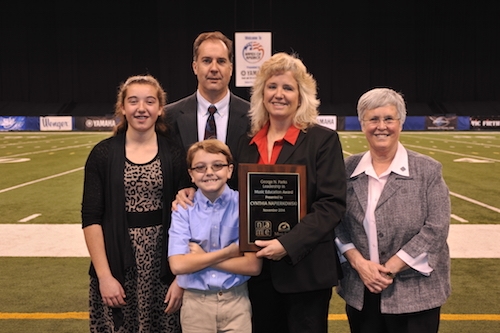 "The George N. Parks Award honors an exemplary music educator who embodies the characteristics and leadership that Mr. Parks showed his students every day," said Michael A. Butera, executive director of NAfME. "The recipient must have a collaborative spirit, dedication to knowing the students as people, perseverance and enthusiasm, and an ability to instill qualities in students beyond the musical. We are greatly pleased to present Cynthia Napierkowski with this year's honor."
A member of NAfME and the Massachusetts Music Educators Association, Cynthia Napierkowski has helped to grow the number of students involved in programs from 33 in 1987 to its current 115+ and increased the opportunities available to Salem's youth; the high school band program now consists of the marching and concert bands, jazz band, fall and winter colorguard, percussion ensemble, the Tri-M Music Honor Society and much more. When asked previously about making a difference in students' lives, Cynthia responded:
"I go to work every day ready to do battle, not with the students but for the students. A well-rounded music program makes for well-rounded people and I truly believe that music makes a significant difference in our students' lives. I was fortunate to have some wonderful teachers growing up and my way of paying them back and saying "thank you" to them is to try to make a difference for my own students. I want my students to have someone who believes in them and someone who will stand by them when the going gets tough."

– Cynthia Napierkowski, quote from the monthly newsletter, Minuteman Band Alumni Association 
For more information, visit this page.
###
 National Association for Music Education, among the world's largest arts education organizations, is the only association that addresses all aspects of music education. NAfME advocates at the local, state, and national levels; provides resources for teachers, parents, and administrators; hosts professional development events; and offers a variety of opportunities for students and teachers. The Association orchestrates success for millions of students nationwide and has supported music educators at all teaching levels for more than a century.
Follow NAfME on Twitter (twitter.com/nafme) and on Facebook (facebook.com/nafme).