NAfME News and Publications
We encourage you to drop by this page often to learn what's new, what's relevant, and what's making a difference for NAfME members. Scroll down to view all publications, news, and the blog.
Periodicals
NAfME publishes six periodicals. NAfME members can view back issues of all NAfME periodicals in their entirety at no charge. Visit the links on this page to login.
ADVERTISERS: Learn more about NAfME print and online advertising opportunities including the purchase of targeted direct mail lists.
CHANGE OF ADDRESS: To change your mailing address please go to our website (www.nafme.org) and click on Login at the top of the page, and choose "Manage Profile" on the banner at the top.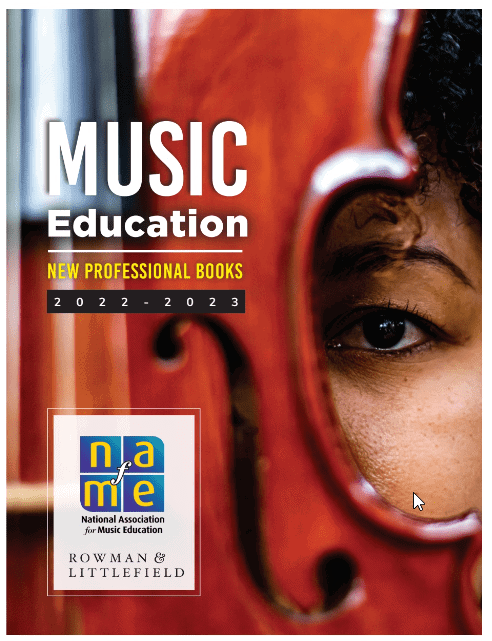 Books
NAfME has published more than 100 book titles over the years, and continues to publish works that help fulfill the NAfME mission and strategic plan.
NAfME books cover a wide range of topics: national standards, curriculum and assessment, special needs, multicultural music and curriculum, band, chorus, general music, jazz, early childhood, history, philosophy, and symposium proceedings.
NAfME books are co-published by Rowman & Littlefield (R&L) of Lanham, Maryland.
Book Catalog
The  2022-2023 NAfME Digital Catalog features the newest books from NAfME/RLE. Also, view a categorized list of selected NAfME books and read about our new releases.
For a complete list, visit the R&L website and select "Other Imprints & Co-Publishing Partners" or call R&L Customer Service at 800-462-6420. When ordering, remember to provide your NAfME membership information to receive the 25% discount. 
Want to Write a Book for NAfME? Read the NAfME Book proposal guidelines.
Desk Copy Inquiries: Contact the R&L College Marketing Department at 1-800-273-5720.
Blog and Association News
NAfME members along with outside contributors who are music education experts offer an array of articles and resources in this music blog to support music educators and those who advocate for them. Interested in writing for us? Pitch your idea to catherinah@nafme.org! (Music in a Minuet Blog Guidelines) Interested in reprinting an article? Please review our Reprint Permission Requirements.
Enjoy reading our blog posts? Check your NAfME Notes, the biweekly e-newsletter, for highlights. Be sure to add notes@nafme.org to your safe senders list. View the archives.
Categories of Interest
Member Spotlights
In addition, members, if you'd like to share a story that might be worth adding to the blog, we'd like to hear it or see it!