National Executive Board Member
Southwestern Division Immediate Past President
NAfME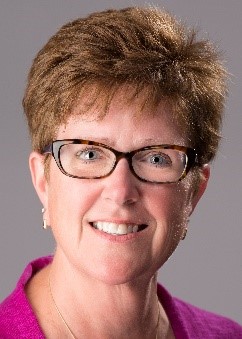 Anne Dawson is in her 28th year as the choral music director at Westmoore High School, where she directs four performing groups (Chamber Choir, Treble Chorale, Freshman Chorale, and Chamber Singers) and teaches Advanced Placement Music Theory and Music Appreciation. Under her direction her choirs have received superior ratings at district, state, and national festivals and have appeared as honor groups at OkMEA. Westmoore's Chamber Choir has appeared with Canterbury Choral Society and the Oklahoma City Philharmonic in performances of Duruflé's Requiem and Vivaldi's Gloria.
Dawson received a Bachelor of Music Education degree from Truman State University (formerly Northeast Missouri State University) in Kirksville, Missouri, and a Master of Music degree in Vocal Performance from the University of Oklahoma. Prior to assuming her position at Westmoore, she team-taught junior high and high school vocal music at Weatherford Public Schools in Weatherford, Oklahoma. While in Weatherford, Dawson was also employed by Southwestern Oklahoma State University as an adjunct voice teacher.
Dawson has adjudicated district and state music festivals in Oklahoma and Missouri. In addition to her position at Westmoore, she has served on the choral faculty of the Oklahoma Summer Arts Institute and the Canterbury Choral Society Board of Directors. She has held the offices of OkMEA All-State Mixed Chorus chairman for the 2010-2011 school year; Choral Vice President of OkMEA from 2012-2014; 2014-2016 OkMEA President-Elect; and OkMEA President from 2016-2018. In 2013 Dawson received the OkMEA Exemplary Teacher in Secondary Music Education. She has served as an Advanced Placement Music Theory reader for the past 13 years, nine of those in a leadership position. She is a member of the American Choral Directors Association, Oklahoma Choral Directors Association, and National Association for Music Education. Dawson is currently on the music staff at Westminster Presbyterian Church in Oklahoma City.
Job Position
Director of Choral Music and AP Music Theory
Organization
Westmoore High School