2022 Performing Arts Conference Brings in Record Numbers to Denver, Colorado 
"Shaking Up" the Status Quo 
Sponsored by National Federation of State High School Associations
A record 96 representatives, 23 states, and 15 national organizations took part in the 23rd annual NFHS Performing Arts Conference (PAC) held on September 19th – 21st in Denver, Colorado. The 2022 PAC marks the largest number of attendees at the PAC. As individuals came from across the country to hear from speakers on a variety of topics, attendees had the opportunity to hear approximately 25 different topics that pertained to the performing arts space.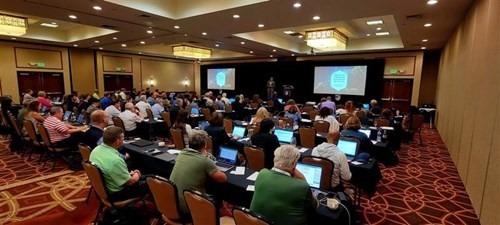 This conference has grown significantly over the years, increasing from 82 participants in 2021, while retaining longtime patrons.
One PAC veteran, Craig Manteuffel, NFHS Music Committee Chairperson and Assistant Executive Director at the Kansas State High School Activities Association (KSHSAA), reflected on his previous experiences while assessing the conference's evolution in recent years.
"I attended the PAC for the first time in 2015. Networking was exactly what I needed in my first year at the KSHSAA," remarked Manteuffel. "Since that time, we have seen tremendous growth for the PAC. The number of attendees has tripled, which is awesome, but now all sessions and presenters are locked in on the current challenges that state music administrators are facing across our country. Dr. James Weaver, Kyle Mills, Ken Burke (NFHS staff), and the two committee chairs work diligently throughout the year to offer the best conference possible. We have already started working on ideas for next year's 2023 PAC. Please join us—you will not be disappointed!"
The 2022 Performing Arts Conference featured many presenters, including Jon Oglesby, Utah High School Activities Association Assistant Director, as the keynote speaker. Throughout his speech, Oglesby emphasized the idea of "shaking it up" as educators, administrators, and individuals, and how people can embrace change while facing difficult circumstances.
Throughout Oglesby's presentation, he gave clear examples on how attendees could "shake up their minds" as individuals and why they should step out of their comfort zones while disrupting their daily patterns. Oglesby explained that the only way people can continuously improve is by accepting their own flaws, challenging themselves daily, and embracing change in their routines. Through positivity, determination, and a servant mindset, he concludes that it is never too late to shake it up and make improvements in daily life.
"The education community is going through a period of profound change, and educators need to be ready to 'shake up' the status quo to better reach our students and communities," said Oglesby. "However, even in the process of making those professional changes, educators need to also be aware of the small changes that can be made in both our relationships and personal lives to revitalize and reinvigorate our dedication to this noble calling. It's amazing what people are capable of when they look at shaking up the habits, hurts, and mindsets that have bogged us all down at times, whether personally or professionally."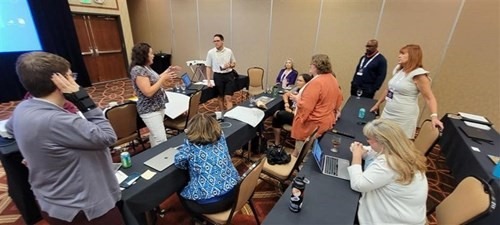 Along with Oglesby's inspiring words, attendees had the opportunity to network in small groups and workshops and during meals. Through lunch breaks, exploring the city of Denver after workshops had concluded, and going to the best restaurants that the town had to provide, the networking aspect plays a crucial part in bringing in attendees annually.
Speech, debate, and theatre workshops were held on September 19 and 20, followed by a transition into the combined sessions with music. Music sessions began in the afternoon of the second day and continued into the third, and featured sessions on Rebuilding Motivation in Coaches and Students, Teacher Shortages, and Achieving a Work Life Balance.
"From topics such as strengthening inclusion within contests to capitalizing on what we've learned through the COVID-19 crisis in order to make our activities stronger, to specific strategies for advocating for our performing arts programs, each speaker was truly inspiring and provided us keys to being more effective administrators of essential programs for students," said Jana Riggins, NFHS Speech, Debate, and Theatre Committee Chairperson and UIL (Texas University Interscholastic League) State Director of Speech & Debate, Congress. "The conference is an invaluable think tank. The unique opportunity it provides in drawing energy and ideas from other state association colleagues and fine arts administrators across the nation builds strong links of network support. I anticipate constructive dialogue to continue throughout the year as we all face the challenges of recruitment, motivation, and inclusion."
Through all the dialogue, presentations, and collaborations, the 2022 Performing Arts Conference brought more people than ever before to learn about different topics within the performing arts world and highlighted important efforts put forth by performing arts administrators and students across the states, the nation, and the world.
Visit the NFHS Performing Arts web page to view resources and materials from every presentation that occurred at the 2022 NFHS Performing Arts Conference!
See also "How State Associations Can Support School Music Programs."
Did this blog spur new ideas for your music program? Share them on Amplify! Interested in reprinting this article? Please review the reprint guidelines.
The National Association for Music Education (NAfME) provides a number of forums for the sharing of information and opinion, including blogs and postings on our website, articles and columns in our magazines and journals, and postings to our Amplify member portal. Unless specifically noted, the views expressed in these media do not necessarily represent the policy or views of the Association, its officers, or its employees.
November 14, 2022. © National Association for Music Education (NAfME.org)
Published Date
November 14, 2022
Category
Music Education Profession
Copyright
November 14, 2022. © National Association for Music Education (NAfME.org)