5 Tips to Make Yourself Marketable as a Music Educator
By NAfME Members Kate Evans and Danielle Woolery
Applying for jobs can be overwhelming. You may find yourself thinking:
When should I start thinking about my job search?
Am I doing enough to make myself marketable before graduation?
Some students wait until the end of their degree to prepare for their job search. You may have heard that:
Your college or professors will find you a job.
School districts will find you.
Only the best music students will get jobs.
If you believe any of these statements, your future may seem bleak! In reality, however, there are several steps you can take to make yourself more marketable and even better prepared as you finish your pre-service education and begin to look for a job. We have compiled a list of our favorite 5 tips here!
Tip #1: Be Proactive and Seek Guidance
The music world is small, and you have only one chance to make a first impression. Therefore, it is important to be professional from the start of your college career. How can you do this?
Introduce yourself to the music education faculty at your school, even if you will not actually have them for class right away! They will enjoy meeting you and knowing that you are invested in your future career path.
Get to know your music advisor. Sit down with them and map out a long-term plan, and be sure to follow-up every semester. Ask them for insight and listen to their recommendations to help you be successful!
Tip #2: Get Involved 
While your academic and musical studies are important, you should also be involved in a variety of activities.
Participate in as many ensembles as possible, especially if you want to be an ensemble director! You will learn musicianship and team-working skills, can start to think more like a director, and gain rehearsal techniques and strategies.
Join an ensemble on a secondary instrument. This will make you even more marketable, aid in preparation for your music content exam, and help you to make connections between the different areas.
Diversify your background with chamber ensembles and musical productions. Jazz ensemble, performing on stage or in the pit for an opera or musical, mariachi ensemble, and popular music groups are just a few of the options that can showcase your versatility.
Tip #3: Build Your Network
Finding ways to build your network is a vital part of making yourself stand out from the crowd.
Campus music organizations can help you gain valuable experience and networking opportunities. Joining your collegiate chapter of the National Association for Music Education, a professional music organization, or a music fraternity can provide you with professional development, leadership, and service opportunities focused on your main area(s) of interest.
Take advantage of student rates at professional development events and conferences.
Attend workshops, master classes, symposiums, or music reading sessions to enhance your skill set.
Tip #4: Gain Experience
Volunteering shows that you are willing to work hard without substantial financial reward… sounds like the life of a music teacher, right? College provides many opportunities to gain relevant experience, with options ranging from assisting with recruitment events to performing in your local community. You can gain teaching and conducting experience by:
teaching private lessons
working as a marching band drill tech
leading sectionals
directing or interning with a community choir or summer camp
Tip #5: Finding an Ideal Fit 
Student teaching provides an opportunity to put your skills and knowledge into practice while working under the guidance of mentor teachers. How can you build relationships with educators throughout your degree to help you find mentor teachers who inspire you?
Attend local school concerts, music assessments, and summer camps.
Visit multiple programs so you can begin to network with potential mentor teachers while observing in a variety of settings.
Make a list of teachers you would like to work with based on field experiences, conference presentations, performances, and word of mouth.
Speak with senior music education students and recent graduates about their student teaching experiences.
Seek advice from music education faculty.
Final Advice
Your future is bright and filled with many possibilities! Remember to seek the advice and guidance of trusted individuals, advocate for yourself, and be confident in your training and abilities. Find what makes you unique and build upon your strengths. As you worry about writing lesson plans, applied lesson juries, and ear training tests, keep sight of your end goal—becoming the best music educator you can be. By being proactive and intentional about building your resume throughout your journey, you can reach your ultimate goal of being an employed music teacher!
This blog post was adapted from the authors' article that appeared in the Maryland Music Educator journal (Summer 2019) entitled, "Strategies for Success: Making Yourself Marketable as a Music Educator."
About the authors:
NAfME member Kathryn L. Evans, Associate Professor of Music Education at Towson University, is a specialist in choral and secondary general music education. Prior to joining the faculty of Towson University, she taught K–12 choir and general music in northern Michigan. An active clinician, conductor, adjudicator, and researcher, Dr. Evans has worked with honor choirs, served as a frequent adjudicator for choral assessments, and has presented at conferences and teacher in-services internationally and across the United States.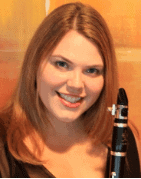 NAfME member Danielle Woolery is Associate Professor of Music and Coordinator of Instrumental Studies at Texas Woman's University in Denton, Texas, where she teaches clarinet and courses in music education and pedagogy. Dr. Woolery is an active chamber music performer and clinician and has given performances and presentations both nationally and internationally. She was awarded first prize in the 2013 International Clarinet Association Research Competition in Assisi, Italy, and serves as president of the National Association of College Wind and Percussion Instructors.
Did this blog spur new ideas for your music program? Share them on Amplify! Interested in reprinting this article? Please review the reprint guidelines.
The National Association for Music Education (NAfME) provides a number of forums for the sharing of information and opinion, including blogs and postings on our website, articles and columns in our magazines and journals, and postings to our Amplify member portal. Unless specifically noted, the views expressed in these media do not necessarily represent the policy or views of the Association, its officers, or its employees.
July 22, 2021. © National Association for Music Education (NAfME.org)
Published Date
July 22, 2021
Copyright
July 22, 2021. © National Association for Music Education (NAfME.org)