A Seat at the Table
Guitar Education in Virginia

[1]
By Kevin Vigil, NAfME Council for Guitar Education Southern Division Representative 
This article first appeared in the Guitar Foundation of America (GFA) magazine Soundboard – The Journal of the Guitar Foundation of America, Vol. 48, No.3, September 2022 issue.
NAfME thanks the following members of the Guitar Foundation of America (GFA) staff for granting permission and helping bridge GFA and NAfME to promote better music education practices and applications: Martha Masters, GFA President & Artistic Director; Robert Ferguson, GFA Editor-in-Chief; Chuck Hulihan, GFA Education Director.
The title of this article was inspired by conversations that I had with Chuck Hulihan, GFA Education Director, when he conducted the 2019 All-Virginia Guitar Ensemble (AVGE). As we drove from the Washington, DC, area to the beautiful hills of Hot Springs, Virginia, we kept coming back to the importance of having a seat at the table. Much of my discussion stems from my roles in the Virginia Music Educators Association (VMEA), state chapter of the National Association for Music Education (NAfME).
I got my seat at the table in 2015 when Glen McCarthy passed the proverbial baton to me (Figure 1) after he founded and organized the All-Virginia Guitar Ensemble over the prior two years. As chair of AVGE, I had a seat at the table as a member of the Virginia Music Educators Association Conference Planning Committee. My presence with VMEA leadership for the past several years has culminated in guitar having its own section under the VMEA umbrella, on par with band, orchestra, and choir. This new section is called the Virginia Guitar Directors Association (VGDA).
The guiding questions for this article are: 
How did we get to this point?
How will things work in this section?
What challenges do we have moving forward?
How Did We Get to This Point? 
I believe we reached this point by way of precedence and building credibility.
Precedence
While guitar in secondary schools has been around as far back as the 1960s, organizational precedence that directly led to the formation of the Virginia Guitar Directors Association can be documented starting in 2010:
2010 – New Mexico Music Educators Association (NMMEA) presented the first All-State Guitar program, organized by John Truitt.
2011 – Florida Music Educators Association (FMEA) presented its first All-State Guitar, organized by Ed Prasse.
2011 – NAfME formed the Council for Guitar Education with Glen McCarthy (Virginia) as its first chair.
2012 – NMMEA added a Vice-President for Guitar to its Constitution; first VP was John Truitt.
2013 – VMEA Executive Board unanimously approved formation of the All-Virginia Guitar Ensemble, proposed and organized by Glen McCarthy.
2017 – Texas Guitar Directors Association was founded, Edward Grigassy president.
2018 – NAfME All-National Honors Ensembles included guitar for the first time, managed by Bill Swick and conducted by Dr. Michael Quantz.
2018 – The VMEA Guitar Council was formed. I was charged to chair this council and by doing so, got a seat at the table as part of the VMEA Executive Board but not as a voting member.
Building Credibility: AVGE, VMEA Notes, VDOE, VGDA
All-Virginia Guitar Ensemble  
In 2015, when I chaired the All-Virginia Guitar Ensemble the first time, I felt it was important to reach out to the other musicians that were going to be at the Virginia Music Educators Association Professional Development Conference, whether their focus be band, orchestra, or choir. How would we get those people to attend a guitar concert?
I asked Alan Hirsh, 2015 conductor, if there was a piece that he could recommend with something other than guitar. He recommended his Celtic Suite,[2] which features flute and violin soloists. This was a wonderful suggestion. The students loved playing with the soloists. The work also attracted other musicians to the concert. The soloists, Joanne Meyer White (flute) and Jorge Aguirre (violin), their friends, as well as other wind and string players attended.
Matt Denman was our 2016 conductor. While he was amazing on his own, he came with a national stamp of approval. At that time he was GFA Education Director. Matt programmed Joe Williams' Austin Pictures for string quartet and guitar ensemble.[3] The James Madison University String Quartet and the AVGE students performed superbly, and as predicted, string players showed up to the performance.
Olga Amelkina-Vera conducted the 2017 AVGE. She programmed the Bachianas Brasileiras No. 5 by Heitor Villa-Lobos, arranged by her husband Fernand Vera.[4] This featured soprano soloist Meagan Sill. It was a beautiful performance, and friends of the soloist as well as vocal/choral teachers attended.
The year 2017 marked the fifth anniversary of the All-Virginia Guitar Ensemble. To celebrate the occasion, I invited Glen McCarthy to conduct the 2018 event. He was moved and honored to take the baton. Glen, being Glen, invited three others to conduct on the program as well: Alan Hirsh, Glenn Caluda, and Miroslav Lončar. Students had the wonderful opportunity to perform under four different conductors. I call this concert "Glen and Friends."
Chuck Hulihan was conductor of the 2019 AVGE (Figure 2). There were two special features to this program. Barbara Vigil was the flute soloist, who performed Tango Rhapsody by Rex Willis. Barbara is retired from the US Army Band "Pershing's Own." Her performance with the ensemble was followed by the world premiere of David Leisner's Medanales Morning for guitar orchestra, a consortium commission from David Wolf for the New York City Classical Guitar Society, the All-Virginia Guitar Ensemble, and the Legato Foundation.[5]
Due to the COVID-19 pandemic, the AVGE presented a virtual performance for the 2020 Virginia Music Educators Association Professional Development Conference. Guitar was the only VMEA section to have a student performance. This brought a lot of "street cred" and attention from the participants of this virtual conference, which was themed "Virginia Composers." All the featured composers had either lived, or still live, in Virginia: Justin Holland, Romana Hartmetz, John Graham, Glenn Caluda, Jeffrey Tanner, and Miroslav Lončar. Students met by part sections on Zoom with the composers present in these "sectionals." The video recording of the 2020 AVGE was broadcast several times during the conference and has received over 1,700 views on YouTube. What an audience for the students!
GFA president Martha Masters was conductor for the 2021 AVGE. This was a difficult event to plan as there was a looming possibility of a COVID cancellation. In the event of a canceled performance, an additional plan was in place in the form of a Virtual Guitar Orchestra, funded through the generous support of the Augustine Foundation. For this possible virtual performance, the students recorded the Allegro from Sonata in C by G. F. Telemann.[6]
Fortunately, the live performance was not canceled so we were able to move forward. The rehearsals were shortened by a day to minimize contact, but Martha and the students rose to the occasion, presenting a wonderful program before a live audience. The featured soloist was electric guitarist Matthew Dunlap, performing Thomas Flippin's The Covenant: Passacaglia for Minneapolis—a powerful performance of this work of social protest.[7]
VMEA Notes 
As chair of the Virginia Music Educators Association Guitar Council (2018–22), I was given a column in VMEA Notes, a triannual publication. While not a seat at the table, it did provide a platform for guitar education in Virginia. Unfortunately, VMEA Notes has recently been discontinued in favor of a newsletter, but the VMEA Notes archive, extending from 2012 to 2022, remains available online.
The primary focus of my columns was to support non-guitarist music educators. According to a study by Robert Pethel, only 7.9 percent of those who teach guitar consider themselves guitar specialists.[8] The following is a list of the columns with short descriptions:
"Introducing the VMEA Guitar Council" (Fall 2018). Photos and bios of the newly formed VMEA Guitar Council.
"Resources for the Guitar Teacher" (Winter 2019). Free online resources for guitar educators.
"Does What You Don't Know Hurt" (Spring 2019). Reflection on content knowledge.
"Seize Your Moment: Ernesto de la Cruz" (Fall 2019). Staying in touch with students' interests.
"Positioned for Success" (Winter 2020). Guitar position.
"Continuity of Education = Deeper Learning" (Spring 2020). Teaching online during COVID-19.
"Responding to COVID-19 in the Guitar Classroom" (Fall 2020). COVID prevention efforts.
"Minimizing Left-Hand Tension: Immediate Concerns and Larger Concepts" (Winter 2021). Left-hand technique.
"Right Hand Basics: Tone or Twang?" (Spring 2021). Tone production.
"Guitar: Symbol of Change – A Reflection on the Proposed VGDA" (Fall 2021). Demonstrating precedence to advocate for change.
"Guitar for the Non-Guitarist Music Educator" (Winter 2022). Based on a lecture for non-guitarist music education majors.
"VDOE Resources for Guitar" (Spring 2022). Review of guitar educator resources from the Virginia Department of Education.
Virginia Department of Education (VDOE)
As a member of the Virginia Music Educators Association Executive Board, I was present at a meeting in which volunteers were asked to give input regarding the forthcoming state standards for Fine Arts. The Virginia standards are called Standards of Learning (SOL). I worked with the ten members of our guitar council to create standards specific to guitar.
Standards of Learning for guitar already existed but only at one level in middle school and two levels in high school. We wanted to be consistent with band, orchestra, and choir, all of which had three levels in middle school and four in high school. Our proposed standards were published in a special edition of VMEA Notes.[9] After publication of these proposed guitar standards, I was offered the opportunity to apply to and sit on the VDOE Fine Arts SOL review and revision committee, giving me another seat at the table.
At the time I arrived in Williamsburg to join the Virginia Department of Education standards committee, music was broken down into the categories of Instrumental Music, Vocal/Choral Music, General Music, and Music Theory. My first question was, What happened to guitar? It turned out that VDOE decided to put it under General Music, and I was assigned to this and the Music Theory team. I approached the VDOE Fine Arts Coordinator and shared my concern about guitar being lumped in with General Music. I shared the council's proposed standards for guitar and argued my case. I must have said something right because she agreed to put guitar into Instrumental Music. Unfortunately, she did not allow me to switch to the Instrumental team.
The Instrumental team had a couple of teachers who taught guitar but were not themselves guitarists. They did their best to incorporate the guitar council's proposed standards and frequently asked questions. It was not ideal; none of the members of the Instrumental Committee were happy with the final result for them or guitar. That said, guitar does now exist at all levels, consistent with band, orchestra, and choir. The revised Fine Arts Standards of Learning were adopted in the fall of 2020. To support the new Fine Arts SOL, the Virginia Department of Education organized teams to create teacher resources in 2019. I was asked to work on a team of guitar educators led by Glen McCarthy. We created a total of ten resources, available on the VDOE website. They are:
Playing Guitar Charts with Open and Barre Chords
Mapping the Guitar Fretboard
Single String Jams
Restringing and Cleaning Classical Guitars
Playing the Blues
No Risk Guitar Composition
Teaching Guitar and Ukulele Workshop
Striking a Chord: Primary and Circle of Fifth Chord Progressions
Using Effects in the Creative Process
Introduction to Ukulele
VGDA Is Born 
In 2020, Virginia Music Educators Association president, Allen Hall, tasked our Guitar Council to draft bylaws and event procedures to form a new section for guitar under the VMEA umbrella. The council met consistently during the COVID lockdown to draft these documents. I shared the completed documents with the VMEA Executive Board in September of 2021 and proposed the formation of the Virginia Guitar Directors Association (VGDA) at the January 2022 meeting. The Executive Board voted with an overwhelming majority to move forward. After the Executive Board vote, our proposal needed to be voted on by the VMEA membership, who voted in favor of the new section on April 14, 2022 (Figure 4). I now have a new seat at the table as president of the VGDA—a full and voting member of the VMEA Executive Board.
How Will Things Work in This New Section? 
The Virginia Guitar Directors Association has been fully operational as of July 1, 2022. We had a special election for officers: President-Elect, President, Vice President, Secretary Treasurer, Middle School Representative, and four Regional Representatives. In addition to our All-State program, we will hold District and Regional Guitar Ensembles as well as District Guitar Assessments. In order to have assessments, it is important to have a graded repertoire list. Two of our council members, William Hart Wells and Aaron Kunk, have started a graded repertoire database with about one hundred fifty works so far. These will be essential for assessments and also serve as a resource for teachers to identify appropriate music for varying levels of ensemble music.
As president, I am able to create committees as can the Regional Representatives. These committees will support our various events but also continue with the advocacy efforts we had already started as a council. There will be a Collegiate Guitar Educators Committee, Fundraising Committee, Graded Repertoire Committee, and a Mentoring Committee. Our bylaws and event procedures were designed while keeping in mind the transient nature of guitar educators. By transient I simply mean that most who teach guitar in school systems are not themselves guitarists. They are band, orchestra, and choir teachers who have been assigned to teach guitar. They may only teach it for one or two years.
To make things more user-friendly for these transient guitar educators, no membership fee will be imposed beyond NAfME dues. All-State auditions will take place at multiple sites across the state. This eliminates travel to the state capital for auditions. Our District and Regional Ensembles will have no bearing on the All-State event. This allows and encourages students/teachers with less experienced programs to participate. The District and Regional ensembles will forgo auditions and use a quota system instead. Quota systems can be set up by each district and/or region as appropriate. By making things user-friendly to transient teachers, we believe that more students will have the opportunity to participate in higher-level events. Such events may also inspire them to audition for the All-State program and even the NAfME All-National Honor Guitar Ensemble.
What Challenges Do We Have Moving Forward? 
As exciting as it is that guitar now has its own section in the Virginia Music Educators Association, on par with band, orchestra, and choir, we still face several challenges in Virginia, and I suspect nationwide. While the creation of the Virginia Guitar Directors Association is a step toward equity in music education, we're not there yet. In Virginia, it seems guitar is becoming the instrument that keeps everyone else—band, orchestra, and choir directors—full time. Some of these teachers embrace the guitar and do a fantastic job. In fact, Chris Perez, who chairs the NAfME Council for Guitar Education, is a band person and does a stellar job. Empirical evidence, however, suggests that many of these teachers are simply assigned to teach guitar with no previous knowledge or experience. Thus, the need and demand for Teaching Guitar Workshops, Austin Guitar Society's Teacher Training, and Guitar in the Classroom Workshops.
Pre-service education for guitar is extremely inconsistent. According to Robert Pethel's research, 68 percent of guitar educators indicated that they rarely or never participated in guitar-related professional development, and 76.1 percent of them reported that their pre-service training provided little or no preparation for a career in guitar education.[10] The long-term solution is to have more guitar specialists in the field. The challenge is that principals are not necessarily looking to hire a guitar specialist. My recommendation is for guitarists who are interested in a music education career to pursue a music education degree with guitar as the primary instrument and another as secondary. Be able to teach at least two disciplines well. That way you can be of real service to your students.
In the meantime, more quality pre-service guitar method classes should be advocated for in music education programs. While nearly every program has a piano proficiency requirement, why not a guitar proficiency requirement? It seems to me that music educators are more likely to teach guitar than piano. The Virginia Music Educators Association started a mentor program for teachers who need assistance. The Virginia Guitar Directors Association plans to start regular sessions for non-guitarist educators to support them on issues of technique, fingerboard logic, repertoire, and anything else for which they need support.
Closing Thoughts 
I live in a musical family. My wife, Barbara, mentioned above, retired from the US Army Band "Pershing's Own" after twenty-six years of service (flute/piccolo). My daughter, Bonnie, is a violin performance major at Baldwin Wallace University. Their music education experiences were rich, rewarding, and recognized. This is not always the case with guitar­—at least up until now—in Virginia or most other places. But this is poised to change as more and more qualified guitar teachers find their own seat at the table.
About the author: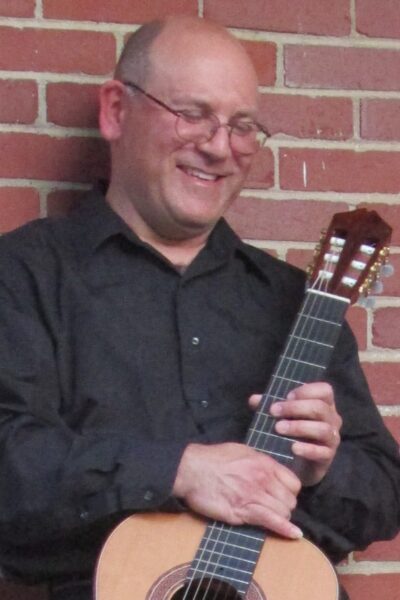 Kevin Vigil joined the faculty of Heritage High School in the 2005–06 school year. He was named the 2014 Shenandoah University Teacher of the Year for Loudoun County Public Schools and chosen as the 2020 Joan C. Edwards Distinguished Professor in the Arts at Marshall University. Dr. Vigil has been published in many music journals and has presented for several universities and organizations. He currently serves as president for the Virginia Guitar Directors Association and as the Southern Representative for the NAfME Council for Guitar Education.
Did this blog spur new ideas for your music program? Share them on Amplify! Interested in reprinting this article? Please review the reprint guidelines.
The National Association for Music Education (NAfME) provides a number of forums for the sharing of information and opinion, including blogs and postings on our website, articles and columns in our magazines and journals, and postings to our Amplify member portal. Unless specifically noted, the views expressed in these media do not necessarily represent the policy or views of the Association, its officers, or its employees.
February 23, 2023. © National Association for Music Education (NAfME.org)
[1] Adapted from the author's GFA Virtual Education Track Day presentation, June 27, 2022.
[2] Alan Hirsh, Celtic Suite, https://www.guitarensemblemusic.com.
[3] Joseph V. Williams II, Austin Pictures, 2011.
[4] Heitor Villa-Lobos, Bachianas Brasileinas No. 5, arr. Fernand Vera, 2012.
[5] Rex Willis, Tango Rhapsody, Clear Note, 2010; David Leisner, Medanales Morning, 2019, to be published by Merion Music/Theodore Presser.
[6] G. F. Telemann, Allegro from Sonata in C, arr. Peter Danner, Les Productions d'Oz, 1979.
[7] Thomas Flippin, The Covenant: Passacaglia for Minneapolis, thomasflippin.com/scores, 2021.
[8] Robert Pethel, "State of Guitar Education in the United States," Journal of Popular Music Education 3, no. 2, (Jul 2019): 245.
[9] VMEA Notes, Appendices A and B, www.vmea.com/documents/VMEA-Notes/2019/VMEA-Special-Edition-2019.pdf (2019): 5–25.
[10] Pethel, 245.
Published Date
February 23, 2023
Category
Ensembles

Recruitment and Retention
Copyright
February 23, 2023. © National Association for Music Education (NAfME.org)