A Thousand Little Things
Building Successful Band Programs in Smaller Schools
By NAfME Member John Cisetti
This article first appeared on J.W. Pepper's blog.
The student population at Louisburg High School where I'm in my 40th year of teaching is about 535 students. Yet we're proud that more than one-fourth of the student body is in marching band and that we were one of ten U.S. bands chosen to march in the Tournament of Roses Parade in January 2018.
It wasn't always this way. When I started teaching band to fifth through twelfth graders in our Kansas district many years ago, the band program was much smaller than it is now. But I don't think there's just one thing over the years that convinced our students to join band – it's a thousand little things.
Getting Students Involved in Band
Coordinating Calendars
One necessity for us has been to work around students' schedules. I have a dozen football players in my high school band and students involved in debate, vocal music, and numerous other activities. In a smaller school, we can't be exclusive if we want successful programs. We coordinate calendars and work closely with the counseling department to allow students to be involved in multiple activities and elective classes.
Sense of Community
I'm a big proponent of what I call "positive patriotism." This means actively supporting our community and our classmates and using our skills to benefit our country. We've been involved in many community service projects, and we've taken a major trip every four years so each student can participate in a destination event before graduation. During these trips, I've always scheduled a special patriotic performance.
When we traveled to Washington, D.C., for the National Independence Day Parade, we performed a wreath-laying ceremony at the Navy Memorial and at the tomb of John Philip Sousa. En route to New York City for the Veterans Day Parade, we stopped at the Flight 93 National Memorial in Pennsylvania to lay a wreath. Each of our trips has a similar moment when our band members pause to reflect on what is really important.
Fun Events
We also participate in some events that are just plain fun and get the community involved. For the past 18 years we have annually performed in an Electric Light Band Show. On a Saturday
night, band members decorate themselves in Christmas lights and glow sticks. We turn the lights out in the stadium, and we march through our show in the dark. There also are fireworks. The annual event packs the stadium with many parents, community members, and alumni.
Staying Up to Date
Over the years, I have also regularly tried new things that help me reach today's students. I've incorporated technology to help the band grow stronger. We now utilize a drone camera during rehearsals in marching season. This enables the students to check sets.
I also email the students sight-reading exercises that they access each day on their Chromebooks. Likewise, I use older technology, such as a document camera, so I can show the section of the score we're working on and they can see where their part fits into the whole composition.
Contending with Instrumentation Needs and Different Ability Levels
Feeder Program
Since we are in a smaller school district, I've had to ensure we have the instrumentation we need. One facet of my job that has helped is that I control the high school feeder program since I also teach fifth through eighth grade.
Our fifth-grade students start by taking flute, clarinet, trumpet, or trombone. When they move to middle school, we add other instruments, such as French horn, saxophone, or percussion. At this point, I try to get the students in the right place, considering their interest and talent as well as the needs of the group. This helps balance our bands in terms of ability and instrumentation as the students move on to high school.
Middle School Cadet Band for Beginning Students
We've also added a program to help students who may be getting a late start. Our beginning band opportunities for middle schoolers allow students to see if band may be something they'd enjoy. We don't want students to think they are out of luck if they didn't sign up in fifth grade.
We hope this program will help further expand our band program. It also allows us to accommodate students who may be at a different ability level because of a lack of experience.
Summer Band
Summer band, which is separate from marching band camp, has been a very important part of our program. It has given us a jump-start on the music for the next school year. It has also provided opportunities for musical experimentation and growth. Each year I have given students a chance to learn a second instrument during summer band. Sometimes the students like the new instrument so much they switch; other times it just expands their musical knowledge.
This yearly opportunity to try different instruments has helped our efforts to ensure we have the instrument balance we need in our band. It also increases the students' general interest and love of music.
Marching Band Drills
I write my own drills because I enjoy doing it, and I know my band. It's a lot of work, and I have worked late into the night on numerous occasions to complete the task. But if I put in the right amount of work, I think it makes it possible for the students to be successful. They are happier participating in band when they can perform at the highest level possible for them, and that is more likely to happen if I give them music and drills that work for their ability level and band size.
How to Get Chosen for Bigger Events
Our success in getting accepted into larger parades, sporting events, and ceremonies has no doubt enhanced our students' enjoyment in band. In the beginning of my teaching career, we participated only in local and regional events. Over time we began throwing our name in the hat for large national events.
Participating in the Tournament of Roses Parade in Pasadena, California, took five applications and many years before we were accepted. Each application to the parade was a learning experience, so it was worthwhile whether we were accepted or not. We had to submit photos, resumes, and letters of recommendation along with a five-minute video. The video includes an introduction to the band, footage of the band in full uniform marching around a corner, and highlights of our field show.
After our fourth application, the Rose Parade committee said they liked our story, but we needed to be bigger and louder to grab attention. They suggested we add our eighth graders to the band, and that's what we did. I went to the Louisburg City Council and asked them to shut down Main Street so our now nearly 200-member band could be videotaped marching around a corner for application number five. It became a huge community event. The police and fire departments blocked the roads, and community members lined the streets holding U.S. flags. That effort did the trick, and we were selected to participate.
From there, our time was dedicated to preparing for the event. We
painted a full-scale replica of Pasadena's TV corner in our middle school parking lot. We worked on our endurance to tackle the five-and-a-half-mile-long parade trek. In the summer, the band met at the track twice a week for two hours of walking and marching. We did our fundraising, practiced our music, and made our travel plans. In the end, our participation went so well that our band was awarded the first Tournament of Roses Michael D. Sewell Service Through Music Award.
Creating Memories
Along the way, the biggest sign of success for us has been the fact we've created memories. During our trip to Sousa's tomb, I was allowed to use one of Sousa's batons to conduct the band during our wreath-laying ceremony. That memorable moment gave me the idea of ordering 11 custom-made batons for our trip to the Rose Parade. During our field show in California, I used each one and then handed them to the chosen recipients, which included our drum majors, the president of our band organization, our tour operator, and my three children.
A baton is not a magic wand; there's nothing magical about it. It's just a stick. But with it, we make the magic happen.
I've kept other memorabilia over the years. On my band room walls are flags from all the states where we have performed, pennants from all the colleges where we have played, and old uniforms dating all the way back to 1955. But the most important item on the wall is a big red sign with two words: "The Future…"
Schools were never meant to be museums. Schools are not about the past; they are about the future. Everything I hang on the wall is an arrow pointing forward and asking, "What's next? What's next for the band, what's next for you, and what's next for me?"
Marching in the Rose Parade will be one of the top ten things my students do in their lives, but I tell them there are nine other things that will make that list. What will be the other nine? I'm hoping band will give them the foundation they need to succeed, and as I look to retirement after this year, I hope my students have learned to keep marching forward to the next great adventure their lives have to offer.
View sheet music and other resources for your band, including:
Patriotic marching band music
Sight-reading
Music scored for small bands or bands with incomplete instrumentation
Drill design software
Photos courtesy of the author and J.W. Pepper.
About the author: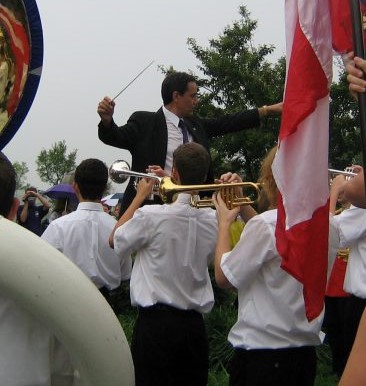 NAfME member John Cisetti has led the band program at Louisburg, Kansas, for 40 years. He teaches more than 350 students per day in grades five through twelve at three different buildings, and produces more than 60 public performances each year. His groups consistently receive first-division ratings. Mr. Cisetti was named the Louisburg USD #416 Secondary Teacher of the Year for 2018-2019 and a semifinalist for the 2019 Kansas Teacher of the Year. He was named a 2017 Laureate of the John Philip Sousa Foundation Bandworld Legion of Honor and was the 2015-2016 Northeast Kansas Music Educators Association Outstanding High School Band Director. He was awarded the Louisburg Master Teacher of the Year in 2000, was a semifinalist for the 2001 Kansas Teacher of the Year, and was named the 2007 Walmart Local Teacher of the Year. Mr. Cisetti holds a Bachelor of Music Education, a Master of Arts, and an Educational Specialist degree from the University of Missouri-Kansas City Conservatory of Music and School of Education. Mr. Cisetti has served on the Board of Directors of the Kansas Bandmasters Association. He is also a member of the National Band Association, the Kansas Music Educators Association, and the National Association for Music Education.
Did this blog spur new ideas for your music program? Share them on Amplify! Interested in reprinting this article? Please review the reprint guidelines.
The National Association for Music Education (NAfME) provides a number of forums for the sharing of information and opinion, including blogs and postings on our website, articles and columns in our magazines and journals, and postings to our Amplify member portal. Unless specifically noted, the views expressed in these media do not necessarily represent the policy or views of the Association, its officers, or its employees.
Catherina Hurlburt, Marketing Communications Manager. January 10, 2019. © National Association for Music Education (NAfME.org)
Published Date
January 10, 2019
Copyright
January 10, 2019. © National Association for Music Education (NAfME.org)