Connecting to the Process of Making Music: An Interview with Emily Threinen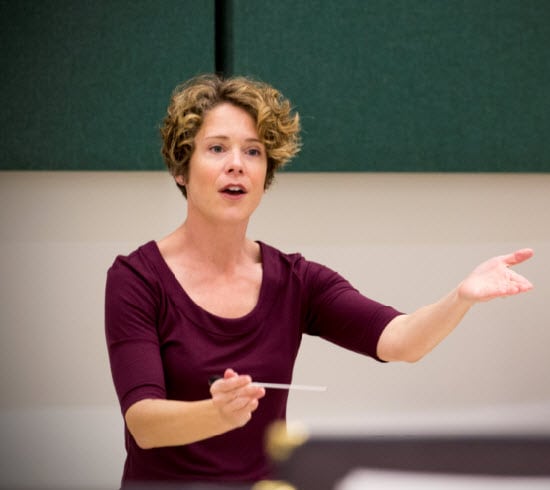 Connecting to the Process of Making Music
An Interview with 2019 All-National Honor Ensemble
Concert Band Conductor Emily Threinen
This year the 2019 All-National Honor Ensemble (ANHE) Concert Band will perform alongside five other All-National Honor Ensembles in Orlando, Florida. Emily Threinen, Associate Professor of Music and Director of Bands at the University of Minnesota School of Music in Minneapolis, will lead the 2019 ANHE Concert Band. At the University of Minnesota, Threinen conducts the acclaimed Wind Ensemble, guides the graduate wind band conducting program, and provides administrative leadership for all aspects of the University of Minnesota Bands. Threinen is a Yamaha Master Educator and currently serves on the newly created Executive Council of the Composer Diversity Project. She shares what inspired her to become a conductor, and what she hopes the ANHE Concert Band students learn during their time with her this November.
When did you first fall in love with music? 
My introduction to music was in elementary school choir. It was there that I had the opportunity to sing with others and alone. I will never forget my first solo; I was given a short line to sing by myself, from memory, with a microphone, in the front of the choir. The second solo opportunity was to sing "Somewhere Over the Rainbow" with my choir teacher playing piano. These two experiences forever changed me and was when I fell in love with music.
I was introduced to band instruments in the fifth grade and chose to play the clarinet. I participated in band and choir through middle school and loved every minute. In high school, I focused my energy toward the clarinet and saxophone and participated primarily in band and instrumental ensembles. But, I never lost my affinity for choir and choral music. I felt lucky to be involved in any type of musical experience. 
What inspired you to become a conductor? Describe the process in getting to where you are today.
Since a young age, I was always inspired by my music teachers and wanted to be like them. My choir teacher was someone who I wanted to learn from and loved to be around. She was talented, poised, patient, and supportive. My band teachers were also amazing. I was impressed with all they could do and all that they seemed to know. 'Looking up' to my teacher-conductors as an ensemble member (literally and figuratively) made an incredible impression on me. In high school I started to take lessons and participated in a youth orchestra (Greater Twin Cities Youth Orchestra in Minnesota) and honor bands outside of my high school experience. I started to see more conductors and was becoming exposed to more music. Becoming a conductor became a dream around my junior year of high school.
My undergraduate, graduate, and doctoral studies were all unbelievable in different ways. I was supported, challenged, encouraged, and inspired by mentors and peers. Many conductors whom I played for and observed changed my life. They helped me feel and understand music in a way I had not yet experienced.
I observed great musicians and teachers. I sought advice, I never gave up, and I kept my passion and "fire" for music hot.
The process to be in the position I am today was (and continues to be) filled with an incredible amount of hard work, practice, commitment, risk-taking, and patience. I sought out the best teachers I could. I practiced a lot. I auditioned for everything. I participated in as much as I could. I studied. I listened to great musicians. I observed great musicians and teachers. I sought advice, I never gave up, and I kept my passion and "fire" for music hot. I consider myself incredibly lucky to be doing what I love.
What are some of the greatest accomplishments, and challenges, you face as a conductor of a large ensemble?
I believe my greatest accomplishment is that each and every day I continue to be inspired by making music with others. I know I am growing as a conductor and teacher every time I have the chance to rehearse and perform. The greatest challenge for me is to know if the work and effort will have a lasting effect on others. It is very important to me to connect with my musicians and audiences in a meaningful way, hoping people will believe live instrumental performance is relevant, worthwhile, and exciting.
What factors do you consider when programming music for a concert or honor ensemble? What are some of your favorite pieces of repertoire?
Selecting appropriate repertoire for honor ensembles is critical, perhaps the most important element of the event. As a conductor, I want the musicians in my ensemble to feel emotionally charged by the music and engaged in the process of learning. I work to select pieces that are varied, challenging, and balanced between tradition and modernity. When selecting pieces, I consider repertoire that has been performed in recent years and seek different pieces or composers to expose the musicians to new languages and forms of expression.
I enjoy a lot of music and it is hard to list favorite pieces. What I am most drawn to are pieces of music that I believe will stand the test of time, that motivate me to learn more, and pieces to which I feel I can add my own voice and interpretation.
It is very important to me to connect with my musicians and audiences in a meaningful way, hoping people will believe live instrumental performance is relevant, worthwhile, and exciting.
What excites you the most about the ANHE program? What do you hope your young musicians who attend will take away from their experience?
I want all musicians that I work with to feel emotionally charged by the music and the process. What is really exciting to me about the ANHE program is to have the opportunity to hear and work with the very best high school musicians in the country! I have had the privilege of working with several all-state ensembles, where I have the opportunity to work with the best musicians of a particular state, but I have not yet experienced this on a national level. What a treat to hear and see such a variety of musicians.
What I hope the students in the ANHE program take away from our time together is a deeper passion and joy for making music in ensembles and a greater appreciation of and exposure to wind band music. I hope the experience continues to keep their own flame for music hot. Our current society can be very "me-centric." I hope the students enjoy the opportunity to meet new people from all across the country and to express themselves in a "we-centric" environment that is safe, supportive, and celebrates working together for a common goal.
Lastly, I also hope that our time together stretches each student beyond what they have experienced in other environments.
What advice would you share with young aspiring musicians?
There is no shortcut for hard work and practice. However, learn to be an efficient and smart "practicer." Take lessons from the very best teachers you have access to. Listen to your teacher's instruction and do what they ask of you, go beyond what they assign, and ask related questions. Look online for excellent teaching strategies from people who play your instrument and people who play other instruments or sing. All of us can learn from musicians in different disciplines. For example, if you are an instrumentalist, perhaps listening to an amazing soprano or tenor singer may inform your work, especially on expressive music. If you want to learn more about rhythm or time, listen to excellent percussionists and drummers.
Regarding auditioning for an ensemble, learn your part very well and practice with a metronome or steady beat. Then, learn the score. Learn about the composer. Learn about the intention of the music. Understand how your part fits into the piece of music. Ask yourself questions about your role: Are you the most important material here, or might you be secondary? Who are you doubling? Is this a solo or soli? Does the composer really want this dynamic for my instrument or is it a collective group dynamic, etc? Also, ensure you know the intonation tendencies on your instrument. Practice with a tuner and drones to better develop your ear. After you have done your extensive homework and practice, work to find your own voice and interpretation. I believe this is the hardest step and can only be achieved after the other hard work is complete.
Lastly, the work needs to be done, but try to do it in a healthy, productive, and forgiving manner. Especially when you are young, it is hard to hear that growth takes time. Be patient with and stay true to yourself.
Why do you think music education is so important for all students?
For many years, research has stated that learning music helps young minds learn math, science, and reasoning skills (among other disciplines). Also, there is extensive data that indicates students who are in music classes, music lessons, and music ensembles, do better in other academic areas and have overall better success in school, and thus, school curriculum should include music.
Music shouldn't have to defend itself by success in other academic arenas.
I agree. However, I also believe that music shouldn't have to defend itself by success in other academic arenas. I wish that we were in a culture that viewed music as a core curricular discipline. Music has been a part of life since humans began to speak. Music is essential for human expression and all people deserve to experience it.
The deadline to apply for the NAfME All-National Honor Ensembles is May 3, 2019. Learn more and apply today.
Did this blog spur new ideas for your music program? Share them on Amplify! Interested in reprinting this article? Please review the reprint guidelines.
The National Association for Music Education (NAfME) provides a number of forums for the sharing of information and opinion, including blogs and postings on our website, articles and columns in our magazines and journals, and postings to our Amplify member portal. Unless specifically noted, the views expressed in these media do not necessarily represent the policy or views of the Association, its officers, or its employees.
Catherina Hurlburt, Marketing Communications Manager. March 22, 2019. © National Association for Music Education (NAfME.org)
Published Date
March 22, 2019
Copyright
March 22, 2019. © National Association for Music Education (NAfME.org)