Elevate Your Online Music Lessons
Four Tips that Will Help Your Teaching Setup
By Mark Murtagh, sponsored by Forte
Music teachers all over the world moved online in 2020 to keep their studios afloat and attract new students. Now, data shows that many music teachers have adopted a hybrid model where they teach both in-person and online lessons. Despite the growing popularity of online music lessons, there is no one-size-fits-all model. Teaching setups vary depending on the instrument and level of technology, among other things.
So how do you figure out how to optimize your online lessons?
Do you just buy a ring lamp for Zoom? Do you use every single music-related app in the Apple Store? Or, do you buy completely new hardware?
At Forte (www.fortelessons.com), we believe that the best technology set-up is one that facilitates unfettered two-way communication between a teacher and a student. Too many bells and whistles can be a distraction. The technology should disappear, allowing you and your teaching style to guide the educational experience.
Achieving this requires trial and error, but there are ways you can quickly and easily improve your online lessons. Regardless of what instrument you play or how long you've been teaching, here are four tips to elevate your online music lessons. 
Consider an External Mic 
While it's fun to discover new tools for music lessons, one fact still remains—the most important part of a music lesson is the sound. 
When giving a lesson online, using your computer's internal microphones and speakers are certainly the most convenient option. However, there is a strong case to be made that you should be using an external microphone when teaching music online.
Even as computer manufacturers are rushing to improve internal microphones and speakers, not every set-up is ideal for teaching music. While the placement of internal microphones varies between computers, the mics are often so small that you don't even notice where they're placed. To counteract its small size, the mic is often omni-directional, meaning that it "listens" for sound from every direction. As a result, microphones often pick up sound from the speakers and this potentially causes a feedback loop and interference.
To eliminate this problem, your computer software often uses noise suppressors and echo cancellation. For conference calls and business meetings, this is fine because it makes spoken voices clear on both ends of a call. However, for a music lesson, it gets in the way of your teaching. You can't hear the attack on a note or the resonance of the instrument in the room. As a note diminishes, it often drops suddenly and prematurely. All nuance is lost.
The best solution is to use an external, uni-directional microphone, pointing it towards you and away from your computer's speakers.
Fortunately, even a relatively inexpensive external microphone will be far superior to the microphones built into your computer. And for a modest investment, you can get a truly excellent microphone offering near professional audio quality. Even better, they're often easy to use and just require plugging them into the USB port on your computer.
Here are some microphones that we recommend: 
Add Virtual Journals
Lesson journals can be helpful for a number of reasons. For one, your students might be busy juggling work, school, and/or extracurricular activities and forget what they learned during your lesson. Journals help your students get back on track when they return to their practice in between lessons and document their progress. On the teacher's side, journals help refresh your memory after a week away from this student, so you can just jump right back into the learning.
But how can you add lesson journals to online music lessons? There are multiple free platforms that you and your students can use to add notes and comments. For example, you can use Google Docs or the Apple Notes app to take notes during lessons and track practice goals and outcomes. Another option is the free tier of Evernote, which allows you to attach files, bookmark webpages, and share notes with others. With virtual journals, both you and your students will always have access to your notes during and between lessons. Forte incorporates this functionality directly into your online lessons, automatically creating a dedicated Google doc for each student that is always available during or in between lessons.
Add Another Camera 
Having more than one camera angle can be a huge advantage when it comes to teaching an instrument online. For pianists, drummers, and others, that extra camera angle can be essential.
Piano teachers often need to be able to show their students their hand position from a birds-eye view that shows the entire keyboard. Or, in the case of drummers, they might require a quick view of the bass drum pedal or a clear demonstration of the high-hat pedal while simultaneously demonstrating how to strike the high-hat as it opens and closes.
Even if you don't teach piano or drums, adding another camera angle can help your students learn by closely observing how you properly place your hands on any instrument. While many video conferencing platforms support multiple webcams, don't assume your laptop camera has the best quality. Higher quality equipment like high-definition webcams improve the experience for you and your students. And experiment with different camera placements to find one that works best for you and your instrument.
Not everyone wants to invest in a second webcam. Forte has developed an innovative solution that allows you to use your iPhone as a second camera. In your lesson, you click a button, point your phone's camera at an on-screen QR code, and the phone automatically provides your student with a second simultaneous camera angle.
For those of you who are more comfortable with technology, there are even more sophisticated options available. To record videos, live stream videos right from your computer, and control advanced web-camera setups, you need software. Out of several options on the internet, ManyCam and OBS (open broadcaster software) are the two most popular options available. Both can be used for integrating a variety of web cameras through one program, or a single webcam through many different programs. We've heard amazing feedback from teachers who have invested the time to master these tools.
We know that buying, setting up, and maintaining multiple webcams is not for everyone. But consider an additional webcam as an investment that will make you a better teacher and help your students learn faster.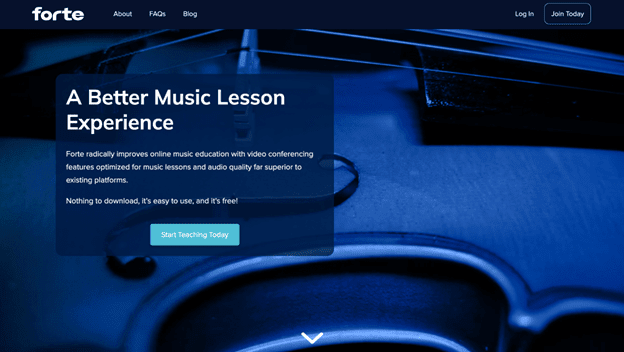 Use a Videoconferencing Platform Purpose-Built for Music Lessons
As online music lessons continue to grow in popularity, music teachers have had to adapt alongside an evolving industry. It hasn't been easy. As most of you know, Zoom's audio is optimized for the spoken human voice, not for music. And it is no longer free.
Forte is a free alternative to Zoom purpose-built for music teachers. Our mission is to radically expand access to high-quality music education worldwide, and we always put teachers and their students first. Therefore, you can use Forte with your own students for free forever.
Forte uses video conferencing features optimized for music lessons. Forte Pure Audio offers industry-leading live streaming audio quality, allowing you to hear your student's instruments better than any other video conferencing platform. It captures the full nuance and richness of the sound of musical instruments—including dynamics, clear articulations, and tone colors—making online instruction more effective.
The Royal College of Music, Berklee College of Music, and Curtis Institute have used Forte for their own programs. And Forte runs entirely on your browser, so you can send your personal studio link to your student, and they can begin their lesson with one click.
Start teaching on Forte today and elevate your online lessons!
Have questions? We are here to listen at info@fortelessons.com.
About the author:

Mark Murtagh, Chief Executive Officer and Co-founder
Mark Murtagh worked for years as a trusted advisor to some of the top music institutions in the world, including Juilliard, The Royal College of Music, and Berklee, helping them expand access to high quality music instruction across the globe.
Did this blog spur new ideas for your music program? Share them on Amplify! Interested in reprinting this article? Please review the reprint guidelines.
The National Association for Music Education (NAfME) provides a number of forums for the sharing of information and opinion, including blogs and postings on our website, articles and columns in our magazines and journals, and postings to our Amplify member portal. Unless specifically noted, the views expressed in these media do not necessarily represent the policy or views of the Association, its officers, or its employees.
August 2, 2022. © National Association for Music Education (NAfME.org)
Published Date
August 2, 2022
Copyright
August 2, 2022. © National Association for Music Education (NAfME.org)