Embracing Local Indigenous Peoples' Ways and Musics in School Music Classes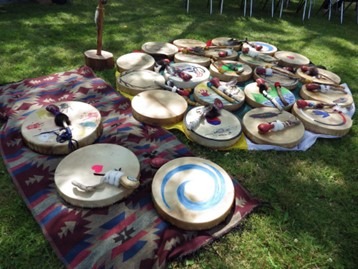 First Peoples' Ways Forward: 
Embracing Local Indigenous Peoples' Ways and Musics in School Music Classes
By NAfME Members Anita Prest, J. Scott Goble, and Hector Vazquez-Cordoba  
This blog refers to an open-access, online-first article recently published in Update: Applications of Research in Music Education. 
In this blog, we share some of what we have learned about embedding Indigenous musics in music classes. In our article, On embedding Indigenous musics in schools, we discuss current efforts to decolonize and Indigenize music education in one metropolitan area in British Columbia (BC), Canada, and we show how these efforts relate to a framework developed by Indigenous Arts scholar Dylan Robinson in his book, Hungry Listening: Resonant Theory for Indigenous Sound Studies. 
But first things first. According to local Indigenous protocols (or ways to conduct oneself), when people meet others for the first time, they share their place of origin and familial relations so that all might understand their kinship ties. A person's location in a web of relationships is prioritized over their job title. We follow this protocol here, and we are happy to have the opportunity to meet you via this NAfME blog. We hope that what we share about decolonization in music education in our location is relevant and of interest to you. 
My name is Anita Prest. I was born and raised in Montreal, a place named Tiohtià:ke by the Kanien'kehá:ka people who are its custodians, and that I now know is part of a larger swath of unceded land in Québec. My grandparents immigrated to Canada from the city of Crema and three small villages in the Le Marche region of Italy at the turn of the 20th century. I currently live on the territory of the Esquimalt, Songhees, and W̱SÁNEĆ peoples, also known as Victoria, BC. 
I'm Scott Goble. I grew up in Seattle, Washington, USA, a city named for Siʔaɫ, who was chief of the Dkhw'Duw'Absh (Duwamish) tribe when Europeans first began settling in that area in the mid-19th century. I lived on the Tulalip reservation during summers throughout my youth, beach seining Puget Sound alongside my grandfather with the Coast Salish people of the Tulalip (dxʷlilap) tribes. My heritage is mixed Norwegian, English, Dutch, and German. I currently live and work in Vancouver, British Columbia, on the territories of the Musqueam (xʷməθkʷəy̓əm), Squamish (Skwxwú7mesh), and Tsleil-waututh (səlilwətaɬ) peoples. 
My name is Hector Vazquez-Cordoba. I was raised in Naolinco, Veracruz, Mexico. I have undocumented Totonac (Indigenous from the central Veracruz area) and Spanish ancestry. I am grateful to live, work, and play on the beautiful, unceded lək̓ʷəŋən Territory since 2016, when I came to this land as an uninvited visitor to do my doctoral program at the University of Victoria.  
What Motivated Us
In 2015, the Truth and Reconciliation Commission of Canada published 94 Calls to Action, calling on all levels of government to put aside their paternalistic and colonial relationships to Indigenous peoples (First Nations, Métis, and Inuit). Several of these Calls pertain to education. Responses to these Calls are especially urgent in what is now called British Columbia, since more than 200 First Nations (of 600 in Canada) are found here. Most of the province is legally recognized as unceded territory. The land was essentially stolen from First Nations; they did not relinquish it by consent through treaty (nor was it taken by war). Between 1876 and 1996, the Canadian federal government separated approximately 150,000 First Nations children from their families and sent them away to residential schools for the express purpose of eliminating Indigenous peoples as distinct peoples and assimilating them into the Canadian mainstream. In 2021, ground-penetrating radar revealed the precise locations of hundreds of unmarked, and in some cases undocumented, children's graves at the former residential school sites. Thus, huge legal, social, and ethical issues are presently driving societal changes in the province, including changes in education. Between 2015 and 2019, the BC Ministry of Education and Child Care rolled out new curriculum documents for all subjects—including music—mandating the embedding of Indigenous content. The Ministry drew attention to previously published The First Peoples Principles of Learning and encouraged teachers to consider local Indigenous worldviews when introducing local Indigenous content in their classes. As music teacher educators who work with pre-service teachers, and teachers and students in schools, we felt compelled to explore how music teachers might come to embrace local Indigenous peoples' ways of knowing and being. 
Since most music educators were unprepared to do this work, we sought out teachers who were already embedding Indigenous content, pedagogies, and worldviews in their music classes with the help of First Nations Elders and other Indigenous collaborators to learn from them how we could support other BC music educators in doing so. Our article in Update describes the efforts of three educators in one metropolitan area. 
Some General Guidelines around Decolonizing and Indigenizing Music Classes Based on What We Learned
Our work with music teachers who have embedded Indigenous content, pedagogies, and worldviews in music classes with the help of local First Nations Elders and culture bearers has yielded some general guidelines that merit consideration when working to decolonize and Indigenize music classes in British Columbia: 
Collaborations between Elders, culture bearers, and teachers are most successful when music educators do their homework (i.e., learn about local Indigenous principles and histories) before contacting them to support the work of embedding in their classes.

 
Relationships are most important. Collaborations between Elders, culture bearers, and teachers require an investment of time and energy to build and maintain reciprocal relationships, and ongoing consultation and collaboration are hallmarks of them.
Due to their connection with and concern for the land, First Nations Elders and culture bearers introduce songs from the local Indigenous community on whose traditional lands the school is situated, and they sing them in the language of the local First Nations people or employ vocables.
A First Nations song can be used only with permission from the one who "owns" it; the ownership must be acknowledged whenever the song is sung; and it must be made clear that permission has been granted whenever that song is used in a class or for other purposes.

 
Elders and culture bearers share songs they "own" or have composed, but only after explaining the Protocols to follow when teaching or performing them do they give permission for the songs to be used in classes.

 
Indigenous knowledge is embedded not only through singing of songs, but through drum making and drumming. The drum is sentient, it comes from the Earth, and it is the Earth's heartbeat that is heard when the drum is played.

 
Both drum making and drumming are done by oral—not written—instruction; and both are invariably accompanied with stories.

 
Stories are told to impart Indigenous ways of knowing and being; they emphasize processes and values (like respect, humility, and relationship building), not outcomes; and the following of Protocols is paramount.

 
Elders, culture bearers, and teachers may wish to create and—together with students—enact a local story with songs and dances at a school concert or music festival in order to illuminate the meaning the songs hold in the ongoing life of the community.

 
Elders and culture bearers are motivated to promote students' singing of songs by an interest in revitalizing their Indigenous language.

 
Music teachers who work to

embed Indigenous content, pedagogies, and worldviews in music classes with the help of First Nations Elders and other Indigenous culture bearers come to the

realization that the Western notion of music as an art is only one of many ways of conceptualizing music, and it does not apply to Indigenous "musics."

 
Additional Examples: Decolonization and Indigenization of music education in Iqaluit, Nunavut, Canada and Juneau, Alaska, U.S.A
We have had the opportunity to meet music educators from Alaska and Nunavut who have worked in partnership with local Indigenous community members to embed local Indigenous musics and languages in public schools. We offer a short précis on their activities and provide links for you to view.  
Iqaluit, Nunavut 
Dr. Mary Piercey-Lewis has lived and taught music in Arviat and Iqaluit, Nunavut for more than 20 years. She currently teaches at Inuksuk High School in Iqaluit. She works with tradition bearers, Inuit throat singers, and storytellers to develop and implement music education curricula that center Inuit identity and social activism. She and local partners have published Inuit Inngiusingit: A collection of Inuit choral music Volumes 1 and 2. You can learn more about the work she and local partners are doing at the following weblinks: 
Juneau, Alaska 
Dr. Lorrie Heagy is an elementary music educator who works with Elders from the Á'akw Ḵwáan and T'aaḵu Ḵwáan peoples (on whose territory Juneau is located) and University of Alaska Southeast professors of Alaska Native languages. Together, they currently bring Lingít language and culture into Juneau public elementary schools via music. The weblinks below will take you to the curriculum that she and Knowledge Keepers have developed, as well as songs, stories, and protocols that can be shared with students in music classes. 
About the authors:  
NAfME member Anita Prest is Associate Professor of Music Education at the University of Victoria, Canada. Guided by multi-First Nation, Métis, and non-Indigenous partners, she engages in federally funded community-based participatory research to examine the embedding of local Indigenous knowledge, pedagogies, and worldviews in British Columbia's public school music classes. Anita teaches undergraduate music education courses to both secondary music specialist and elementary generalist teacher candidates, plus graduate research methodology courses. Anita is a member of the MayDay Steering Committee, and a commissioner for the ISME Commission on Policy: Culture, Education, and Media. She is co-founder of the International Society for Music Education (ISME) Decolonizing and Indigenizing Music Education special interest group. Prior to her appointment at the University of Victoria, she taught K-12 music for 20 years. 
NAfME member J. Scott Goble is Associate Professor of Music Education at the University of British Columbia–Vancouver, where he teaches graduate and undergraduate courses and supervises work of M.Ed., M.A., and Ph.D. students. A specialist in vocal and choral music, Scott has conducted choirs and orchestras in educational, professional, church, and community contexts throughout North America. His book What's So Important About Music Education?, an account of the intellectual history of music education in the United States, is published by Routledge, and he presently serves as Co-Editor (with Deborah Bradley) of the online, open-access journal Action, Criticism, and Theory for Music Education (ACT). His current research focuses on Indigenous knowledge and musical practices. 
NAfME member Hector Vazquez-Cordoba is originally from Naolinco, Mexico. He completed his PhD at the University of Victoria. His research was supported by a Social Sciences and Humanities Research Council of Canada doctoral fellowship and addressed the embedding of music with Indigenous roots into Mexico's national elementary curriculum. Hector also holds a Bachelor of Music in Performance (Universidad Veracruzana) and a Master's degree in Education (Tecnológico de Monterrey). Hector has been awarded one of 10 Aspiration 2030 Postdoctoral Fellowship at the University of Victoria. Hector's current research project envisions collaborations between teacher candidates and Indigenous culture bearers in Coast Salish Territory (Canada) and the Huasteca region (Mexico). His research is supported by an ISME-SEMPRE Music Education Research Grant and Agrigento: Music for Social Change. 
Did this blog spur new ideas for your music program? Share them on Amplify! Interested in reprinting this article? Please review the reprint guidelines. 
The National Association for Music Education (NAfME) provides a number of forums for the sharing of information and opinion, including blogs and postings on our website, articles and columns in our magazines and journals, and postings to our Amplify member portal. Unless specifically noted, the views expressed in these media do not necessarily represent the policy or views of the Association, its officers, or its employees. 
November 21, 2022. © National Association for Music Education (NAfME.org) 
Published Date
November 21, 2022
Category
Culture

Diversity, Equity, Inclusion, and Access (DEIA)

Race

Research in Music Education
Copyright
November 21, 2022. © National Association for Music Education (NAfME.org)