Five Reasons to Apply for the CMA Foundation Music Teachers of Excellence Award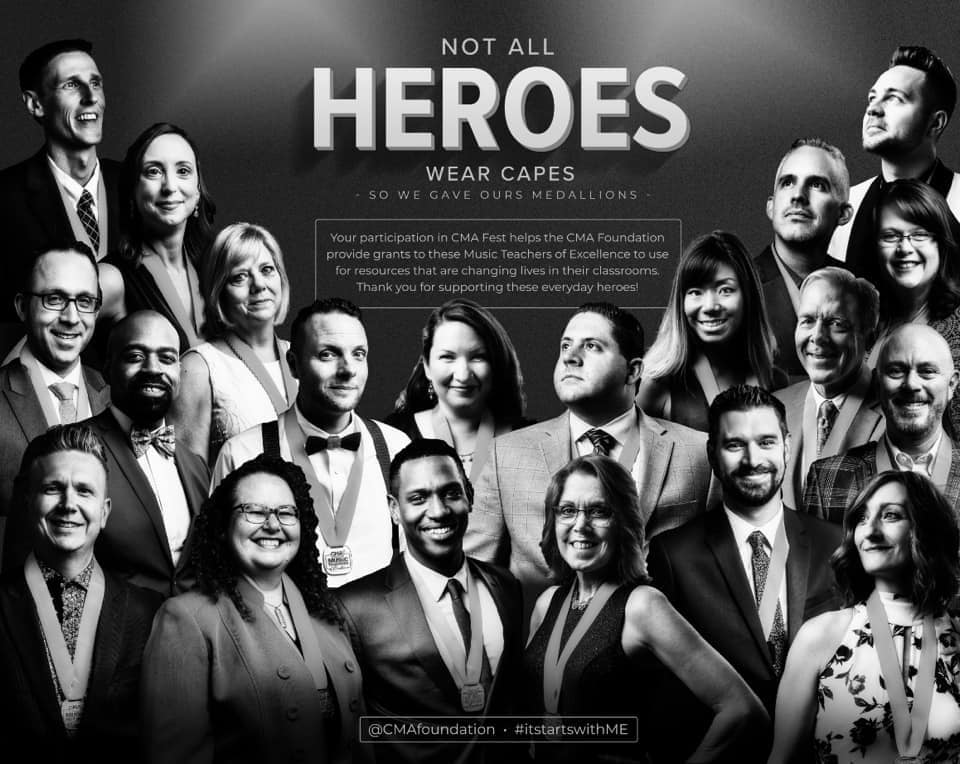 Five Reasons to Apply for the CMA Foundation
Music Teachers of Excellence Award
By NAfME member Franklin J. Willis, sponsored by the CMA Foundation
Being a recipient of the CMA Foundation Music Teachers of Excellence Award revived my passion and commitment to music education. At the time, I was a novice middle school choral music educator who was questioning my choice to be a music educator. I worked long hours trying to provide learning opportunities for my school through significant musical experiences. I was creating a choral program that had been nonexistent at the school with little to no resources to give students a quality music education. With that said, I was truly in survival mode. However, I took the time to complete the CMA Foundation Music Teachers of Excellence application process, and through that experience I gained more than I could ever imagine for my students, school community, and career.
Self-Reflection
As I completed the application process, I began to see the impact of my work not only in the classroom, but in my school and community. I was able to share some of my most memorable experiences from the classroom that normally would be told only to close friends and colleagues. I received recommendation letters from parents of my students who noticed positive changes from their children through my music instruction. (I have these printed in my home office and look at these on tough days when I need to remember my WHY!) The application is robust, however, in retrospect, it was worth the time. I was challenged to self-reflect on my journey as a music educator while sharing the amazing outcomes from my classroom and beyond. Little did I know that in the application process, I would have a place to explain why I chose music education as a career. Self-reflection is vital for anyone who is serious in growing in his or her profession by developing strengths and acknowledging areas that need improvement.
Advocacy for Your Music Program
The CMA Foundation "believes every child should have access to a proper music education and exists primarily to partner with schools and communities to make that happen." Advocacy for music education is vital for the success of our students. The struggles of gaining support for music programs is not new, but the CMA Foundation is a national organization that produces data that displays the reasons why music education is important and why it is needed to continue serving the needs of our students. Music education advocacy must involve everyone—teachers, students, families, and the community. Effective teachers, engaged students, committed parents, and an involved community will build a strong case to support the need of music education. The CMA Foundation brings all of these entities together through the Music Teachers of Excellence Award. In essence, the music teacher is not the only recipient of this award, but our students, families, and the community benefit as well.
National and Local Recognition
Our work as music educators can be a thankless job at times. We work tirelessly to give our best to students and families. The CMA Foundation understands this and goes over and beyond to make sure the public knows that "Music Teachers are Rockstars"! Music Teachers of Excellence recipients have been featured in national music education campaigns, social media platforms, newspapers, and so much more. I have even received letters of congratulations from my mayor and governor for being selected as a CMA Foundation Music Teacher of Excellence. The CMA Foundation makes sure the public knows about the importance of having a quality music education and the folks that make happen, the music teachers.
Professional Opportunities
By being selected as a Music Teacher of Excellence I have been afforded amazing opportunities by the CMA Foundation. The biggest of these opportunities was my students being surprised by megastar Carrie Underwood at the CMA Fest 2019. (See the surprise video below.) The CMA Fest is a national music festival that happens every June in Nashville, Tennessee, where country music artists join together to perform and raise funds for music education. As a recipient of the CMA Foundation Music Teacher of Excellence award, I have been asked to present at conferences, workshops, and music teacher gatherings to share best practices and resources. I have been requested to write articles for national music education organizations and interviewed by local media about my experience as a music educator. The CMA Foundation Music Teachers of Excellence award has provided me numerous leadership opportunities in our field and strengthened my confidence in my skills as a music educator.
Access to Resources
Recipients of the Music Teachers of Excellence receive a personal check of $2,500 and a matching grant for their music program. I was able to purchase a classroom speaker system, multiple classroom instruments, and updated my choral library repertoire. These funds allowed me to purchase materials that I would otherwise not have been able to do. I was also able to meet other Music Teachers of Excellence across the country who are just as passionate about music education. My network has expanded, and I reach out to these colleagues for resources, ideas, and questions about various subjects in music education.
Conclusion
I continue to be amazed by the level of commitment of the CMA Foundation to make music teachers feel appreciated for our work. One of the biggest misconceptions about music teachers is that we are just teaching music. However, the CMA Foundation is changing that narrative and shining a light on excellent music teachers who are pushing students to new levels of self-discovery, exploration, performance, and learning. We do more than teach music.
We teach kids how to become global leaders. We teach them how to work with others. We teach them how to treat and respect people who don't look like them. We teach them how to be confident in their abilities, gifts, and talents. We are giving them a holistic view of what life is in the safety of our music classroom. Music is the vehicle for change. Music is what we use to create outstanding young people.
Are you a teacher who goes over and beyond for your students to create unique and meaningful learning opportunities? Do you believe that music education can make a difference in a student's life? Are you innovative in your teaching approach to reach all students? If you answered yes to those previous questions, then you should apply to be a CMA Foundation Music Teacher of Excellence. Click here to begin the application process today.
The CMA Foundation is the sponsor of the Amplify: Access learning strand at the 2019 NAfME National Conference taking place in Orlando, November 6–10.
About the author:
Mr. Franklin J. Willis currently serves as the Elementary Music Coach for the Metro Nashville Public Schools district. For the past decade Willis, a NAfME member, has taught both general music and choir at the elementary and middle school levels. He is a three-time recipient of the prestigious CMA Foundation Music Teacher of Excellence award. He specializes in providing musical instruction that will empower and engage all children to achieve their best through authentic culturally relevant teaching experiences. He is a graduate of the University of Memphis where he earned a Bachelor of Music Education with an emphasis in choral music. Willis also earned the Master of Education Degree in Nonprofit Leadership at Belmont University. To learn more about Franklin and his advocacy for music education visit his website at www.fwillismusic.com.
Did this blog spur new ideas for your music program? Share them on Amplify! Interested in reprinting this article? Please review the reprint guidelines.
The National Association for Music Education (NAfME) provides a number of forums for the sharing of information and opinion, including blogs and postings on our website, articles and columns in our magazines and journals, and postings to our Amplify member portal. Unless specifically noted, the views expressed in these media do not necessarily represent the policy or views of the Association, its officers, or its employees.
Catherina Hurlburt, Marketing Communications Manager. October 16, 2019. © National Association for Music Education (NAfME.org)
Published Date
October 16, 2019
Copyright
October 16, 2019. © National Association for Music Education (NAfME.org)