Music In Our Schools Month® 2021
"Sound of My Heart" Song Bracket
By NAfME member Elizabeth Caldwell
This article was originally published on the Organized Chaos blog.
This year the Music In Our Schools Month® (MIOSM®) theme is "Music: The Sound of My Heart." Although I've been celebrating MIOSM in some form or fashion since my first year of teaching, this year is going to be different because of the pandemic as well—our district is in a hybrid model, with some students in person and some participating live online, so not everything I've done in the past will work. One of the things I'll definitely be doing is another song bracket! Here are my plans to make it work (and also tie in this year's theme).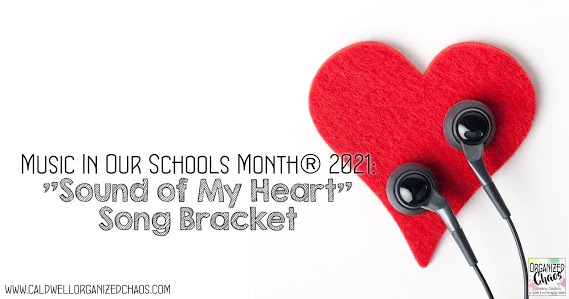 I've done a "March madness" style song bracket before (see the full list of songs, as well as how I ran it in a "normal" year pre-pandemic, in this post), and I knew it would be one of the easiest things to do in our current hybrid model. Last time I tried to choose a wide range of songs without any set theme, but this time I decided to go along with the theme a little bit and only use songs that have the word "love" in the title. Here are the songs I'll be using (in no particular order), or you can see them all in this YouTube playlist:
This Is Love – Walk Off The Earth
All You Need Is Love – Beatles
Love Theme from Romeo and Juliet movie
I'm in the Mood for Love – Charlie Parker
I Will Always Love You – Whitney Houston
I Just Called to Say I Love You – Stevie Wonder
I Love Rock and Roll – Joan Jett
Love You Zindagi from Dear Zindagi
Te Quiero Mucho Mucho – Rio Roma
Can You Feel the Love Tonight – Lion King
I Love to Laugh – Mary Poppins
L'amour est un oiseau rebelle from Carmen – Bizet
Piano Concerto No. 20 Mov. 2 – Romance – Mozart
Since we have 22 school days in March this year, having 24 songs works out so that most days students are choosing between 2 songs, with one round towards the end where they choose between 3: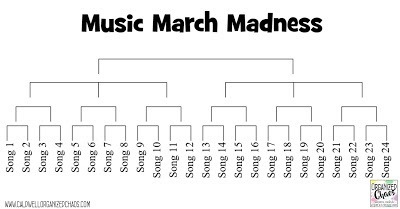 Last time I was able to play the songs over the announcements, but I don't want to do it that way this time because only the in-person learners hear the morning announcements in my building. Instead, I'm putting together a Google Slides file with the songs for each day listed on one slide (with just the audio) and asking each homeroom teacher to play the songs for their class when they have both the in-person and distance learners together, and report their class's vote to me by marking it right in their slides. (I'll make one copy of the file for each homeroom.) I'll tally the classes' votes to see which song advances to the next round and add slides as we go after round 1.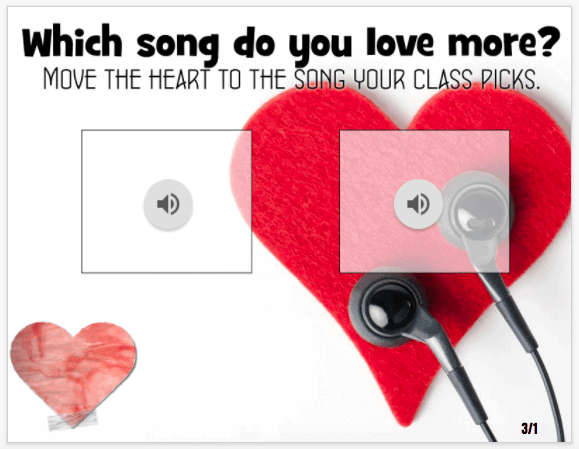 I think this will be a fun way to include everyone in the process, expose students to a variety of genres, and fill the school day with more music without overwhelming myself or anyone else with too much extra work (something we definitely don't need right now)! 
What are your plans for Music In Our Schools Month® this year? What "love" songs did I miss? There are so many out there, I know there are more good ones! Share your ideas in the comments on my blog. If you're looking for more ideas to use for MIOSM, here are all my posts on the topic, and you can see all of my posts relating to pandemic teaching on this page below: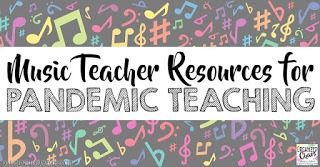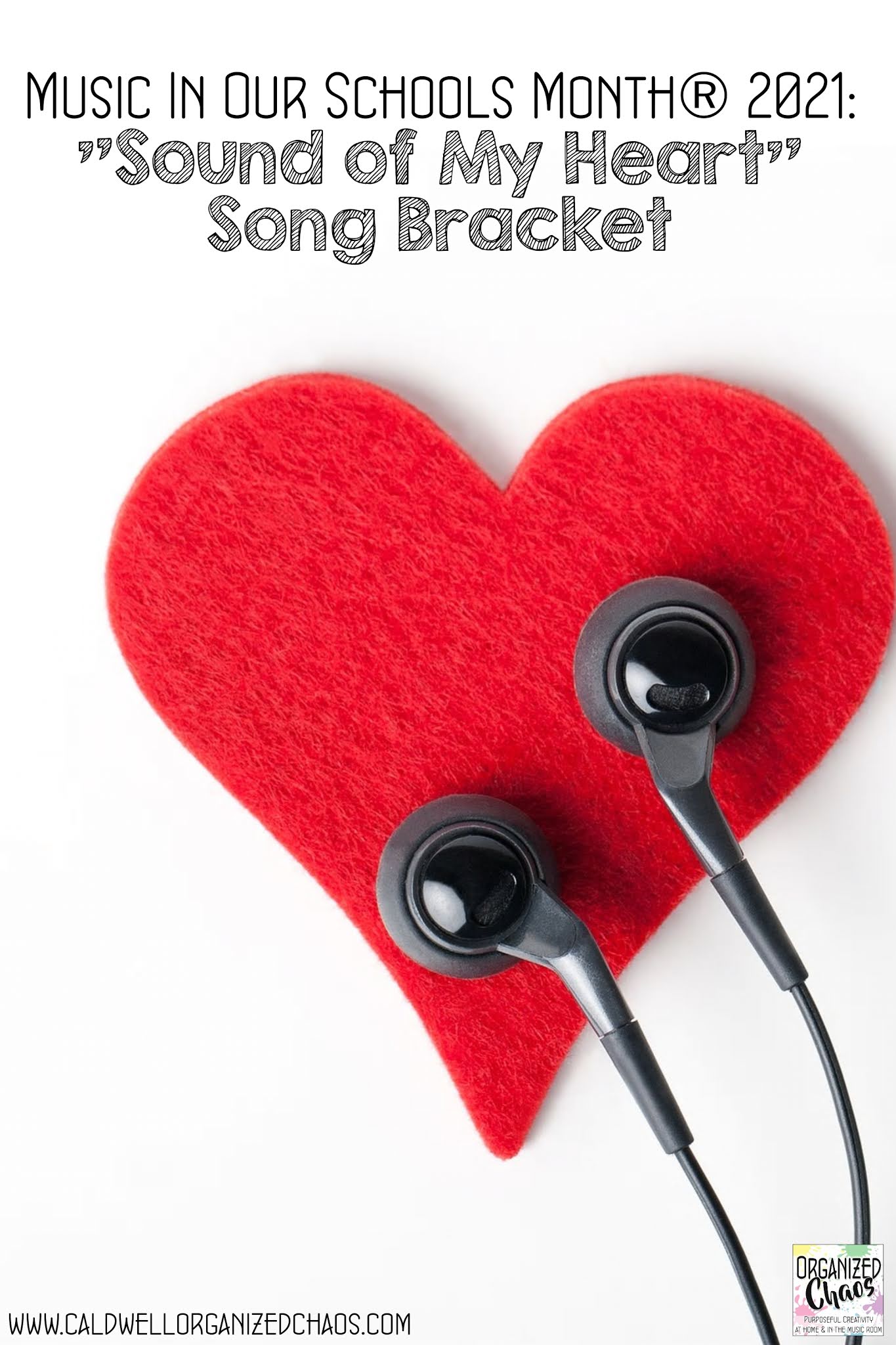 About the author: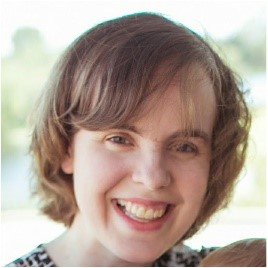 NAfME member Elizabeth Caldwell has been teaching elementary general music and choir for over a decade and cannot imagine ever doing anything else. She is also the author of the website, Organized Chaos Music, where she regularly shares organization strategies, lesson plans, and other ideas to encourage purposeful creativity in the music classroom. She holds her B.M.E from Wheaton College (IL) and her M.M.E. from Boston University, and was named Teacher of the Year in 2018. She has presented on lesson planning, restorative behavior management, effective recorder teaching, world music, National Core Arts general music standards, and other music education topics at conferences around the globe, and teaches an e-course on lesson planning through her website.
Follow Elizabeth on Facebook, Instagram, Twitter, YouTube, and Pinterest.
Did this blog spur new ideas for your music program? Share them on Amplify! Interested in reprinting this article? Please review the reprint guidelines.
The National Association for Music Education (NAfME) provides a number of forums for the sharing of information and opinion, including blogs and postings on our website, articles and columns in our magazines and journals, and postings to our Amplify member portal. Unless specifically noted, the views expressed in these media do not necessarily represent the policy or views of the Association, its officers, or its employees.
February 26, 2021. © National Association for Music Education (NAfME.org)
Published Date
February 26, 2021
Copyright
February 26, 2021. © National Association for Music Education (NAfME.org)