"Music Uplifts Us and Gives Us Hope"
An Interview with 2020 All-National Honor Ensemble
Modern Band Conductor Tony Sauza
The 2020 All-National Honor Ensemble (ANHE) Modern Band is taking place virtually in January 2021 with five other All-National Honor Ensembles. Tony Sauza will lead the Modern Band. Learn more about Tony Sauza here. In this conversation, Sauza shares some of his thoughts on his favorite songs and artists, tips for auditioning, and the upcoming ANHE Modern Band.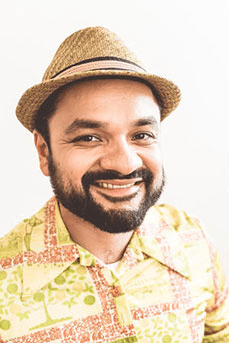 When did you first fall in love with music?
I have been passionate about music for as long as I can remember. One of my earliest memories is of my parents buying me my first "Walkman" cassette player when I was about seven years old. Since then, I have had an unending love and appreciation for all types of music from various parts of the world.
What inspired you to become a conductor? Describe the process in getting to where you are today.
With such a strong passion for music, I've always felt the need to pass on what I've learned to others. This drive is what led me to pursue music education where I began to build and develop modern band ensembles. Through this work, I came across an organization called Little Kids Rock. In collaboration with them, I was able to have students perform in many high-profile events, including a few well known television shows. These opportunities and performances really complemented my skills as a music educator and allowed me to continue working with Little Kids Rock on various projects.
After many years of working together, I stepped back from the classroom to join the organization full-time and become the Regional Program Director for LA County. It is an honor and a privilege to be in a role where I can serve teachers and students by providing resources, curriculum, best practices, community support, and more on a daily basis.
What are some of the greatest accomplishments, and challenges, you face as a conductor of a large ensemble?
One of the greatest accomplishments was when we took a modern band ensemble from Pasadena to perform in New York City at the Playstation Theatre and had them play alongside Elvis Costello. The students sounded amazing and had an incredible time interacting with such a well-respected singer-songwriter.
As for the challenges, I think having a large ensemble always presents various types of hurdles. For modern band specifically, one of the most common challenges is creating an environment where everyone can hear each other clearly both in a rehearsal setting and especially in a performance setting. Often a performance venue might not have monitors available, which makes it especially difficult for drummers and singers. In these types of situations, it's best to be mindful of everyone's volume so you can achieve the best possible balance.
What factors do you consider when programming music for a concert or honor ensemble? What are some of your favorite pieces of repertoire?
There are various elements to consider when selecting repertoire for a concert or honor ensemble. First, I think it's important to place value on selecting a diverse set of songs that reflect the interests and tastes of the students participating, as well as being able to provide opportunities to demonstrate technical proficiency on each instrument. It is also important to include a couple of classic songs that might've been popular in a different era but are still being played today.
In terms of my favorite songs, I have a wide selection of music that I could draw upon. One of my all-time favorite songs is "Bohemian Rhapsody" by Queen. I really enjoy the unique characteristics of the song and continue to enjoy listening to it even though I've heard it hundreds of times. I really appreciate the various sections of the song and how it takes the listener on a voyage by utilizing several musical styles and innovative vocal layering.
Another song that I really enjoy is "Sound & Color" by Alabama Shakes. Overall, I think they are a wonderfully innovative group that does a great job of creating specific moods around their songs. "Sound & Color" has some fun vocal harmonies going on as well a beautiful string section that elevates the song in a great way. Brittany Howard is a tremendously talented singer-songwriter, and I really enjoy listening to all of her projects.
What excites you the most about the ANHE program? What do you hope your young musicians who attend will take away from their experience?
The most exciting element of the ANHE program is how it brings young people together from all across the country and all in the name of music. Every young musician brings with them a wealth of experience that they can use to contribute to the overall success of the group. It is exciting to think that they are all coming together to create fun and exciting music despite not having met each other prior.
"The most exciting element of the ANHE program is how it brings young people together from all across the country and all in the name of music."
I also hope that every young musician participating walks away feeling accomplished and grateful for having participated in an unforgettable experience. I hope that they can expand on their understanding of rehearsal and performance techniques as how it relates to a large public performance. Overall, I simply want each young musician to walk away feeling like they are a better person for having participated in the ANHE.
What advice would you share with young aspiring musicians?
My first piece of advice is to keep it fun! Developing as a young musician takes a lot of work and practice, but if you are always approaching it in a musical way, it should keep the process fun most of the time. My next piece of advice is to play and listen to music on a daily basis as consistently as possible. Listening to various types of music will help to enrich your understanding of what is sonically possible and will expand your own musical vocabulary.
Regarding auditioning for an ensemble, I think it's obviously important to be prepared so you are not having to scramble in front of a group of people. It's also really important to be confident while auditioning as this will translate to your instrument and overall performance.
Another bit of advice is to be relaxed as best as possible throughout the audition. Often when we're nervous, we tend to rush, which then leads to mishaps during the performance. And again, remember to have fun!
Why do you think music education is so important for all students?
As far as I'm concerned, access to music and music education is a fundamental right for all students in our schools across the country. Music makes us better humans and teaches us many lessons that transcend across to other areas of life. Music uplifts us and gives us hope when things get tough. Music comforts us during difficult times but also makes us move, dance, and celebrate togetherness. Music allows us to connect to our humanity in a way that nothing else can. I believe it is for these and many other reasons that music education is so important for all students.
Did this blog spur new ideas for your music program? Share them on Amplify! Interested in reprinting this article? Please review the reprint guidelines.
The National Association for Music Education (NAfME) provides a number of forums for the sharing of information and opinion, including blogs and postings on our website, articles and columns in our magazines and journals, and postings to our Amplify member portal. Unless specifically noted, the views expressed in these media do not necessarily represent the policy or views of the Association, its officers, or its employees.
Catherina Hurlburt, Marketing Communications Manager. April 3, 2020. © National Association for Music Education (NAfME.org)
Published Date
April 3, 2020
Copyright
April 3, 2020. © National Association for Music Education (NAfME.org)