NAfME Council for Orchestral Education Shares Encouragement and Ideas for Orchestra Directors during MIOSM®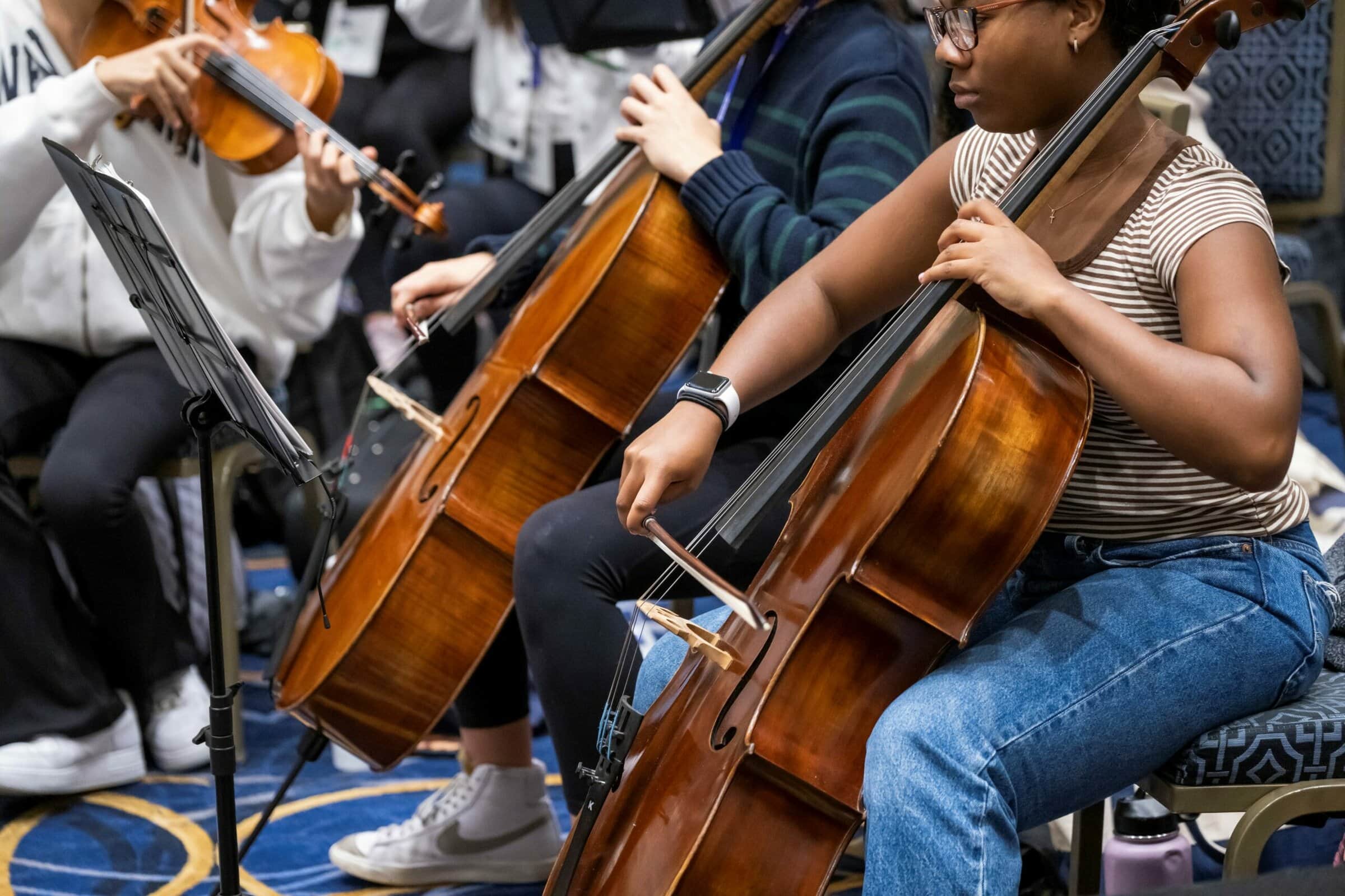 /   News Posts   /   NAfME Council for Orchestral Education Shares Encouragement and Ideas for Orchestra Directors during MIOSM®
NAfME Council for Orchestral Education
Shares Encouragement and Ideas for Orchestra Directors
during Music In Our Schools Month®
During Music In Our Schools Month®, the NAfME Council for Orchestral Education shared highlights from the month. Members of the Council also sent their poetic encouragement!
Why Is Orchestra an Important Part of Your Identity? Students respond.
Orchestra students shared what orchestra and music education meant to them. Here are a few testimonials from students:
"Orchestra is only thing at school that be bussin'."—11th Grade Violinist
"Orchestra is the only place at school where I know I belong."—11th Grade Violinist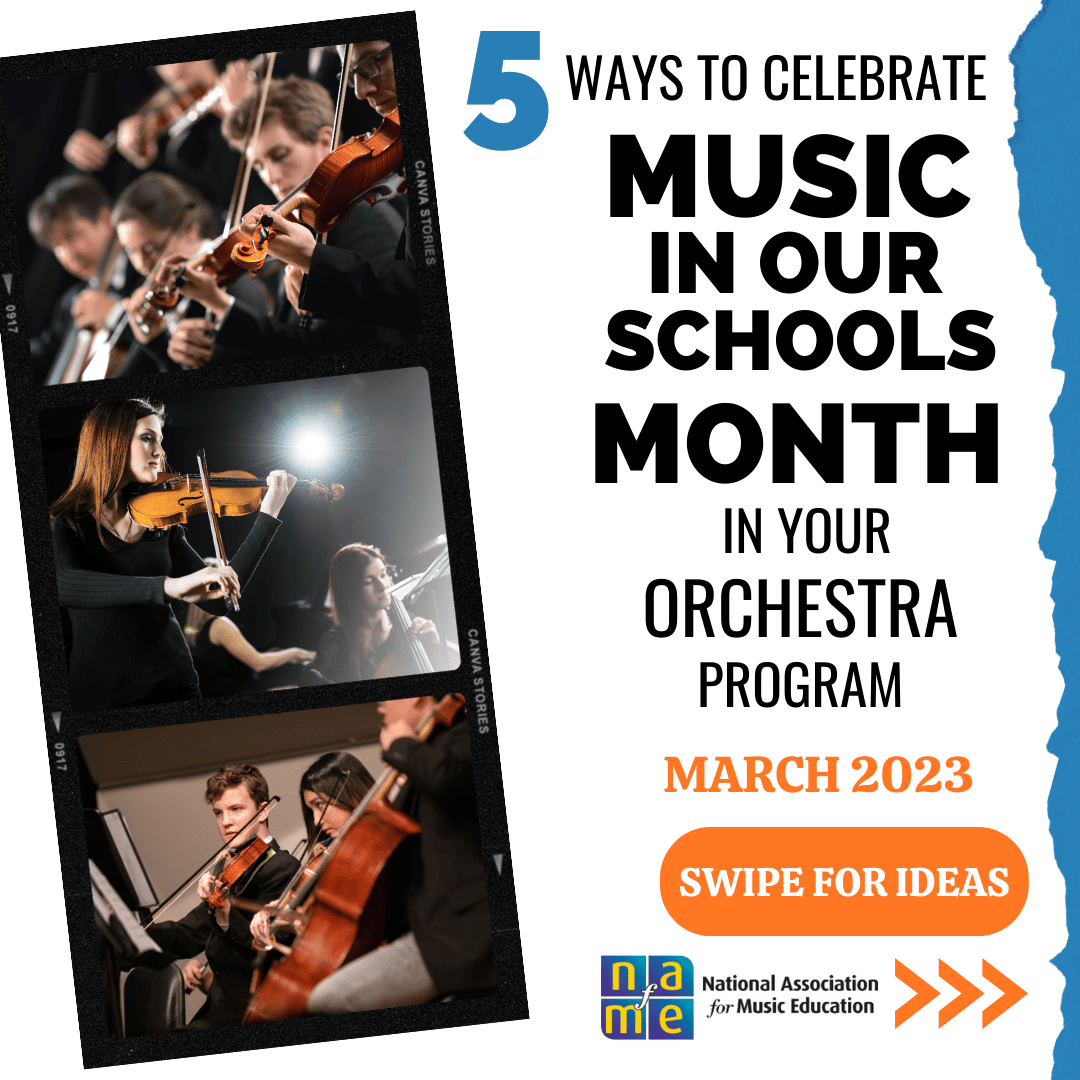 "My favorite part about orchestra is being with my friends I've had since kindergarten."—12th Grade Violinist
"I know I am allowed to be me in orchestra."—10th Grade Bass
"My orchestra teacher is the only person at school who really sees me."—11th Grade Violist
"Orchestra is calming and lets me escape my problems, for a little bit."—12th Grade Violist
"Orchestra is something I'm good at, and it's the way I met most of my friends."—9th Grade Violinist
"Being able to play music by people who lived hundreds of years ago in a place I've never been makes orchestra feel like a time machine."—9th Grade Violinist
"Music and Orchestra is an important part of who I am because when I was little and my family was having a hard time, and there was no one there for me, orchestra became my family. It gave me purpose, and a place to feel all my feelings in a beautiful way."—9th Grade Bassist
"Orchestra is my other personality my friends don't know about, where I can be whoever I need to be, and feel whatever I need to feel."—10th Grade Cellist
"Orchestra is an important part of my identity because it is sick and enhances my brain juices. It is a class I look forward to every day where I get to really be myself with my teacher and my friends."—11th Grade Violinist
"I don't even want to think about who I would be without orchestra."—11th Grade Violinist
"Orchestra is something I am good at, and nobody gets to take that away from me."—10th Grade Bassist
"Orchestra lets me express feelings I could never say out loud."—10th Grade Bassist
"Orchestra helped me get over my fear of public speaking and stage fright."—10th Grade Cellist
"Orchestra is an important part of my life because it is something you can enjoy no matter what. You don't have to be physically fit, or athletic; you don't even really have to be smart; anybody can do orchestra and be great with our teacher, and that is really important to me. I can express and enjoy myself."—11th Grade Violist
"Every problem in my life, the answer has been music. Being in orchestra is a dream come true."—9th Grade Violinist
"I think I can focus a lot more on orchestra than on other things. When I'm working on music I don't have a million other things in my head, I can just go to class and *exist* for a bit. Playing something with other people, and knowing it sounds good, is a really good feeling."—9th Grade Violist
"Because Orchestra can adjust my mood, and I can just hang it up at the door."—9th Grade Cellist
"Orchestra is an important part of who I am because it is the only class where I am comfortable with my peers, and with myself."—9th Grade Violinist
"My mom played violin; it is really cool to do something my mom loves too."—9th Grade Violinist
"Music is a reality outside of reality, a reality where peace is possible, where fantasy is possible and where I know I belong."—9th Grade Violist
What Music Means to Me: Responses from Wake Forest Community Youth Orchestra
"It's just like a rhythm that's waiting to be listened to and when you hear it you love it. Music brings back memories and makes me smile."
"Music to me is an emotional experience: It digs into my feelings; it makes me feel relief as I'm listening to it or if I'm performing; it gives me a sense of peace and well-being."
"Music for me is about family and community. It's a language we use to connect to one another. From church choirs to concerts to carols at home, music has always played a huge roll in how I relate to others and the memories that I make."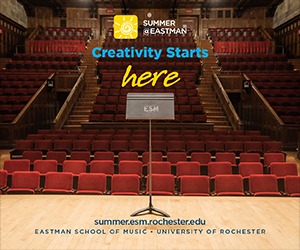 "For me, music is an escape. It is a way to alter or enhance the state of mind. It is also a way to appreciate the collection of sounds and the various elements that create and convey a mood or emotion and the story the music tells. For the family, it is a way to come together and share the beauty of the arrangement of sounds with one another."
"Life"
"Music is an international language that will connect you to people wherever you go! It is the conduit of worship. Music is love to me."
"Music is the opportunity to learn something new and a chance to take a break from homework. For us music is a source of happiness and joy. For years I wanted to play violin."
"Music is like a stress reliever to me. It's how I can express myself without the need of words. Music is a huge part of my life, something I've been doing since I was really young, and it made me the person I am today."
"I love listening to music at home. It helps me relax.????"
"To me music is a way to connect with people all around the world because music is a universal language and it can unite people from every walk of life."
"I love music! To me music is an expression of feelings. Music can express joy, sadness, anger, love, fear and many other emotions. Certain music allows me to escape this reality and go to a place where I feel peace and tranquility. Music is everything!"
"Music helps me relax and find peace. I love learning new songs and playing for my family."
"Music makes me happy and feel a lot of emotions. It helps me calm down and can also make me laugh . . . even though playing the violin makes my fingers hurt sometimes."
"Music is a talent that I am good at, but it means a lot to me. I love music and any instrument that I can play! It's such a miracle that I can play instruments."
"What a joy and a blessing it has been to grow up in a musical family, and now that I have a family of my own, it's such a rewarding experience to see my children fall in love with music, as well. I can't describe how fun it is to learn an instrument alongside my son! Dr. Booth, our amazing violin teacher, makes learning so much fun and brings so much contagious joy for life and music to the classroom, it's hard not to fall in love with it!" [music parent]
"Vocal or instrumental sounds (or both) combined in such a way as to produce beauty of form, harmony, and expression of emotion."
"I like music. All the instruments make lots of cool sounds. you can make a bunch of combinations of sounds on the cello, violin, piano and lots more. Music means a lot to me."
"Music at times can calm me down when life is too much. Some music I don't understand why people like it but because it's music I understand."
"Music lifts my spirits. It's the soundtrack of my life, memories, and my companion to and from work and if I'm lucky in the operating room. Must love music."
"Music is another way I speak to people and express myself."
"Music has been my ticket to world travel beyond my wildest expectations. It's been and remains my median for personal expressions and emotional release from the doldrums and strife life brings. Music is my vehicle for participation in sustaining social, educational and spiritual avenues required in life. Music has been my historical mirror of my life adventures. Music is my inventory of how, where, when I have used music to teach others 'ein bisschen lebensmusik'. Music has been my evidence that GOD has anointed me to teach others the meaning and applications of HIS WORD via revelation knowledge which transcends time, not requiring years of instruction from mankind. Music is my evidence (faith) that erodes the myth of age/retirement and cessation of well-being which has nothing to do with age."
NAfME Council for Orchestral Education Tonya Suggs, Artistic Director, Wake Forest Community Youth Orchestra, Shares What Music Means to Her
Music education, up to now, has made an impact in my life as a teacher. I personally thank a magnificent Orchestra teacher, Jesse L. Suggs, Jr., who is also my dad. Thank you for your demonstration of high standards, hard work, and motivation for a multitude of students you continually reach. As a student in Mr. Suggs's class in earlier years and having seen the many demonstrations of high standards, as a teacher, I now have the privilege to watch the faces of other young people explore, learn, and find their own "musical voice" in the orchestra as I enjoyed doing when I started as a student before being a teacher.
It is always exciting to hear when a student starts to make connections and they have a personal "aha" moment. I believe that musical voices can touch many places in a student's heart. The violin was the instrument I connected with when asked by my dad, "What instrument would you like to learn to play?" It was the instrument I saw and heard often having seen my dad teach students in different orchestras growing up. Seeing my dad lead, conduct, and connect music with the musicians and audience was very amazing to me being quiet growing up.
Today, teaching students privately and in orchestra gives me and so many teachers an opportunity to meet new faces, express how the ensemble functions as a family and how what is learned in the music ensemble connects to everyday life outside of music, since a student may have many talents beyond music. While students are in music, I hope they can appreciate music artistry in all its forms and be lifelong supporters of music education.
Did this blog spur new ideas for your music program? Share them on Amplify! Interested in reprinting this article? Please review the reprint guidelines.
The National Association for Music Education (NAfME) provides a number of forums for the sharing of information and opinion, including blogs and postings on our website, articles and columns in our magazines and journals, and postings to our Amplify member portal. Unless specifically noted, the views expressed in these media do not necessarily represent the policy or views of the Association, its officers, or its employees.
March 31, 2023. © National Association for Music Education (NAfME.org)
Published Date
March 31, 2023
Copyright
March 31, 2023. © National Association for Music Education (NAfME.org)